Microsoft-owned Mojang just added a fun new feature to Minecraft: Pocket Edition on Android, iOS, Windows Phone, and Windows 10 Edition Beta. The mobile version of the open world sandbox now support cross-platform play as of version 0.12.1. All that's required is that each device is on the same local network.
To start, one of the players has to enter a new world or one of their existing worlds. Then everyone else can join in. On Android and iOS, once someone on the same network is in a world, others can click Play and the local world should show up as an option. It may take a few seconds before you see it, but you can see which ones are local worlds since there will be a local IP address associated with it—as you can see above.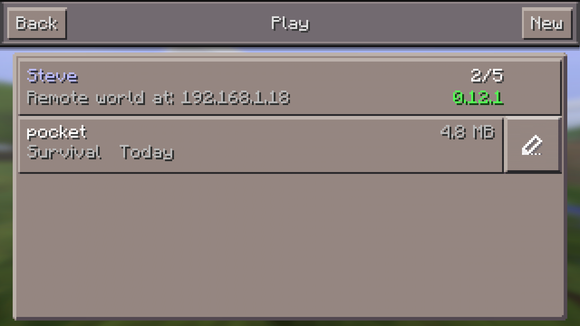 On Windows 10 Beta it works a little differently. Once you click Play the local worlds you can join will show up under the friends tab. In my tests it didn't matter who started the game. I was able to join a world on my Nexus 5 from Windows 10, and both the Windows 10 version and my Nexus 5 had no problem jumping into a world created on a first-generation iPad.
Once the person who owns the world quits the game—or their battery dies—the game ends for all players. The new features supports up to five players at once.
If people are having trouble joining your world, go to the settings panel (options in Windows 10) and make sure the "Local Server Multiplayer" feature under game options is active.
Beyond cross-platform play, the new update also brings the Nether and all you'd expect from Minecraft's underworld including Ghasts and Pigmen. There are also enhanced weather affects, new touch controls, and controller support.
The impact on you at home: It can be fun to play Minecraft alone, but a sandbox of any kind is far better when you play with others. Now, Minecraft mobile players can get together and build a castle, roller coaster, or logic gate. Even better, this update will save anyone stupid enough to start a Survival Mode game on their phone. After they've failed to build a structure to save them from things that go bump (or boom) in the night for the tenth night in a row a friend on a Windows 10 PC (you know, a gaming machine with proper controls) can come to their rescue.