When Microsoft rolled out Office 2013, the productivity suite promised to be deeply integrated with the cloud. And as long as you were invested in Microsoft services such as OneDrive, it was. But other services you may use to stash your documents in the cloud, such as Dropbox and Google Drive? Well, not so integrated.
Google aimed to improve the situation in July, when it rolled out its own plugin for Office that works with every version of the suite released since Office 2007—including the upcoming Office 2016. The new plugin lets you open items stored in Google Drive directly in Office, similarly to how Office's OneDrive integration works.
Here's how Google's plugin works in Office 2013.
Install the plugin
Click Download on the dedicated site for Google Drive for Office and install it as you would any other program.
Once that's done, open an Office program such as Word. If you already have an Office program open you'll have to restart it to get to the new features.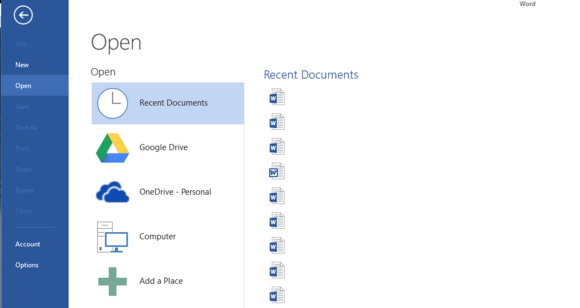 Shortly after, the program opens a pop-up window that prompts you to sign in to your Google account. After that process is finished, you'll see Google Drive appear as an option in the "Open" dashboard in Office 2013 programs.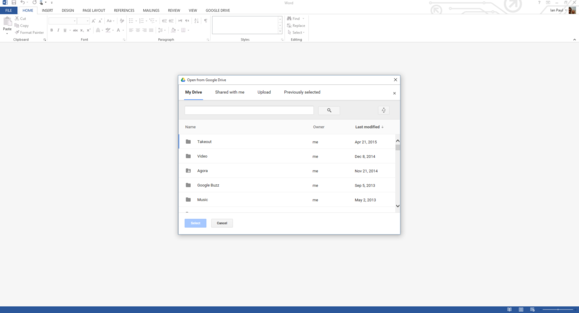 When you want to open a document stored in Google Drive, just click the storage service's icon. A pop-up window appears showing your files. Click on the file you want to open, click Select, and you'll be editing your document in no time—right inside of Office rather than in your browser. But only if it's in an Office file format rather than Google's proprietary Docs format.

A handy tweak is to click on Google Drive > Settings and in the pop-up window that opens, select "Microsoft Office files only" in the drop-down menu. There's no sense in seeing documents in the Google Drive format since you can't open them with Office. When you're done click Close. Changing this setting in one Office program will change it in all of them.
The Google Drive plugin also adds a new tab in the Office Ribbon with some basic Google Drive-related features, such as save to Drive, open a Drive document, share, save as, rename, move, and settings.
Dropbox has yet to offer a similar tool for Office for the desktop. However, How To Geek recently published a tutorial—that involves using a third-party script—on how to add Dropbox to Office.