It's official: Firefox is serving you targeted ads on the browser's New Tab page now. But before you grab your torch and pitchfork, it's not that bad.
Mozilla quietly rolled out its "Suggested Tiles" in early August, Content Services VP Darren Herman recently announced. While the Directory Tile ads that appeared in Firefox in late 2014 are mere dumb display ads, Suggested Tiles tap your browsing history to show advertising that (theoretically) appeals to you.
Suggested Tiles aren't a new Big Brother moment. They're clearly labeled, and Mozilla doesn't retain or share your individual user data—all Suggested Tile performance data is delivered to advertisers in aggregate, and all potential Tiles are downloaded from Mozilla's servers in bulk based on your country and language. The decision about which specific Suggest Tiles are shown to you happens right within Firefox itself, based on your browsing history, and you personally control your browser's user history the same way you always have.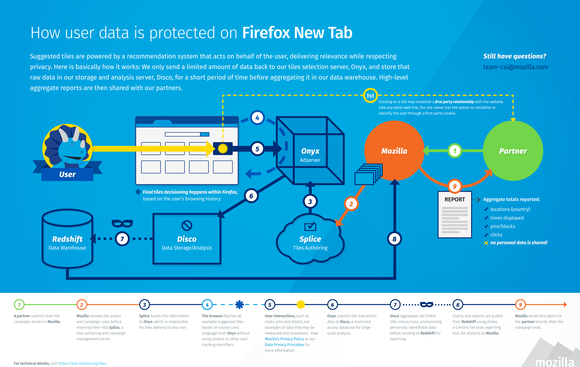 This infographic explains the Suggested Tile process in detail. You can click it to enlarge it.
"With Suggested Tiles, we want to show the world that it is possible to do relevant advertising and content recommendations while still respecting users' privacy and giving them control over their data," Herman wrote when introducing the concept in May.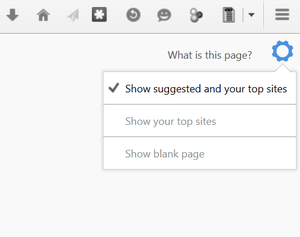 The impact on you at home: There's been a firestorm brewing around these ads, but Firefox's Suggested Tiles is advertising done right: They're helpful without being intrusive or haphazard with your personal data. Mozilla deserves props for thinking through the entire process to make it as pro-user as possible—a rarity in the advertising world. And if you're strongly against the idea of ads on Firefox's New Tab page, you can disable both Suggested and Directory tiles by clicking the gear icon in the upper-right corner of the New Tab page, then selecting any option other than "Show suggested and your top sites."
Don't be hasty to do so, however. Firefox's share of the browser market has been slipping in recent months, and as a non-profit organization, Mozilla could really use the extra money provided by advertising tiles. True stealth modes don't develop themselves, after all.
Some new tracking
That's not to say that Firefox's ads don't collect information about you whatsoever. In order to gauge the effectiveness of Suggested Tiles, Firefox collects data about how you navigate the New Tab page, a Mozilla representative told ZDNet. Here's everything that's sent to Mozilla:
Language preference
Tile ID
How many times the Tile was displayed
Where in the grid of tiles a Tile was displayed
What interaction the user has with a Tile:
"Rolled over"
"Hovered over"
Pinned
Blocked
Clicked
Moved
"This data is associated with an IP address and is stored for a maximum of seven days, while Mozilla reports on the performance of the Tile," the representative told ZDNet. "Then the IP address is removed from the data which is then archived. Mozilla does not create a profile of an individual over time."
Suggested Tiles are currently active only in the EN-US version of Firefox, and the initial partners for the project—including Fortune Magazine, Quartz, the Make-a-Wish Foundation, and the Electronic Frontier Foundation—aren't paying Mozilla for inclusion yet, so they're marked "Suggested" rather than "Sponsored" for now.