It's a short week, which I guess means nothing at all really happe—Wait, Ubisoft is opening a theme park? And there was a new Fallout 4 video and the first Tribes update in two years?
I present your gaming wrap-up for the week of September 7-11.
Free weekend
If you're looking for something new and no-cost to play this weekend, you have two very different options. 2K will let you slog through the merciless tactical death march known as XCOM: Enemy Unknown—one of the greatest strategy games of the last few years—while Deep Silver has unleashed the Saints Row: The Third and Saints Row IV madness.
You can play all three games for free from now until Sunday, September 13 at 10 AM Pacific, and as always you'll find the games waiting in your Steam Library tab for installation. They'll also be selling at a discount over if the free weekend sinks its hooks into you.
You're S.P.E.C.I.A.L.
New Fallout 4 video? New Fallout 4 video.
Bethesda also announced details on Fallout 4 DLC this week, though the game's not out for a few months still. There will be a $30 Season Pass that covers all extra Fallout 4 content, and the first bits will launch in early 2016. No word yet whether you can buy each piece separately. Mod tools (the Creation Kit) will also hit in early 2016.
Straight to the source
Dota 2 is dead. Long live Dota 2. This week Valve pushed the Dota 2 "Reborn" update live, which transitions the game onto the Source 2 engine, completely overhauls the interface, and introduces Custom Games. I want to say "It's a whole new game!" but…it's still pretty much Dota 2. Just much shinier.
Resurrection
Speaking of free-to-play games being reborn, there's actually news about Tribes: Ascend this week. You may remember it as "That game everyone really loved until Hi-Rez abandoned it to go work on Smite." Well I guess Smite is making Hi-Rez enough money that Tribes is now back on the table, starting with this update. I never thought I'd see the day.
Whether Tribes can recapture people's interest and rebuild trust with the community after a two-year hiatus, I don't know. But I'm tentatively interested.
It won't end
Not since the days of Uwe Boll have I seen so many misguided attempts at turning video games into films, and the hits just keep coming. Adrian Askarieh—better known as "the guy who produced that abysmal Hitman movie this summer"—told IGN this week about his dreams for a Just Cause 3 movie. Choice quote:
"If everything was entirely up to me, it would be Just Cause, Hitman, and Lara Croft in the same universe, and Deus Ex would be the future of that universe and Thief would be the past. Unfortunately, I don't have Lara Croft, and Hitman needs to be a big hit for that to happen. But I think Just Cause can be in the Hitman Universe or it can be on its own."
Thank god Hitman is looking like it'll do middling returns at best. Put a bullet in the head of this abysmal idea.
Under the sea
SOMA is aaaaaaalmost here, so I guess it's time to ramp up trailers. Check out this short Creature teaser below:
Taking you to school
Rainbow Six Siege is delayed until December, but Ubisoft is going ahead with a planned beta period at the end of September. Don't have access yet? You can head to this "Art of Siege" website and jump through some hoops to get a beta key.
Turns out the biggest obstacle in the Art of Siege is remembering your Uplay account info.
Leap of faith
No word yet on whether you'll also need a Uplay account to access Ubisoft's new "next-generation" theme park. Yes, theme park. Yes, in the real world.
Ubisoft announced plans this week to build a theme park in Malaysia, complete with rides based on Assassin's Creed, Just Dance, and Rabbids. "Together we are creating a place where every guest is a player, every ride is a playground, every visit is a game," said Ubisoft's Jean de Rivieres (via GameSpot).
I can't wait to see a mascot dressed up like this: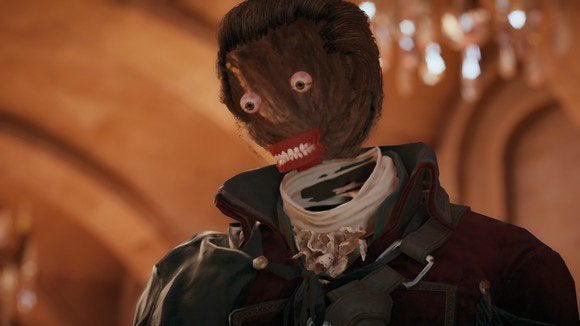 More reading