At a Glance
Expert's Rating
Pros
Incredible genre-spanning soundtrack
Masterful use of subtext to tell two interlocking stories
Cons
Occasional unintuitive (dream logic) puzzles
Tedious backtracking until you unlock faster travel system
Our Verdict
Dropsy's a pretty good point-and-click, but more importantly it's clever and weird.
Imagine: You're standing outside a costume shop dressed as a bird. Times are hard. You used to have a better job, but your husband/wife left you and your kids don't talk to you and you're maybe an alcoholic, and this is all you've got—standing in the hot sun, on the hot asphalt, making minimum wage and wearing a bird suit as a giant advertisement.
Looking down the street you see a fat, disfigured clown sporting a ghastly grin, all too-big tongue and two teeth and beady little eyes. He walks right up to you, his face paint cracked in the sun. You stare into his eyes, too horrified to look away. And then he…hugs you?
He hugs you. He is sweaty and fleshy and smells like garlic, and he hugs you. Say hello to Dropsy.
Clowning around
No, seriously—that's the premise. Dropsy is a point-and-click adventure game about a clown (the titular Dropsy) that goes around hugging people. And hugging trees. And animals. And pretty much anything he can wrap his doughy arms around.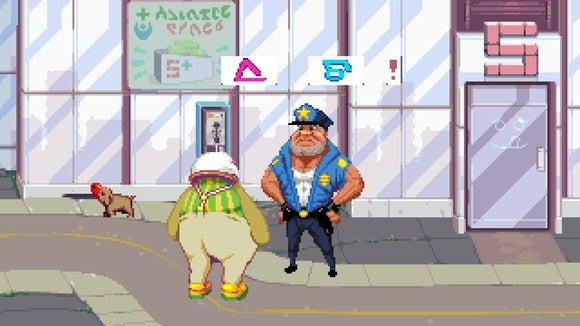 As you can imagine, people are not very excited by this prospect. Much of Dropsy involves convincing people who were scarred for life by Tim Curry that this particular clown is not going to whisper "They all float down here…" into their ear before murdering them.
Easier said than done. In traditional point-and-click fashion, the quest for love sends you marching around the rather large map on a series of convoluted fetch quests, trying to figure out which items Dropsy can give people to make them happy. You'll make soup. You'll put on a concert. You'll fist-bump a bouncer. And in exchange, you get hugs.
The puzzles are predictably ridiculous, though like any good 1990s-style point-and-click there's an internal logic to proceedings. Only a handful of the puzzles are completely unintuitive, although by now you can typically find the solution for any hang-up in the game's forums. More frustrating is the fact there's no fast travel for more than half the game, and it gets a bit tedious trudging back and forth between locations. Things get better later on when you receive the car and can instantly jump across the map.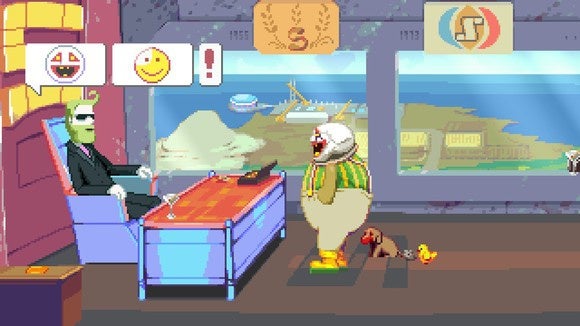 But suffice it to say the puzzles are the least interesting part of Dropsy. No surprise there—that's been the case for pretty much every point-and-click from Monkey Island to King's Quest.
What I love about Dropsy is how cleverly the "real" story is hidden. For instance, Dropsy can't read nor can he (presumably) understand anything except bits and pieces of human speech. Thus, the story is told through glyphs and a fake runic language—a language that's actually a real cipher. You can decode it, and then letter-by-letter translate all of the text in the game. Doing so gives you some insights you'd never get otherwise.
Then there's an entire subplot revolving around Dropsy's old circus, which burns down in the introduction to the game. Most of the in-game hatred for Dropsy comes from the fact people think he had something to do with it—he even has nightmares that look like this: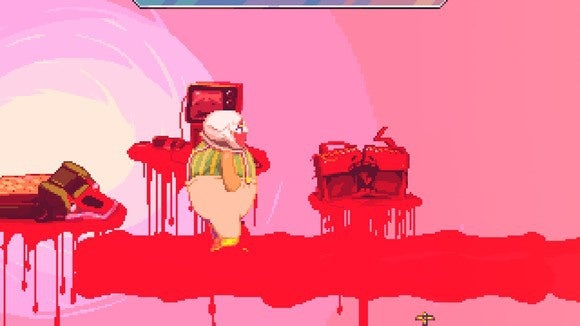 Yeah, it's disturbing.
Dropsy didn't do it though. That's pretty clear. And now there are a bunch of amateur Sherlocks in the Steam forums trying to read between the lines and see who did. Some have even gone Carl Jung on Dropsy and interpreted the clown's nightmares. It's fascinating. The game wields subtext in a way few games even bother.
It reminds me, in a way, of Gone Home—specifically, a small and easily missable side bit about Uncle Oscar. Dropsy's main story is interesting, at times even emotional, but it's standard video game fare. But by funneling the world through Dropsy's eyes it essentially lets two worldview's coexist: Dropsy's childlike interpretation of events and the audience's understanding of what's really going on.
One last example: There's a moment where Dropsy gives change to a homeless man to make him happy. To Dropsy, this makes sense. In the short term, the man is happy. He gives us a hug. He walks into a bar. Dropsy is happy.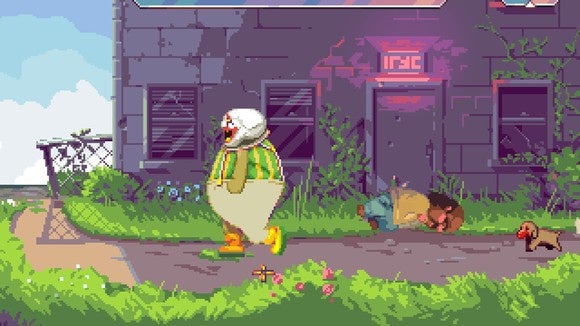 The player's perspective, though? It's clear the player hasn't really done a "Good Deed." In exchange for short-term aims (Hugs) the player has turned into an enabler. The next day you can walk into the alley behind the bar and find the homeless man sleeping there.
Dropsy doesn't know he's done anything wrong. The morality of that action is too complex for his worldview. But the player knows.
Finally, I'd like to specifically compliment Dropsy's music, done by Chris Schlarb (with contributions from lead dev Jay Tholen and some others). From lilting jazz to noise rock to crunchy synths, it's a fantastic soundtrack. My only wish is that some of the tracks got more play—many are consigned to collectible cassette tapes and only play on certain screens or when you're in the car.
Bottom line
Dropsy isn't an amazing point-and-click, but it's clever and it's weird and it stands out—both artistically and thematically. I'm impressed with the game and doubly impressed with the amount of weird mysteries hidden below the surface. Expect to spend four or five hours actually playing and then another hour reading weird theories afterward.