As promised, Microsoft is rolling out an update that brings the Start menu to Windows RT 8.1, the operating system that powers the first two generations of Microsoft's non-Pro Surface tablets, as well as a smattering of other early Windows tablets.
Or at least a Start menu. It's not quite the same Start menu found in Windows 10, hey, but it's better than nothing. The new feature comes as part of Microsoft's Windows 8.1 RT Update 3—the Start menu update is specifically KB3033055—that has started rolling out and was first noted on Twitter by Finland-based Tero Alhonen, who took the screenshot above.
Windows RT's new Start menu is based on a version found in early technical preview builds from Windows 10. It's more or less a mash-up of the Windows 7 Start menu and the one in Windows 10.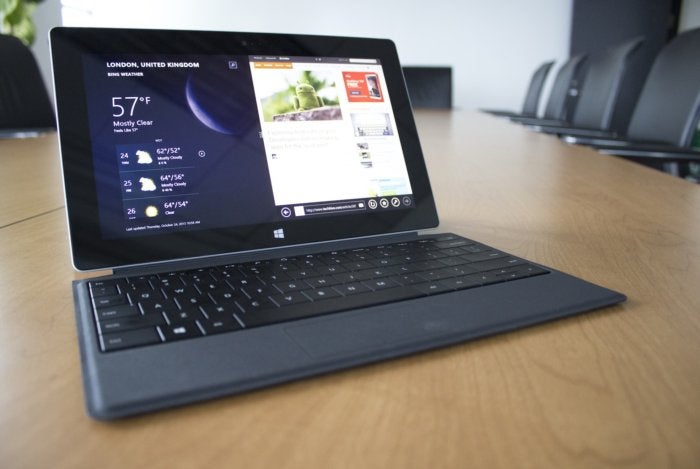 On the left side you have Windows 7-style icons for Documents, Pictures, Control Panel, and "This PC." Below that is a list of desktop programs and Windows apps with a button for "All Apps" and a search bar at the very bottom.
Then on the right, you've got a set of live tiles that provide quick links to Windows Store apps.
If you don't want to use the new Start menu on Windows RT, you can disable it by doing a right-click (press and hold) on the taskbar. Then go to Properties > Start Menu, uncheck "Use the Start menu instead of Start screen," and then tap OK. You'll have to sign out before the Start menu disappears and the full-screen Start screen reappears.
The story behind the story: Windows RT was never a good idea and Microsoft sounded its death knell earlier in 2015. Even the third-gen Surface tablet skipped RT for an Intel processor and Windows 8. But while Windows for ARM will never see Windows 10, at least those who bought into the doomed ecosystem are getting some marginal improvements. One thing Windows RT users won't see, however, are Windows 10 universal apps—suggesting the app catalog for RT users also won't improve.
[via WinBeta]