One of the nicest additions to Windows 8 was its robust support for multiple monitors, including the ability to easily set separate, individual wallpapers for each screen in your setup. All you had to do was open the Control Panel, go to the personalization section, right-click on the images you wanted, tell them which display to use them on, and you were done.
Microsoft decided to do away with that ease of use in Windows 10.
The official way to add different backgrounds in Windows 10 is to select two images in File Explorer (meaning they both have to be in the same folder), then right-click and select "Set as desktop background". The two images will now appear on your two monitors, with the image you right-clicked occupying your primary display.
Further reading: Use Windows 10's individual display scaling to perfect your multi-monitor setup
The problem is the File Explorer method automatically swaps the images between the two monitors every thirty minutes by default—a nice feature that some people may like, but personally I'd rather set my monitor backgrounds individually and leave them that way. It's also tricky to assign images to the display you'd like in a setup with three or more displays.
Windows 10 doesn't offer an obvious way to set static, individual wallpapers for every display in your multi-monitor setup, but thanks to some help from Reddit's Windows 10 forum, we can get back to the Windows 8 way of doing things. This trick requires a little tinkering with the Run command, but it's nothing major.

First, tap the Windows logo key + R to open the Run window, then type (or copy and paste) the following:
control /name Microsoft.Personalization /page pageWallpaper
Once that in place, click OK or tap your keyboard's Enter key. That should take you straight to Control Panel > Appearance and Personalization > Personlization > Desktop background. This section was a normal part of Windows 8, but is hidden in Windows 10—you can't manually find it in the Control Panel or the Settings app's Personalization options.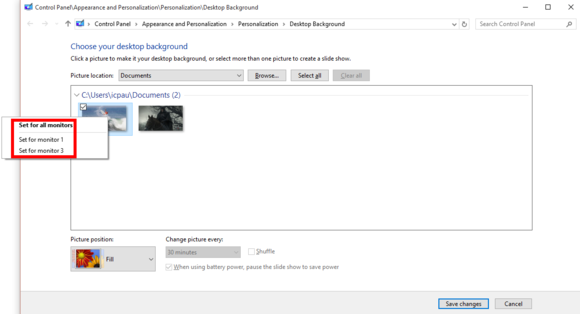 In this window, you can select from the images shown or browse for other images on your PC. If you see any images with check boxes, deselect them. Once you're ready to set your background images, right-click the image you want on your first monitor and select Set for monitor 1. Then do the same for the second display, only choosing Set for monitor 2, and so on if you have additional monitors.
Once everything's configured to your liking, click Save changes and you're done. Unfortunately, you'll have to use the Run command to return to this hidden part of the Control Panel each time you want to change your background images.