Buying a fanless home theater PC typically involves some major compromises on processing power, but a new case from HDPlex aims to be an exception.
The HDPlex H5 comes with up to 16 copper heat pipes to keep the system cool without fans. Eight of those pipes are dedicated to the CPU and handle up to a 95W TDP CPU, while another optional eight pipes can cool a low-power discrete graphics card, FanlessTech reports.
In practical terms, that means the case should be able to handle Intel's new 6th-generation "Skylake" CPUs, with a TDP of 91W. And as AnandTech points out, support for 60W TDP graphics cards would allow users to plug in an Nvidia GeForce GTX 750Ti. That's on the low end of Nvidia's GPU range, but still better than integrated graphics in most cases. (We can also hope that a low-power variant of Nvidia's GeForce GTX 950 is on the way, as the 750 Ti is about 18 months old—but don't bet on it.)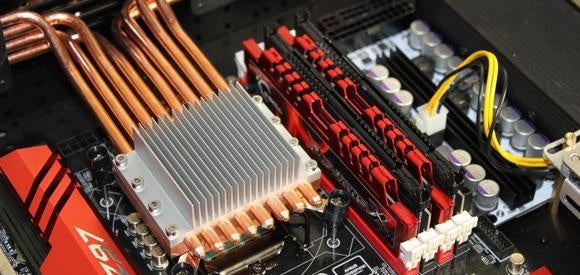 The case is meant to sit inside an A/V rack and has a pretty slick design, with a brushed aluminum finish and options for customizing the power button, perhaps allowing users to slap on a Kodi or Steam logo. Swing the front door open, and there's a slot for a 5.25-inch optical drive or HDD cage, along with another slim optical drive rack. Two more racks inside support a pair of 2.5-inch drives and one 3.5-inch drive. Around back, there's pair of USB 2.0 ports, two more USB 3.0 ports, and a 3.5 mm speaker jack.
The case alone will start at $275, AnandTech reports, so you're probably looking at an overall cost in the $700 to $1000 ballpark once you add up all the basic components, depending on your selections. It's unclear exactly when the case will go on sale.
Why this matters: Sure, that $1,000 could easily get you a more powerful machine if you grab a budget desktop case and invest the savings into a better GPU. But then you're dealing with a much noisier living room rig, and one that won't nestle as neatly into an entertainment center. No one said this case was going to eliminate compromises completely.