AMD just released the latest version of Catalyst, the proprietary graphics driver for maximum Linux gaming performance with AMD hardware. Bright minds are hard at work on an entirely new graphics driver architecture to make AMD more competitive with Nvidia's best-in-class Linux graphics driver, but Catalyst still provides the best performance for AMD hardware on Linux today.
Catalyst 15.9 is the latest AMD Linux driver since Catalyst 15.7, which was released back on July 8. It contains quite a few fixes that should help with many of the latest Linux games, which often recommend against using AMD graphics hardware due to graphical bugs and serious performance problems.
AMD's release notes promise fixes for crashes Company of Heroes 2, DIRT Showdown, and Dota 2. It also promise fixes for graphical corruption in Middle-earth: Shadow of Mordor and DIRT Showdown. AMD has hopefully improved performance for these games, too—although the release notes don't say anything about that.
Want to stay up to date on Linux, BSD, Chrome OS, and the rest of the World Beyond Windows? Bookmark the World Beyond Windows column page or follow our RSS feed.
The release notes say the issue "Renaming Counter-Strike: GO and other Steam game binary improves performance" is resolved, which means that AMD is likely including profiles for Counter-Strike: GO and some other Steam games. Linux gamers won't need to jump through hoops to rename the Counter-Strike: GO binary for better performance anymore.
Interestingly enough, the release notes say that "Blank screen or corruption observed on the main menu in game" is a known problem in Alien: Isolation . Alien: Isolation hasn't yet been released for Linux and hasn't even been officially announced for Linux, but this is yet another indication that it's on its way—though AMD scrubbed the mention after publishing the release notes.
Getting the latest drivers
If you really want the latest bleeding-edge drivers, it's possible to download them from AMD and install them on your Linux distribution of choice. AMD officially supports Ubuntu, Red Hat Linux Enterprise (RHEL), SUSE Linux Enterprise, and OpenSuSE. Distribution-specific packages are available for Ubuntu and RHEL, making the installation process easier.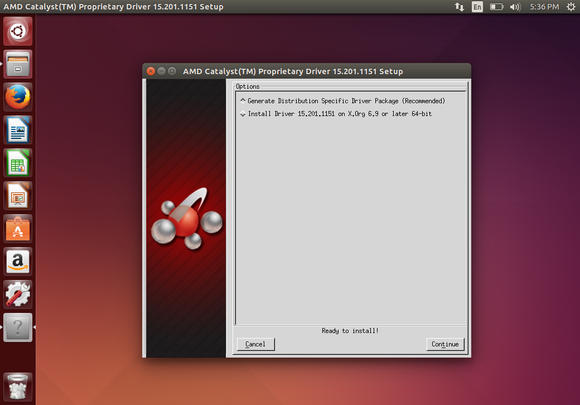 AMD currently only officially supports Linux kernel versions up to 3.19 and Xorg versions up to 1.17. The Linux community has to provide patches to make it work on the latest software—for example, unofficial fixes are available that will let these drivers work with version 4.1 of the Linux kernel. In the long term, AMD's future graphics driver architecture should solve this problem, allowing the community to automatically keep AMD's open-source driver bits compatible with the latest system software.
In general, it's better to get the graphics drivers prepackaged and provided by your Linux distribution of choice or its community. These drivers should ideally make their way to various Linux distributions soon. The Ubuntu community wants to make it easier to install the latest bleeding-edge graphics drivers like these, but currently only provides the latest Nvidia drivers, not the AMD ones.
It's good to see AMD making improvements to Catalyst, but this driver is doomed to shamble on until the new driver architecture is in good enough shape to replace it.