The evidence appears to be mounting that sitting all day is terrible for your health, but what if you're not thrilled with the idea of standing all day either? Not to mention that shelling out for a standing desk isn't a cheap proposition—although there are some cheap DIY alternatives.
If standing all day simply isn't in the cards, another strategy is to stand up, move around, and stretch every twenty to thirty minutes. To make sure you stay on that schedule you can use a simple and free utility for PC called Workrave.
The program was designed to help anyone who's having problems with repetitive strain injuries, but Workrave can also be tweaked to remind you to get up and take a standing break.
The first time you fire up Workrave you'll be confronted with a tiny screen with three timers. The first one is a timer for taking mini-breaks every few minutes, the second one is for a fuller rest break, and the last sets a time limit on your workday.
For our purposes, we'll only be using the second and third timers.
To get started, right-click on any of the timer icons and select Preferences—one quirk of Workrave is that sometimes you have to keep your right mouse button pressed down until you select your option from the context menu.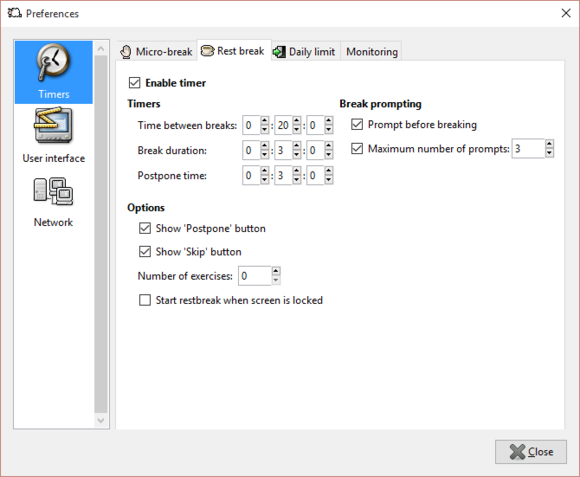 Under the Micro-break tab in the preferences window, uncheck Enable timer. Next, under the Rest break tab set the "Time between breaks" to 20 or 30 minutes, whichever you prefer. Then set the "Break duration" to three minutes. By default, the break duration is set to 10 minutes, which is important for preventing RSI, but for taking a quick stretch and walking around three minutes is enough for me. You can also set the Number of exercises counter under Options to 0 in this tab. Those are exercises that are mainly for people dealing with RSI, which you may not want to follow.
Finally, under Daily limit set a length of time for your workday to make sure you aren't sitting down for ten to twelve hours at a time. Alternatively, you can just uncheck Enable timer to get rid of it.
If you also want Workrave to start up automatically when Windows does, click User interface in the left-hand navigation panel and then select the check box next to "Start Workrave on Windows startup."
Now click Close to get back to the main Workrave interface. You can close the main window and Workrave will continue to work in the background.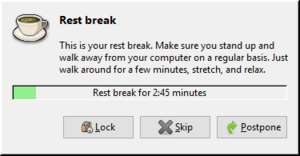 Whenever it's time to take a break, Workrave will throw up a timer window that prevents you from working on your PC. Once the break is over, Workrave starts the count down until your next break.
If the break timer window drives you mad, you can click Skip or Postpone to get rid of it, but clicking Skip will restart the rest break timer for another 20 or 30 minute duration. You can also stop the window from blocking you by going to Preferences > User interface > Block mode.