Microsoft just keeps on truckin' with its "Windows as a service" vision for Windows 10. After relaunching the Windows Insider program one month ago and quickly following up with a build that reshuffled menus and borked Chrome, the latest Windows 10 preview landed for Insiders on the Fast Ring on Friday. Windows 10 preview build 10547 adds some new features for the Start menu, Tablet Mode, Cortana, and more, but comes with a few rough edges of its own.
Perhaps the most notable—but still fairly subtle change—is the newfound ability for the Start menu to support four columns of medium-sized Live Tiles in its default view, rather than the three columns available today. "We heard feedback from many Insiders who wanted the ability to have a 4th column as well, so they could have two wide or large sized tiles side by side in a group," Microsoft's Gabe Aul said in the blog post announcing availability of the new build.
The four-column width isn't the new default, however. You have to enable it by heading to Settings > Personalization > Start and enabling 'Show more tiles.' Build 10547 also supports up to 2048 Start menu tiles now, up from the previous 512 tile limit—though you should seriously consider more efficient ways of navigating Windows if you're rocking that many Start menu tiles.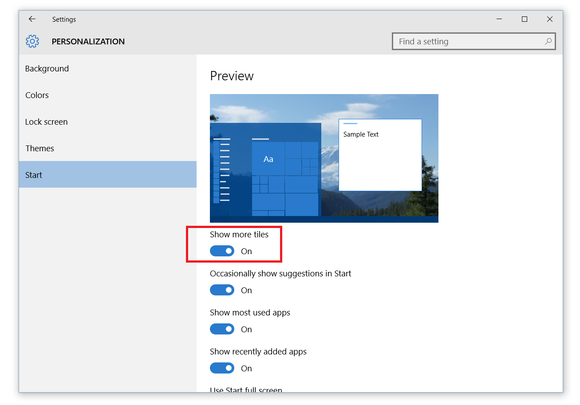 While you're rooting around in the Settings app, you'll find another new feature in Settings > Personalization > Lock screen for disabling "Show Windows background picture on the sign-in screen." It does exactly what it says.
Finger-focused touchscreen users will also find some new goodies in the way Tablet Mode handles Task View app-switching. Task View in Tablet Mode now lets you snap apps to the left or right edges of the screen, replace a previously snapped app, or swipe down to dismiss an app completely.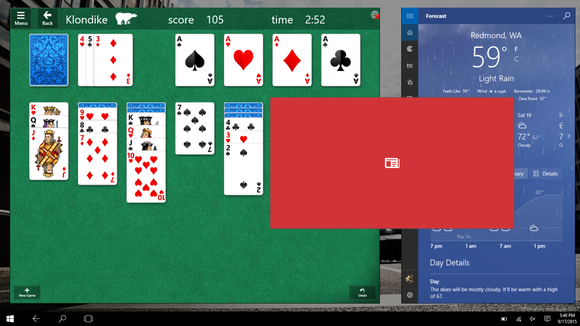 Speaking of apps, Microsoft's updated a bunch of Windows 10's preinstalled ones, including the Xbox app, which now has a preview program of its own. The Photos app has a folder view now, and Groove Music, Mail, Calendar, and Maps have also been polished up.
Curious about Cortana, Windows 10's helpful digital assistant, but don't dig the idea of infusing your desktop with a Microsoft Account? Good news—Cortana now works with local accounts as well.
The final major user-facing change occurs in the virtual keyboard's text input panel. The panel now expands as necessary while you write, and the suggestions bar has been tweaked to be more relevant and include more punctuation support. Also, Windows 10's text input panel now won't open if you're not in Tablet Mode, or if you have a Surface keyboard accessory attached—a minor detail that seems like it should have been implemented since Windows 10's debut.
Microsoft's also slipped a preview of the Edge browser's Object RTC APIs into the build, which should help developers start tinkering with adding plug-in free video chat capabilities to the browser.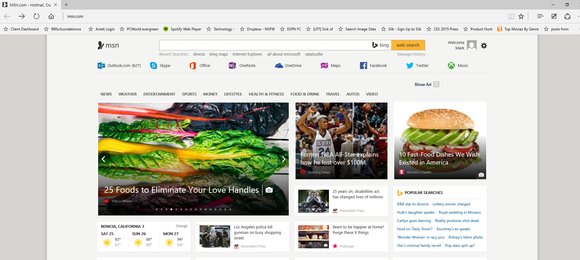 Windows 10 preview build also includes the usual blitz of bug fixes and new broken stuff. One of the new bugs seems annoying, if not quite deal-breaking. Windows Store apps may not update automatically, forcing you to head into the Windows Store app to update your software manually.
For a full rundown of all the tweaks and tinkering in Build 10547, be sure to read Aul's blog post.
The impact on you at home: The Windows 10 preview builds are where adventurous Insiders test bleeding-edge features and tweaks for the operating system, providing feedback to Microsoft's engineers before the fresh goodies are pushed out to the wider user base. If you'd like to participate, open the Settings app and head to Update & Security > Windows Update > Advanced Options and click the Get Started button underneath the "Get Insider Builds" section.