Rocket League heads to Hollywood, a bevy of games lock down release dates, other games miss their release dates, Five Nights at Freddy's becomes an RPG, and RuneScape reinvents itself as an angsty teenager. This is gaming news for the week of September 14-18.
Bend it like Bimmer
I love Rocket League. A lot of people love Rocket League. Apparently a lot of people love Rocket League so much that developer Psyonix is now in talks about a Rocket League toy line (okay), TV show (what?), and movie (you must be joking).
It's a game about cars playing soccer. What the hell kind of movie could possibly come from this? (Via MCV)
Juggling release dates
Dark Souls III snagged a release date, or at least a release window, this week: April, 2016. No real surprise there, as the PC versions of Dark Souls II and eventual re-release Scholar of the First Sin both launched in April also.
The first episode of Telltale's Minecraft: Story Mode will digitally debut on October 13. As per usual for Telltale games, it's the first of five episodes, so expect this one to continue through the middle of 2016.
And Jonathan Blow's long-awaited (like, six years in development) open-world puzzle game The Witness will hit on January 26, 2016. There's a new trailer for that one:
Five hundred nights at Freddy's
The core Five Nights at Freddy's saga has come to a close with the recent fourth game in the series (which…started just a year ago). But Freddy lives on!
Developer Scott Cawthon took to Steam this week to announce Five Nights at Freddy's World or FNAFW if we're being expedient. From the announcement:
"It will not be a horror game, but a role playing game where you create a party using the huge selection of characters from the FNaF games, including the classic, withered, toy, phantom, and nightmare versions. I've been working steadily on characters and hope to start on enemy models next week."
And if you just went "What the hell?" well, you're not the only one. I could not have been more confused by this left-turn if Freddy literally crawled out of my pants while I was busy reading it. Godspeed, Scott Cawthon. Strike while that iron's hot.
Runes aren't enough
Speaking of weird game announcements, Jagex revealed a new "cutthroat" version of RuneScape on Thursday titled DarkScape. Some details:
"DarkScape is based on the legendary MMO RuneScape, so it benefits from 14 years of content from launch. All of DarkScape is accessible for free—including content that is members-only in RuneScape—and is played using a RuneScape account.

In DarkScape, PvP is always on, and while powerful guards can protect you in populated areas, nowhere is truly safe. DarkScape is split into low, mid and high-risk regions: each with its own economy, its own limited banking and strict teleportation limits."
You can head here to start playing, or check out the video below:
An early end
Deep Silver announced this week it's shuttering its MOBA Dead Island: Epidemic, becoming the latest company to kill off an Early Access game before it ever officially released. Players have until September 15 to spend any remaining in-game currency, and then on October 15 the servers will go offline.
This is a problem. A big problem. I tacitly support Early Access insomuch as it's a way for developers to get feedback on a game prior to release, but the other half of that implied agreement is eventually you should put out the product you promised. Sure, there's that big "This Early Access game is not complete" disclaimer on Steam, but Spirit of the Law/Letter of the Law, right?
All it takes is a few developers to screw it up, and we'll have another funding dead end on our hands (see: Kickstarter).
Mighty no more
Speaking of "People being angry about Kickstarter," Mighty No. 9 is going through its own pangs right now. The game was supposed to be out in April, then moved to September, and then was recently delayed until sometime next year. Then development studio Comcept said it would release a demo on September 15 and missed that date too.
Backers are predictably unhappy.
Honorbound
Tokyo Game Show was, I guess, the appropriate venue for Ubisoft to debut this new Samurai-specific For Honor trailer.
Is this real life?
Ubisoft also announced this week that all post-release DLC maps for Rainbow Six Siege will be given away to players for free in an effort to get players to stick around "for the long term." With Evolve and Halo 5 doing the same, does this mean we're in the last death rattles of paid map packs?
Though I guess we should withhold judgment until we see what other pieces of content Rainbow Six will put behind a paywall. After all, Evolve's maps were free but its ridiculous DLC scheme still sank the game.
Lo-fi Kerbal
If you follow space news, you probably know Elon Musk's SpaceX is trying to figure out how to land unmanned rockets back on Earth so they can be reused later. It is difficult, to say the least.
But you don't have to take science's word for it. There's now a video game version of the challenge, called SpaceX Falcon 9 Lander. Think Lunar Lander except nearly impossible. Interested? You can play the game in your browser.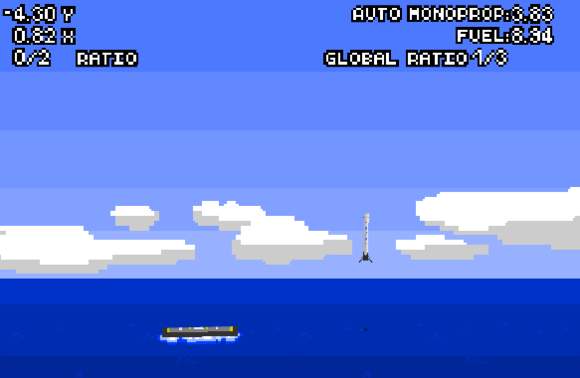 More reading