One of the best parts of Windows 10 is its deep integration with Cortana, Microsoft's helpful digital assistant. To really make Cortana work for you, however, it helps to have the voice activation feature up and running. That way your next file search, weather check, or command to open an app is just a "Hey, Cortana" away.
To get started, click on the Cortana icon/search box in the taskbar. Then click the notebook icon in Cortana's left-hand navigation panel—it's right under the home icon. (If you haven't activated Cortana yet, you'll have to follow the steps that appear to turn it on before you'll see the standard Cortana interface.)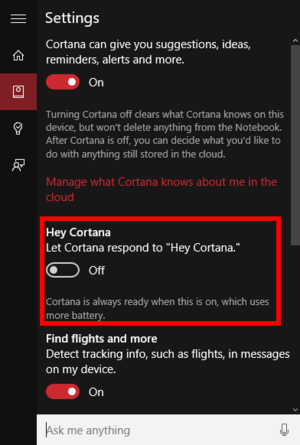 On the notebook screen, click Settings, then in the Settings panel, turn the slider to On under the "Hey Cortana" heading. Once you've done that a new option will appear called "Respond best."
Here you have the option to allow Cortana to respond to anyone or only your voice. If you choose the latter by clicking Learn my voice, Cortana will ask you to repeat six different sentences to get your voice pattern down.
That's all there is to prepping Cortana's voice activation. Just remember that to use this feature you need to have an active microphone, whether it's integrated into your laptop or an external third-party peripheral.
Depending on your hardware, Windows could warn you that your microphone may not work and that Cortana "might not be able to hear you clearly." Sometimes, however, the microphone will work regardless of the warning.
Now that you've got Cortana voice activation working, try it out with one of these 59 questions that elicit snarky answers from the digital assistant. And if you think that's cool, wait until the future, when saying "Hey Cortana" will even be able to wake your PC from sleep.