That bright shining future where they predicted consumers would forsake their fuddy duddy desktops for tablets? Try again.
The latest survey from the American Customer Satisfaction Index showed consumer satisfaction with tablets plummeted this year by six percent, while desktops held strong.
"Weaker customer satisfaction and slowing sales growth suggest that early enthusiasm for tablets has worn off," said Claes Fornell, ACSI Chairman and founder. "As large-screen smartphones become more popular, they've made tablets somewhat redundant —caught in between the mobility of a smartphone and the power and functionality of a desktop."
In the same survey last year by ACSI, tablets scored 80 on a 100-point scale, just one point behind desktops at 81. This year, consumers rated tablets at at 75—alongside laptops, which also fell this year, the survey said. The survey criteria require that the respondent purchased a new personal computer in the last years.
Apple haters may want to put away the champagne glasses though. Although consumers are clearly losing their love for tablets, Apple's iPads buck the trend.
Of the 2,946 people surveyed across the United States, 17 percent of them had iPads. The rest were likely lumps in all those inherently disappointing, low-end Windows 8 and Android tablets.
Intel actually went on a spending spree in 2014 by heavily subsidizing low-end tablets to the tune of 46 million Android and Windows tablets. It's very likely many consumers were still using those in the second quarter of this year, when the survey was conducted.
ASCI said basically non-Apple tablets are "well below Apple in customer satisfaction."
"Though Apple no longer accounts for the majority of all tablets sold, the iPad continues to set the bar for the industry," says David VanAmburg, ACSI Director.
Low-cost Windows 8.1 tablets aren't all to blame for the slide, though. ACSI data shows that tablet satisfaction was dropping long before Windows tablets were largely available.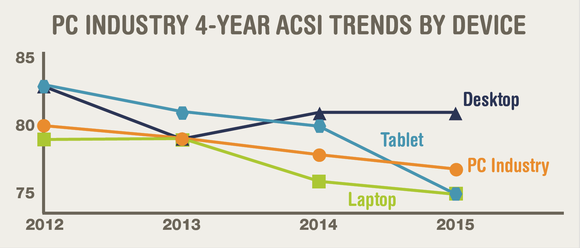 Apple, per ACSI, has been the top PC brand for 10 years, and that streak continues with a score of 84. Dell was the only PC vendor to improve, with a 3-percent uptick, ACSI said. New to the ACSI tracking are Samsung, Asus and Lenovo.
The real bad news comes for Acer, which saw satisfaction with its "personal computers" plummet by 8 percent, ACSI said.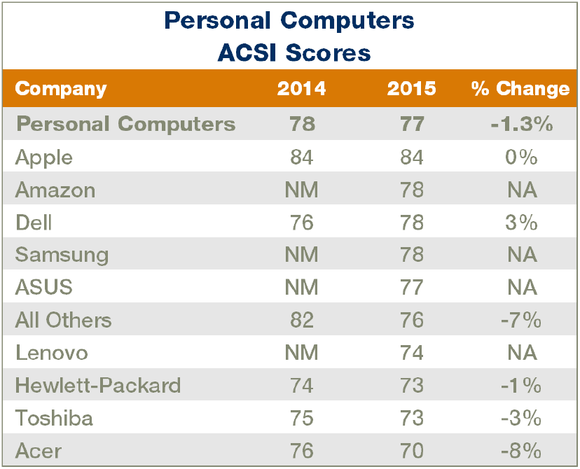 ACSI does dive into the categories of what's making people so unhappy and it found that it's universally everything when laptop, desktop and tablet are lumped into "personal computer." From OS to processor speed, stability, apps and memory and storage people were less satisfied than before. The only category that improved was "website satisfaction."
ACSI said much of the sour taste may not be just bad hardware, but also consumer expectations have grown.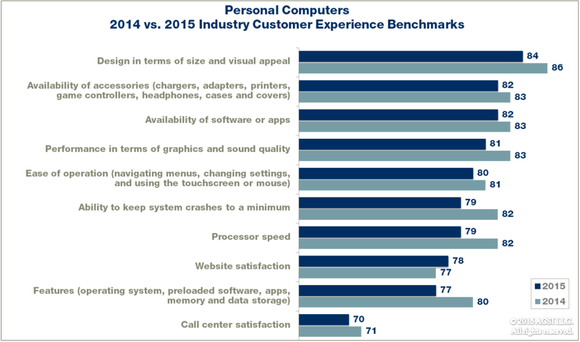 ACSI broke, out satisfaction numbers for why the desktop rules. 'Processor speed' led for desktops for satisfaction as well as 'graphics and sound quality.' Desktops also led the pack in operating system, memory and 'data storage.'