After teasing us with a taste of its new Aventum 3 at CES, Digital Storm says it's finally ready to ship its latest exotic PC design, which features custom liquid cooling and power integrated into the case itself.
With the Aventum 3, Digital Storm decided to focus on features that could make wiring and liquid-cooling easier to upgrade. The routing of the water-cooling hoses, for example, runs directly into the backplane the motherboard mounts to, and attach with quick-connect fittings. Power connectors for the motherboard are integrated into case's backplane, too.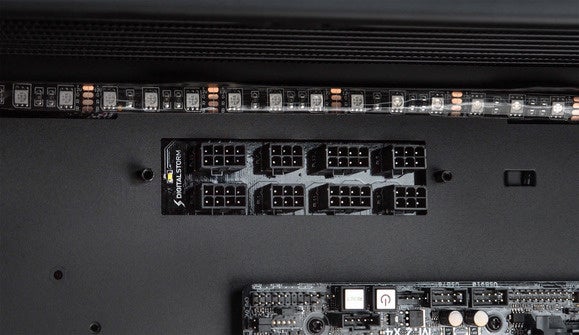 The Aventum 3 design also adds a custom distribution block for the liquid-cooling that appears to be machined out of clear acrylic so you can see the flow of the liquid through the system. Digital Storm's custom lighting and fan control modules reside behind the two fans, I believe.
The use of a case window on the back of the PC is a bold statement as well. Even the most tidy system builds typically only look nice on the side where you can see the motherboard and graphics cards. The wires tucked behind the motherboard tray are usually a rat's nest of cables, hoses, and zip ties better left covered up. By putting a window on both sides, Digital Storm obviously has faith in its ability to deliver a clean aesthetic experience.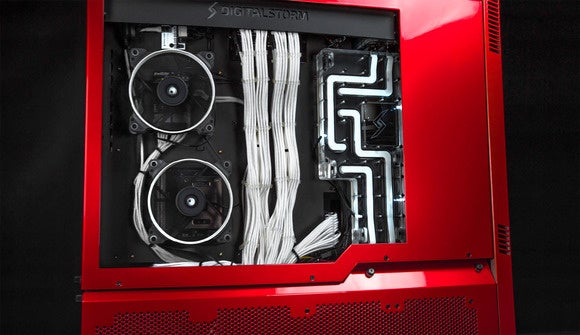 "This system is our declaration that a PC does not have to be just the sum of its parts. We designed the AVENTUM 3 from the ground up with a focus on unmatched accessibility and modularity that can't be found anywhere else," said Digital Storm's Hajit Chana.
Chana is right, too—it can't be found anywhere else. If you're wondering how you can buy the case yourself, well, you can't. Digital Storm's claim to fame with the Aventum (and its original two Bolt small form factor PCs) is a custom in-house case design. The company then turns out to American-based machine shops to produce the cases to spec. No other vendor I know does this.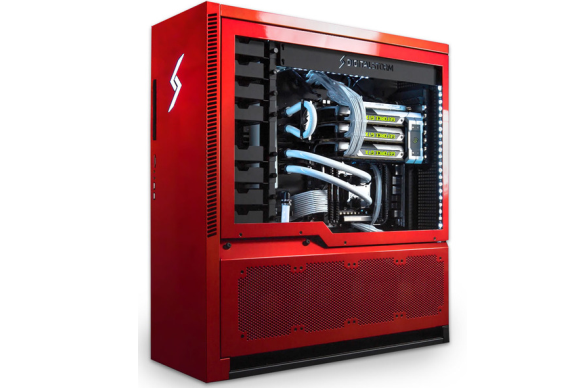 As you can expect, that makes it expensive. The Aventum 3 starts at $4,930 and I'd guess that's without a multi-GPU configuration.
Why this matters: At the very top of the enthusiast and gaming PC market, boutique makers constantly try to one-up each other on their builds so they can continue to demand the premium they charge. Digital Storm's latest efforts take it to the next level.