At a Glance
Expert's Rating
Pros
Microsoft adds two new apps: Sway and Delve
Outlook Groups forms foundation of new collaborative focus
Business intelligence now integrated inside Excel
Cons
Real-time editing still to come in Excel, PowerPoint
Free Office Mobile apps make paying for Office a tough choice
Office's collaborative vision works best for businesses, not consumers
Our Verdict
Microsoft adds two new apps to Office 2016: Sway and Delve. But while Microsoft's newfound focus on collaboration makes real sense for businesses, home users should also consider Microsoft's free, excellent Office Mobile apps for mobile devices.
Best Prices Today: Microsoft Office 2016
Office 2016 is a major upgrade, but not in the way you'd first suppose. Just as Windows 10 ties notebooks, desktops, phones and tablets together, and adds a layer of intelligence, Office 2016 wants to connect you and your coworkers together, using some baked-in smarts to help you along.
I tested the client-facing portion of Office 2016. Microsoft released the trial version of Office 2016 in March as a developer preview with a focus on administrative features (data loss protection, multi-factor authentication and more) that we didn't test. I've been using it since the consumer preview release in May. Microsoft seeded reviewers with a Microsoft Surface 3 with the "final code" upon it. That's a slight misnomer, as the Office 2016 apps upon it used the same version that Microsoft had tested with the public, with a few exceptions: Outlook was pre-populated with links and contacts of a virtual company to give reviewers the look and feel of Delve, Outlook's new Groups feature, and more.
Office 2013 users can rest easy about one thing: Office 2016's applications are almost indistinguishable from their previous versions in look and feature set. To the basic Office apps, Microsoft has added its Sway app for light content creation, and the enterprise information aggregator, Delve.
Collaboration in the cloud is the real difference with Office 2016. Office now encourages you to share documents online, in a collaborative workspace. Printing out a document and marking it up with a pen? Medieval. Even emailing copies back and forth is now tacitly discouraged.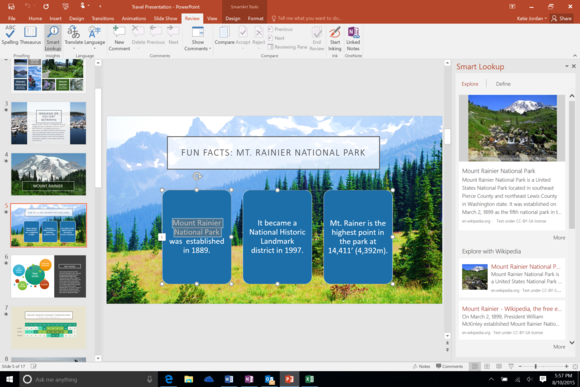 Microsoft says its new collaborative workflow reflects how people do things now, from study groups to community centers on up to enterprise sales forces. But Microsoft's brave new world runs best on Office 365, Microsoft's subscription service, where everybody has the latest software that automatically updates over time. And to use all of the advanced features of Office, you must own some sort of Windows PC.
You could still buy Office 2016 as a standalone product: It costs $149 for Office 2016 Home & Student (Word, Excel, PowerPoint and OneNote) and $229 for Office Home & Business, which adds Outlook 2016. Office 365 is $7 per month for a Personal plan (with one device installation) and $10 per month for a Home Plan, where Office can be installed on five devices and five phones.
If you subscribe to Office 365, it's a moot point; those bits will stream down to your PC shortly. Windows 10 users already have access to Microsoft's own baked-in, totally free version of Office, the Office Mobile apps. It's those people who fall somewhere in the middle—unwilling to commit to Office 365, but still wavering whether or not to buy Office—who must decide.
My advice to an individual, family, or small business owner: Wait. If you've never owned Office, the free Office Mobile apps that can be downloaded from the Windows Store onto iOS, Android, and Windows Phones are very good—and include some of the intelligence and sharing capabilities built into Office 2016. Microsoft's Office Web apps do the same.
There's no question that Office 2016 tops Google Apps, and I haven't seen anything from the free, alternative office suites that should compel you to look elsewhere. But Microsoft still struggles to answer the most basic question: Why should I upgrade? That's a question that I think Microsoft could answer easily—and I'll tell you how it can, at the end.
Before that, here's what works, and what doesn't, in Office 2016.
Excel: Still indispensable, now more helpful
Microsoft can't mess too much with Excel, which is the most indispensable component of Office. Entire professions essentially live on Excel as their everyday tool.
Like modern calculator apps, however, Excel must meet the needs of a disparate group of individuals: statisticians, financiers, and data scientists, to name just a few. One new feature (also available in PowerPoint and Word) stands out: a small box in the ribbon that says, 'Tell me what to do.'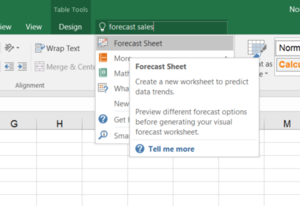 The 'tell me' box is essentially a search box, much like Bing. But while Bing or the Smart Lookup feature adds context around the phrase in question, the 'tell me' box cuts through the numerous menus and submenus. If you'd like to know how to justify a group of cells, for example, you can begin typing 'justify a group of cells.' Excel will begin making suggestions that change as you continue typing. You can also choose to look for help on that specific topic, or do a Smart Lookup search instead. What the 'tell me' box does, though, is simply to do what you tell it to.
That's both good and bad, in my book. While 'tell me' takes you directly to a command, it doesn't tell you where that command is located. So if you want to perform that command again, you're none the wiser.
I've typically thought of Excel, like PowerPoint, as an offline application. Not any more. Not only does it make more sense to post a link to an online workbook that others can use and manipulate, the complexity of these documents means emailing them back and forth simply isn't practical. Instead of interacting with a document, Excel users now have a virtual workspace. I was also a little shocked to notice that Excel loaded only a handful of templates if I wasn't connected.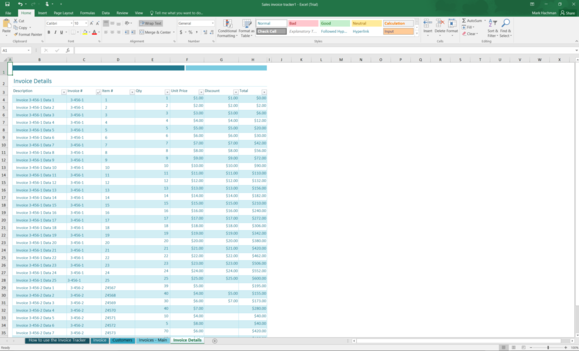 Under the hood, numbers wonks are going to find lots to like in Excel 2016, with pivot tables that can handle dates, plus new charts and graphs that emphasize business intelligence—the new watchword for Excel. Excel 2016 also adds the ability to forecast results, extrapolating revenue growth, for example, a few years down the road. You'll also find Power Query, an Excel feature that lets you pull in "live" sources of data from databases and Web pages, or your own corporate data. I rather like a feature that allows you to write equations by hand—handy on the Surface—although the recognition algorithm is still a little wonky.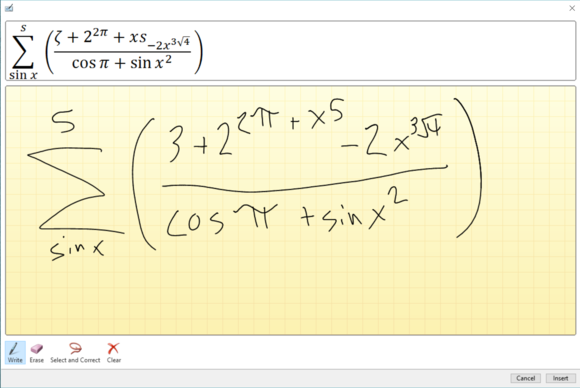 I'm not sure why Power Pivot, Power View, and Power Map—all tools that make up Microsoft's business intelligence vision—are off by default (you can enable them in the Settings menu). It's also not clear whether Microsoft was able to to fix a bug that prevented Power Queries from being updated on the older Excel 2013 by the release date. What you'll probably be happy to find is a hefty number of preformatted templates that allow you simply to plug in numbers, rather than creating a template from scratch.
Note that Excel (and PowerPoint) use staggered, turn-by-turn, quasi-real-time collaboration. I'm told, however, that changes are coming to each of these apps to enable Word's real real-time collaboration.
Word: More context, for richer documents
Word is the other tentpole application in Office, and it, too, is reassuringly the same for the most part. Microsoft's particularly keen to sell users on one new feature: Smart Lookup, also known as Insights.
Right-click a word or phrase in Word 2013, and a limited number of options pop up: a small formatting window, as well as options for spelling, linking the phrase, and checking grammar. In Word 2016, you get more—including options to translate the word or phrase, find synonyms, and so on.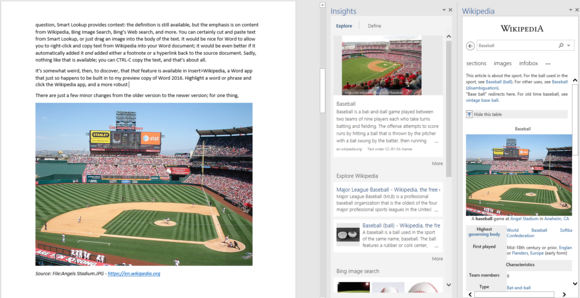 With Office 2016, Smart Lookup takes the Review > Define command from Word 2013 and supercharges it. With both the old Define and the new Smart Lookup, a right-hand pane provides additional information. But whereas Define used Bing to explain the word in question, Smart Lookup provides context: the definition, plus content from Wikipedia, Bing Image Search, Bing's Web search, and more. You can cut and paste text from Smart Lookup, or drag an image into the body of the text.
It would be nice for Word to allow you to right-click and copy text from Wikipedia into your Word document; it would be even better if it automatically added it and added either a footnote or a hyperlink back to the source document. Sadly, nothing like that is available.
It's somewhat weird, then, to discover that feature in Insert > Wikipedia, a Wikipedia app for Word that was built into my preview copy of Word 2016. Highlight a word or phrase and click the Wikipedia app, and a more robust version of Wikipedia opens up. Even better, any image that appears in the pane can be clicked once to add it to the text, with attribution (and license info) automatically appended. It also searches on any text you highlight as you're writing or editing. These are all nice touches.
Not so nice is the portal to the Apps for Office store, which has not been updated for Office 2016. A lack of Office apps or plug-ins is one thing, but you still can't see what others have said about the apps in question. There's also a big "Trust It" button that basically serves as a warning to download plugins at your own risk. No wonder the Apps for Office store basically failed.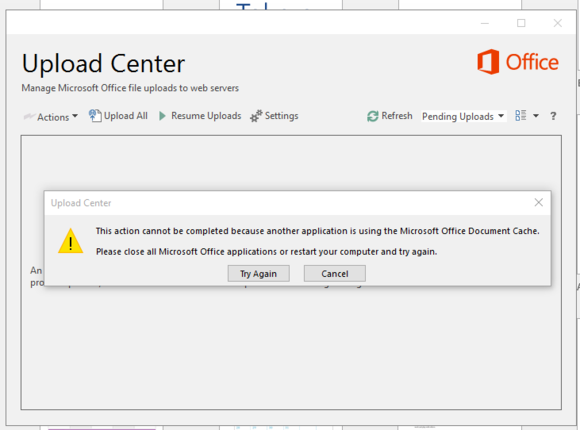 Note that all these additional insights, however, can seriously cramp anything but a widescreen monitor. You could potentially have a document recovery pane, revision pane, Insights pane, and Wikipedia pane all bracketing your main document. On a standard 1080p monitor, however, it looked just fine.
PowerPoint shows collaboration's pain points
PowerPoint—the tool of most modern presentations—is an appropriate place to talk about what Microsoft is trying to accomplish with collaboration, and where it struggles.
In the upper right corner of most of the Office 2016 apps you'll see a new "Share" button, which is where collaboration takes place. For now, however, the sharing experience differs sharply between apps like PowerPoint and Word.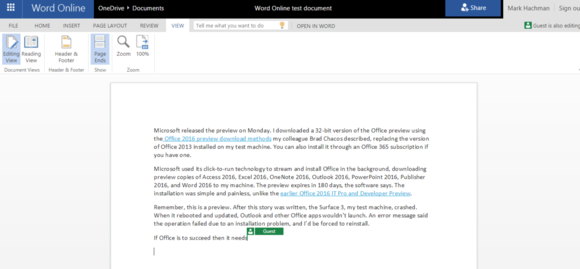 Here's how real-time collaboration works within Word: to share a document, you first save it to the cloud. Then you invite one or a series of people to edit it, using the Share button, which opens up an in-app message box. You can also eliminate all that and simply send a link. (Permissions are built in, so you can send one link to view, and another to edit.) I found using a link was better for casual editing, as the recipient can simply open the document as a "guest" in Word Online, rather than needing to type in his or her Microsoft password. (Otherwise, you'll need a Microsoft account to authenticate yourself.)
As long as all parties have Office 2010 or later versions, real-time editing can take place: Invited guests can add, edit, or delete content in a sort of collaborative free-for-all. That can be managed, however, by some relatively fine-grained editing restrictions, such as locking format changes, restricting a user to making only tracked changes, or by blocking him or her entirely (while letting other users make free, unrestricted edits). You can attach a comment to the document itself, or to a specific location in the text (which then shows up as an icon). You can also manually save whenever you'd like to create a version history that helps organize the document further. Even if you're offline, you can still monitor progress using Track Changes.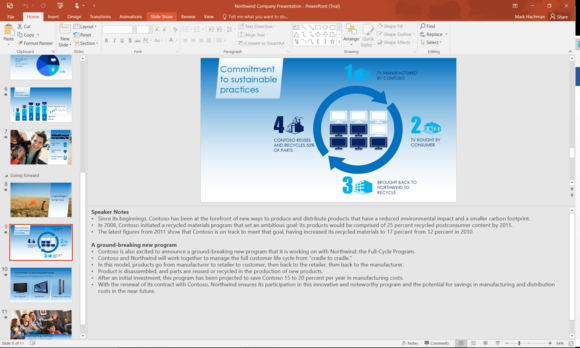 Next page: Where PowerPoint falls short, and OneNote's new approach.
With PowerPoint, however, most of that goes out the window. You can ask coworkers to collaborate, and you can still send them links by which they can edit your shared presentations. You can still comment, and coworkers can still make changes to the text as they wish. But you can't really manage their changes, or restrict what they can or can't do. (You can compare and reconcile versions of the same document that a coworker has worked upon separately, however, which is vaguely similar.)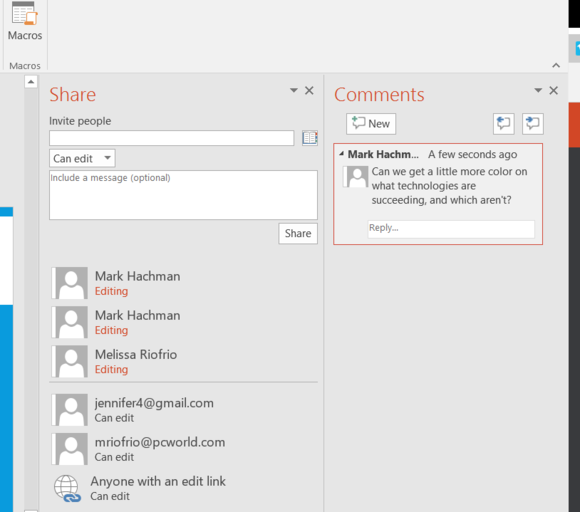 But—and this is a big but—any revisions to a document show up only if you click a teeny-tiny Save icon, way down at the bottom of the screen, that serves as a sort of CB-radio-style 'Over' command. It's almost impossible to find unless you know what you're looking for. Click it, and changes made by others show up. When your colleague makes another change, you have to click it again. It's a pain.

Granted, collaborative editing wasn't in the Office 2016 preview Microsoft released earlier this year. And, given that there's an enormous blank space in the ribbon header to the right half of the screen, you have to imagine that more managed sharing is heading to PowerPoint. (Microsoft tells me it is, shortly.)
OneNote
Here's the news on OneNote: linked OneNote notes. The feature's actually been around since Office 2013, but it seems to be more prominently displayed under the Review tab of apps like Word.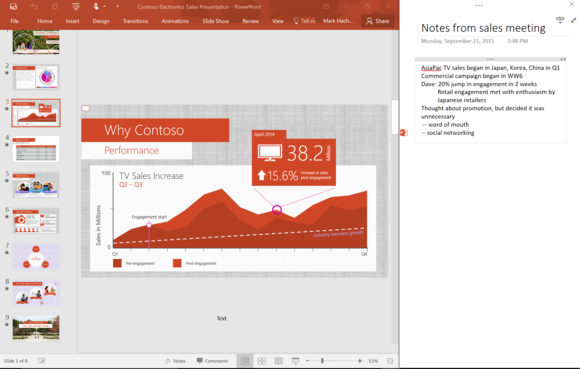 A linked OneNote note can be a bit confusing. In a OneNote note, you can add a hypertext link to a Web page that allows you to jump directly to that site. But what a linked OneNote note does is create a separate window pane that allows you to reference another document or Web page as you're reviewing your notes.
In some sense, this duplicates your working environment. Imagine your boss discussing a grant proposal. ("Oh yeah, he was talking about this Word document when he said this.") With Linked Notes, you can open that document, link it to a note, then begin typing commentary. When you review those notes, OneNote knows that you were referring to the Word document and can bring it up. If your boss then moved on to a PowerPoint document, you can link that too: moving your focus as your boss shifts gears. (Excel isn't supported, yet.)
OneNote linking doesn't apparently allow you to highlight a word or page of a document. It links to the document, which opens in a separate window, not a pane. And, of course, it would be nice if the feature were ubiquitous across Office. But with markup, live collaboration, and OneNote linking, Office 2016 should make it easier to recall earlier meetings that have blurred together.
Outlook has a new job: The collaboration hub
Normally, Outlook would seem to pale compared to the leading lights of Office. At one time, email was both the medium and the metaphor for managing business relationships. Now, however, modern social networks threaten that model—and Microsoft has no answer to that. Nevertheless, Outlook remains the connective tissue for many of the Office apps, and now it's the hub of Microsoft's collaborative vision.
Microsoft has added a number of small conveniences to Outlook 2016. For one thing, if you want to add an attachment, Outlook pulls down a list of recently used and modified files across all of the Office applications. If you want to email an enormous file (say, 700 megabytes) Outlook will email a link to the file stored in OneDrive, rather than clogging your network and mail folders by emailing the file itself.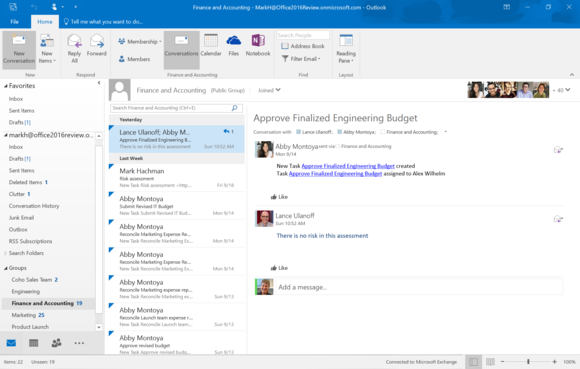 Microsoft also added a more important addition, Clutter, a sort of second-level spam folder. Clutter, which has been available on the Outlook.com Web app for months, takes work email it deems unnecessary (notices for a fun run; "donuts in the break room!" and the like) and puts them in a dedicated Clutter folder.
Clutter isn't perfect: It tries to determine what you want to save and what's irrelevant, but you'll tend to find some email you'd want to read in the Clutter folder. (You can turn it off entirely if you so choose.)
The flagship feature of Outlook 2016 is a new Groups feature, which carves out a portion of Outlook—and Office, to a lesser extent—into a series of small, flexible teams that you or a colleague can create. Instead of exchanging emails, the dynamic here is more conversational. But that's not all: Groups interacts with a Web app that Microsoft calls the Planning Hub (sort of an online version of Trello) as well as its new app for surfacing enterprise content, Delve. So it probably makes the most sense to view them as a cohesive whole.
But wait, there's more collaboration: Outlook Groups, Office Planner, and Delve
If you're a typical Outlook user, your left rail in Outlook is already jammed with various folders: Sent Items, Deleted Items, Important, Starred, and many more. At the bottom, Outlook now adds Groups.
Groups can represent an ad-hoc team formed to hammer out a feature request, an entire sales organization, or anything in between. In previous versions of Office, you could create an email alias, such as "West Coast Edit," that stood in for this. But with Groups, you can create a shared calendar and OneDrive, then track the progress of various group projects via the Planning Hub.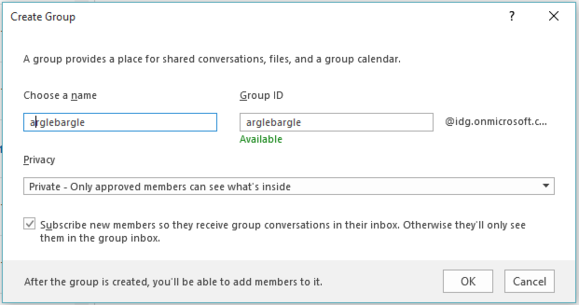 It's not immediately obvious how to form a Group. I right-clicked the Group label to form one. (An admin can also take care of this for you.) Outlook asks you to create a group name, and at least in my organization, assigned it its own email address. For now, much of this takes place at Outlook.com, in a Web browser. Using it via Chrome gave my boss some problems, but Edge worked fine.
In general, I like Groups, if managed appropriately. Microsoft put some thought into how Groups messages are passed, allowing you to send in-Group email (known as Conversations) into your general Outlook inbox—or in its own workflow. Outlook already offers a number of ways to connect with contacts, via messaging Skype, email, or phone. Some people want to see all that communication in a single, unified interface; others want to break it out into discrete conversations. Groups allows you to do both.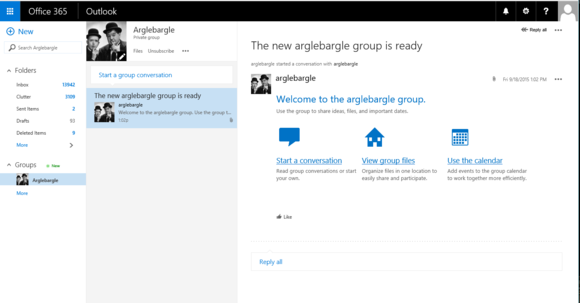 As you and your teammates plan and move forward on your various projects, Delve and Outlook's Office Planner help manage the effort. Both are (or will be) web apps, available from the Office "waffle" menu in the upper corner of Office365.com.
Delve is sort of an odd fusion of OneDrive and Lync. One portion of it is devoted to surfacing relevant documents that you know are buried somewhere in your Outlook folders, while the other will show you more information about a particular colleague, such as her resume and where she sits in the organizational hierarchy. (If you open a contact card in Outlook and view the Sharepoint profile, it will open this Delve page.) I couldn't care less about where a coworker went to school. But in my own workflow, Delve automatically shows me the documents I use most frequently.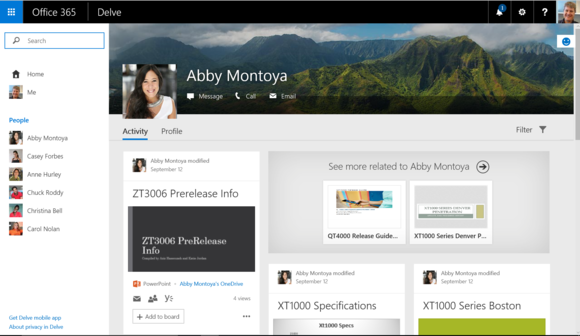 I'm torn on Delve's usefulness. Quite frankly, I think that there's a case to be made that if Delve needs to exist, then something in modern business (or in Office) is broken. Delve does find documents I need, and I like that—but it also displayed a flurry of test documents I had created and will never use again. Not so great. And I really don't understand the concept of the standalone Delve mobile app—I can surface relevant documents, but I have to go to another app to contact people about them? Finally, Delve is also only good for finding attached documents—if a co-worker dropped a critical bit of information into an email, you're out of luck.
Keep reading: There's this new thing called Office Planner.
Microsoft also showed us a Web app that apparently will ship a bit later: the Outlook Office Planner (which, in our testing environment, was referred to as the "Planner Hub"). Eventually, Office Planne will be one of the options that you can access from the "waffle" menu in the upper right-hand corner of Office365.com, along with Web-app versions of Outlook, Word, Excel, OneNote, Delve and more. In the preview build we were given, I had to navigate there from a fake email sent to my demo persona.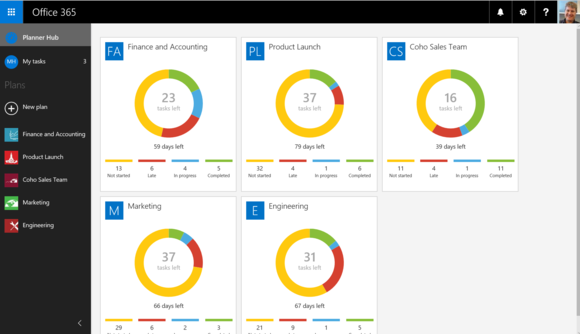 Office Planner is Microsoft's entry into simplified, collaborative project management. Its card-based format reminded me a bit of Trello, although the functionality is probably closer to Zoho Projects. Visually, it's a stunner. On my demonstration Surface, I was able to create tasks, assign them to individuals to be due on a given date, and upload any files or links that would be relevant to the task at hand. I didn't see a way to file a given task to a superior, though, or to apply any sort of metrics as to how well it performed.
Office Planner does provide a bright, informative set of "charts" that actually tracks the status of each project by task. Click on each category to drill down to the specific task at hand. A bar chart also allows you to see the number of tasks each individual has assigned to them, a nice way to ensure the available resources are used correctly. There doesn't seem to be any limit to the number of projects that can be managed at a given time, and Office Planner is free with Office 2016, versus the monthly fee other services charge.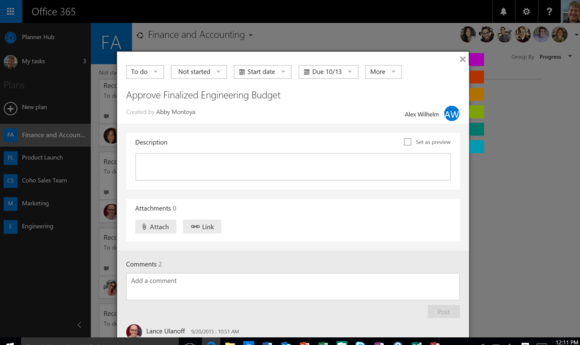 It's not immediately apparent how you connect Office Planner with Outlook; as it turns out, adding a task in the Office Planner sends an email to Outlook with the assignment. And, of course, there's a complete lack of mobile app integration for Office Planner at the moment, a shortcoming Microsoft will have to quickly rectify to compete in this space.
Many of the other applications within Office integrate quite closely with Skype for Business, the app that essentially replaced Lync last year. Office Planner doesn't. In fact, there doesn't seem to be any way to connect with someone involved with a task except for email. Skype offers you a nice, clean interface to chat with a colleague, share files, and even share your screen (although this feature lagged a bit when I was chatting with Microsoft representatives). In this sense, Office Planner feels unfinished—which I suppose it is.
Microsoft told me that it sees Office Planner and Groups as the avenues of private, intra-team conversation, and Yammer as the means to communicate hitting milestones to the rest of the company at large.
From my personal standpoint, I can see PCWorld using Groups to invite attendees to a CES planning session, sharing a meeting calendar, using a shared OneDrive folder for images and press materials, then dissolving it after the show finishes. That sounds very useful.
What worries me a bit, however, is that Groups seems to assume that one person equals one job. In a large organization, that may be true. But some of the appeal of Groups is the ability to form a Group as one needs it. At a business employing 60 people, you could conceivably have a number of groups with different combinations of a handful of people, but focused on different tasks.
Formalizing numerous, different interpersonal group relationships with shared calendars, emails and the like—and then trying to figure out what to do with them as time passes—well, it seems like it could all become very complex, very quickly. And that doesn't even begin to take into account permissions: whether an engineer will need to be granted the appropriate permissions to see sales data, or if partners can be invited in to assist with a marketing campaign.
Sway
We've previously dubbed Sway one of the first of a new generation of "blended apps," lifting elements from Word, PowerPoint, and more and combining them in a way that feels interesting and fresh. Sway allows you to create a newsletter-esque layout that emphasizes graphics, with photos used as backdrops and transitions sliding in to introduce new sections. It's simplistic, yet effective. Here's one I whipped up:
You create Sways in a layout or "storyline" mode, where you embed text, images, videos, tweets, and charts in a card-based motif that's not altogether intuitive to someone used to laying out images and text in Word. It's sort of a WYSIWYG approach, as you can see the changes applying themselves to the "final" document that's visible to the right on the screen. There's some noticeable lag, though, and I'm not a fan of the sliding transitions between the preview and storyline modes.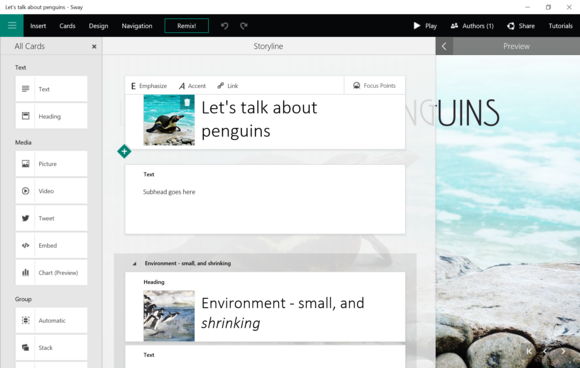 Fortunately, you don't have to think that much, as Sway itself selects what it thinks might be a good font or color scheme, even coordinating them to certain images. You can even select "focus points" for a given piece of art, though I'm not sure what that does, exactly. And if you don't like it, you click Remix, and Sway will select a new font and design on the fly. As someone who doesn't have a great eye for design, the additional suggestions were welcome.
Sway starts out simply enough: You pick a title and a backdrop image. Embedding an image is as easy as typing a search term in a box, then letting Bing or PicSay find a Creative Commons image for you. (There's no attribution, however—not a great lesson for up-and-coming students.) But if you want a subhead, or even a text box to put your name on the report, there's no obvious way of doing so. Then again, if you're sharing the Sway, and not printing it out, it should be fairly obvious who authored it.
Sway is designed for the modern Web, and sometimes it becomes a bit pretentious in that regard. I'm totally on board with Sway's autosave feature—in fact, you don't save Sway with a file name; it simply shows up as a presentation in My Sways. But when 'emphasize' stands in for 'boldface,' and 'accent' for 'italics,' it's a bit over the top. Loading the index and individual Sways also takes several seconds, and that's annoying.
Sway seems geared at the education market, but it lacks a word-count feature—one metric most teachers use. I'd also add a legacy 'print mode' to allow students to hand in a physical copy of a Sway. Otherwise, Sway is a creative use of Microsoft's development efforts.
Access and Publisher: Increasingly minor apps
Sway may be one of Microsoft's first blended apps, but Publisher really feels like a subset of Word, not an app worth reserving for Office 365. Publisher's territory is being encroached on, anyway. If you want to produce a flyer, or a brochure, or business cards, Publisher's your app. There's even a template for a baby photo album. But you can see that all of these products could be made in Word, or via a Web app or online service.
The Access database app is to Excel as Publisher is to Word—a corollary app that I'm sure some people feel strongly about, yet nobody seems to use. Case in point: this unanswered Microsoft support thread, asking about what's new in Access 2016 —with all of seven people chiming in. Access has the look and feel of the other Office 2016 apps, but that's about all.
Microsoft also tells me that Project and Visio are in the full releases of Office 365, but we didn't have access to them to test. That's not the case for Office Mix, which is still in private preview.
I'm sure there are a number of people who can speak knowingly about how databases are more useful than a spreadsheet, but Microsoft seems to have put all of its effort into improving Excel. I was also a little concerned about this error message, which I discovered on checking a Microsoft-authored template for version information:
I mean, isn't the whole point of Office 2016 to use live, active content?
A simpler alternative: Office Mobile, web apps
Office 2016 has another alternative: the Office Mobile apps. Free, ubiquitous, and simple to use, it's often worth loading up the Excel, OneNote, PowerPoint and Word Mobile apps first, then dropping into Office 2016 only if necessary. After all, if your document is saved to OneDrive, you can easily pull it up in either Word Mobile as well as Word 2016. (Note: Editing documents on Word Mobile and the other apps is only free for Windows devices under 10 inches or less, unless you have an active Office 365 subscription. Editing is free for iOS and Android users. Otherwise, Windows users without an active Office 365 subscription can view documents. An alternative is to use Windows 10 Mobile's Continuum feature, which allows you to edit documents on a desktop monitor, powered by supported Windows 10 Mobile phones.)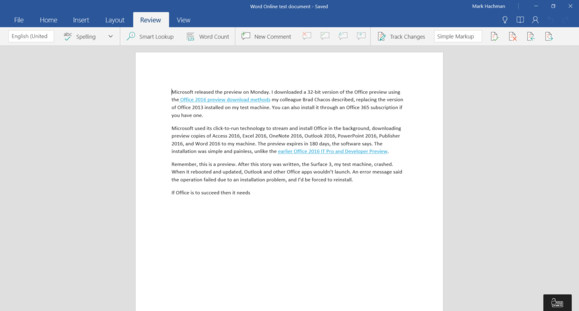 Granted, you're not going to find much of the nuance and complexity found in the more complex Office apps. But for my own use, I prefer using Excel Mobile to Excel 2016, precisely because my needs are basic. Summing a column is performed automatically, for example. In Word Mobile, I can track changes, check spelling, add footnotes, and even perform the Smart Lookup function built into the paid version of Word.
If you'd like, you can also visit Office.com and try out some of the Web-based versions of Office. Yes, it's another version of Office, and largely redundant, too. But—and this is somewhat important—the Web apps will be one of the first platforms to receive new features, precisely because they can be updated on the fly. Features like Clutter, which I really like, debuted on the Web months before the dedicated apps. The same goes for saving documents into Dropbox: You can do that via the web apps, and even Office for iOS and Android, but not Office 2016, yet.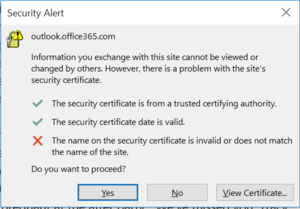 You do make a sacrifice or two in choosing the built-in Office Mobile apps. You can only work on one document at a time. The real-time collaboration Microsoft boasts about? Not there, although you can still track changes as before. OneNote Mobile also lacks one of my favorite features: voice recording. More and more features have trickled down to the free versions, but there's still value in paying for the full Office suite.
The future of Office: what makes it great?
If you've skimmed through this review, I bet that you focused on just a section or two, because you don't use all of Office to its full capabilities. Office has become siloed: Writers use Word religiously, while number-crunchers plumb the depths of Excel. Sales and marketing gurus live in PowerPoint. A generalist might be able to gin up a basic spreadsheet, but stop short of fancier techniques, such as pulling in live, disparate data sources to support a proposal.
The future of Office 365, then, depends on compelling as many potential Office customers as it can to say, "I didn't even know it could do that." Alas, Office 2016 barely, barely accomplishes that goal.
I can tell you what's new in Office 2016—and if you look closely enough, you can notice many of the new features yourself. But what are they? And what are they good for? These are two questions Microsoft simply assumes you already understand, and that's a dangerous assumption to hang a multi-billion-dollar business upon.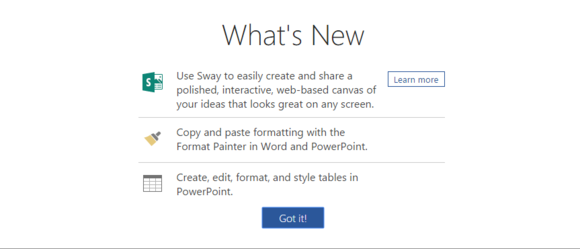 Microsoft would love for you to subscribe to Office 365, and the company promises a steady stream of monthly improvements to keep you hooked. But what are they? Office 2013 never told you. You'll have to dig out Office 365's upcoming feature roadmap to find out—and what's on the list seems awfully trivial. Office 365 Home allows you a license to install on five devices, five tablets, and five phones, plus a terabyte of free storage. But it's been almost a year since Microsoft promised unlimited OneDrive storage, and it still hasn't happened.
Office 2016 continues to leave you in the dark about what it's adding, although a slightly tweaked dashboard will apparently serve to introduce you to Office's improvements. But Microsoft needs to sell Office to you, rather than simply assume you'll buy it.
How? By educating the user on how to use Office.
Office 2013 and Office 2016 do a nice job of explaining what random menu items actually do via tooltips: In Word 2016, for example, you can hover over "Theme fonts," for example, and be told "This is an easy way to change all of your text at once. For this to work, your text must be formatted using the 'body' and 'heading' fonts." Then there's a "tell me more" link that provides a fuller explanation, using text and graphics, on how to change theme colors, create your own, et cetera. It's just a help file, but a pretty good one.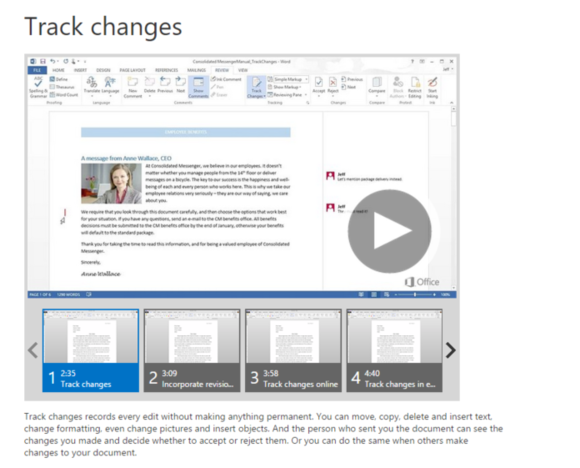 I think that Microsoft needs to take the next step, though, and start showing, rather than telling, how users can use these features to best effect. The obvious tool, of course, is video – whether they be just generic MP4 videos or something a bit more interactive, such as Microsoft's own Office Mix. In any event, I'd like to see a list of document templates when I open Word – but also a video tutorial on how to create my own.
If Office is now online and connected, take advantage of it! Let me open up Word and see a list of videos next to those templates: the basics, such as "What is a pivot table, and why should I use it?"; to more advanced topics, such as "Why live data should be included in your paper – and where to find it." Rotate them. Add new ones. Microsoft has a stable of how-to videos – here are video tutorials for Word 2013 – but very little education on how to use the features they describe. Show me how, but also why to use Office. Put those videos in Word itself, showcasing what's live and useful. Connect those videos to the tooltips. Consider embedding a live video thumbnail in the app itself.
You begin to see this verve, this liveliness, in Delve and Sway. Documents breathe. But in the stock apps—Excel, PowerPoint, Word—that legacy feels like a boat anchor. Office is 27 years old, people, and it still feels that way.
A tough call for the average user
That's why I'm reluctant to advise you to rush out and buy Office 2016. Windows 10 offered a number of capabilities, and for free. That makes it a no-brainer. Microsoft wants you to buy Office 2016, and the company already provides a suite of Office Mobile apps that doesn't make that decision easy for casual users.
But the second choice Microsoft really wants you to make is to throw your cares aside and subscribe to Office 365, paying year after year after year for continual updates. From a product standpoint, it's a tough call to justify it; Access and Publisher simply aren't worth it, and I'm not sure I see the value in a terabyte of online OneDrive storage. The addition of Outlook makes it far more attractive.
Financially… well, Microsoft's doing everything it can to hook you. Spending $10 per month for Office on five devices isn't that bad of a deal. Individuals can subscribe to Office 365 Personal for 21 months before they've paid off the standalone version of Office, or 32 months before they've paid off Office 2016 Home & Business. By that time, I'd expect Office 2018 to be on the horizon.
Here's the way I see it: Enterprises should definitely invest in Office 2016 and Office 365; large and medium businesses should as well. Smaller businesses and home users should take careful stock of their own needs before buying Office 2016. But as to the second question: whether to invest in Office 365… I'm torn. Over time, you many in fact see the steady stream of updates and improvements that Microsoft has promised—but not now.
Buying Office 2016 means investing in collaboration, and subscribing to Office 365 means insuring yourself for the future. If both of these appeal to you, then get out your credit cards. If not, then you might try Microsoft's free alternative, Office Mobile.
Clarification: In our testing environment, Microsoft had labeled the Office Planner as the "Planner Hub". But "Office Planner" is the final branding, and the terms you'll use to find it when it eventually rolls out. The story also tries to clarify what you can and can't do with Office Mobile.
Best Prices Today: Microsoft Office 2016