The latest version of a walking, quadruped battlefield robot from Boston Dynamics, the military robotics maker owned by Google X, was tested by U.S. Marines last week.
Spot weighs about 70kgs, is electrically operated and walks on four hydraulically-actuated legs. It's controlled via wireless by an operator who can be up to 500 meters away.
It underwent trials and testing at Marine Corps Base Quantico in Virginia as part of evaluations by the Marines on future military uses of robotic technology. In a series of missions, it was evaluated in different terrains including hills, woodlands and urban areas.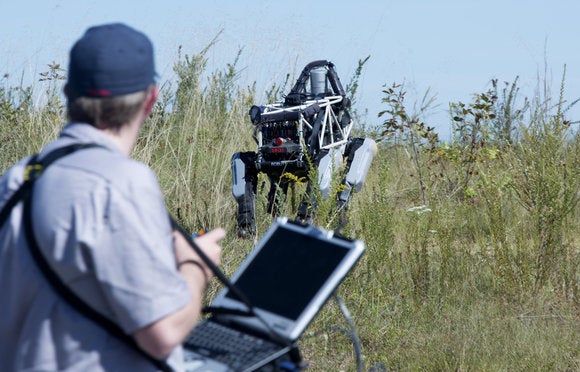 Spot is the latest in a line of robots developed by Boston Dynamics and compared to those earlier robots, called LS3 and Big Dog, Spot is said to be more agile and quieter.
The U.S. military is interested in the use of robots in combat because they can more confidently be sent into dangerous situations without the worry of loss of life.
In one of the tests at Quantico, the robot was sent into a building ahead of Marines to simulate looking around corners for enemies and threats.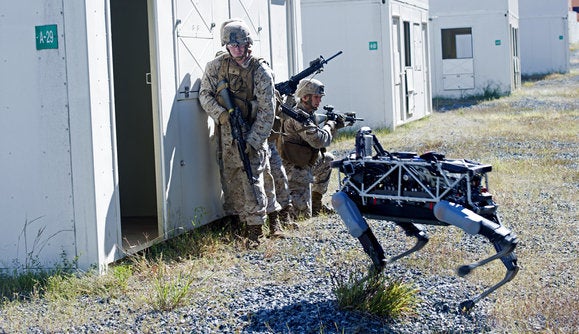 In addition to its robotics technology, Spot includes a small LIDAR (Light Detection And Ranging) laser imaging sensor that's similar to the sensor installed on the top of Google's self-driving cars to give them an all-around view of the world.
The trials were held by the Marine Corps Warfighting Lab and the Defense Advanced Research Projects Agency (DARPA), which has provided funding to Boston Dynamics to research and build the robots.
In the past, the U.S. military has talked about using such robots as automated pack mules, following soldiers or heading to preprogrammed points with heavy equipment on their backs.
"We want to continue to experiment with quadruped technology and find ways that this can be employed to enhance the Marine Corps warfighting capabilties," said Capt. James Pineiro, the branch head for Marine Corps Warfighting Lab., in a press release.