If there's one piece of software that makes the business world tick, it's Microsoft Office. The venerable productivity suite has been a key component of most major companies' workflows for years, if not decades.
In recent years, however, new entrants have challenged Microsoft's dominance over the productivity suite market. Google Drive has been one such competitor, especially thanks to the strength of its collaboration features that allow multiple people to edit a file at the same time.
Microsoft wants to get a piece of that action with its major Office 2016 update, which is primarily focused on helping users work well together. The new features include support for real-time coauthoring in Word, so users can work together on the same document without changing information that's being used by someone else. Moving forward, Microsoft plans to expand that functionality to other applications.
Further reading: PCWorld's deep, detailed Office 2016 review: It's all about collaboration
Microsoft already offered that capability in its Web apps, but this update brings the same features to the native Windows desktop apps. It comes close to two months after Microsoft launched Windows 10, the latest major update to its operating system for tablets and phones.
The update also brings support for features that make Office easier to use, like a "Tell Me" box that lets users search for a particular in-app function like setting line spacing without navigating the myriad series of buttons and menus available inside Office apps that control every little feature. While Office's full-featured nature makes it more powerful for users with particular needs, that same functionality can seem confusing to users who don't need it.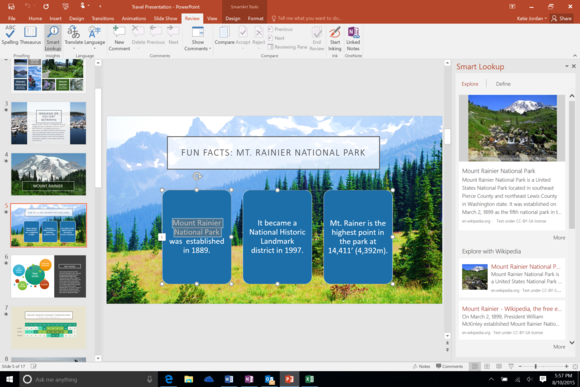 Those features and others add up to a product that could be more appealing to users who might otherwise choose to try out and use a productivity suite from one of Microsoft's competitors. Google announced Monday that there are 1 million businesses actively using its Drive for Work collaboration and storage product, in addition to a larger number of individual consumer users.
Customers with an existing Office 365 subscription can download the update for free starting today, and those without one can purchase a subscription to get access to the new applications. In addition, Microsoft will let users buy a standalone retail version of the product without paying an ongoing fee. PCWorld's exhaustive Office 2016 review can let you know if Microsoft's new productivity suite is worth your money.
Looking forward, there's plenty of news on the horizon after Tuesday's launch. As part of its transition to providing Office as a service though Office 365, Microsoft will be pushing frequent updates to this new version of Office. Those include support for real-time coauthoring in PowerPoint and the company's new GigJam service that makes it easier for users to work together across multiple services and applications.
Microsoft announced Tuesday that it has begun offering GigJam in a private beta, and it plans to make it available in Office 365 sometime next year.