Pebble has announced its third smartwatch this year, and this time it's aimed squarely at smaller wrists. The Pebble Time Round is the company's first smartwatch with a circular display, joining Samsung's Gear S2 and several Android Wear watches in the round-screen party.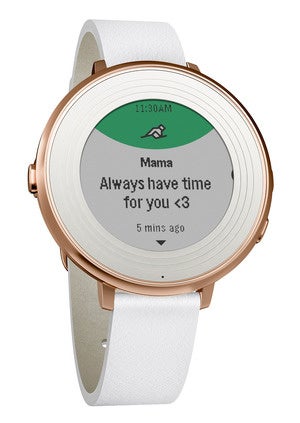 But what really makes it unique is its size. At 7.5 mm thick, the Pebble Time Round is 33 percent thinner than an Apple Watch. It's also considerably lighter at 29 grams, and offers narrower wrist band options of 20 mm and 14 mm.
"We recognized that there's actually a massive part of the community that we haven't been able to really get on the wrist of yet," Pebble CEO Eric Migicovsky said in an interview. "That's people with smaller wrists, women, people who have a different sense of style, and want to see something that's a little more classic on the wrist."
The story behind the story: Existing smartwatches skew toward men and people with larger wrists. To some degree it's by necessity, as device makers pack their timepieces with powerful displays that require massive batteries. But Pebble has a different approach. By using a low-power e-paper display, Pebble doesn't need a huge battery, and can offer a more svelte smartwatch as a result.
Making the round watch work
In terms of technology, the Pebble Time Round is similar to its predecessors, with an always-on display that's easy to read in sunlight (but requires backlighting to read in the dark). Users can launch lightweight watch apps, or view a "Timeline" that shows past and future events, such as sports scores and calendar appointments. Developers will have to tweak their apps and watchfaces to support the round display, Migicovsky said, though Timeline events should work with no modifications at all.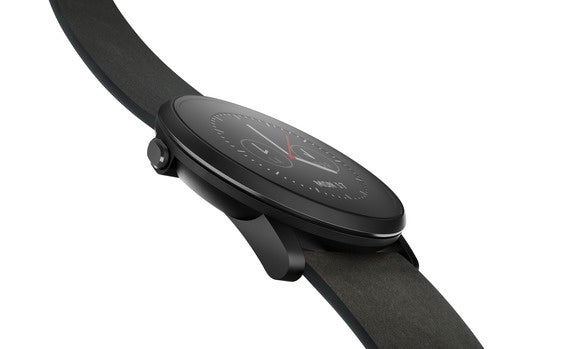 As with the existing Pebble Time and Pebble Time Steel, the round version pairs with either an iPhone or Android phone for receiving notifications and connecting to the Internet. Android users can also take action on notifications, for instance by deleting an email or sending a canned text message response. (Migicovsky hinted at a similar solution for iPhone users in a couple months. "We're working on a way to make it happen regardless of what Apple thinks," he said.)
The Pebble Time Round also has the same microphone as its smartwatch siblings for taking voice notes. Pebble is working on an API for voice, so third-party apps can take advantage of this feature.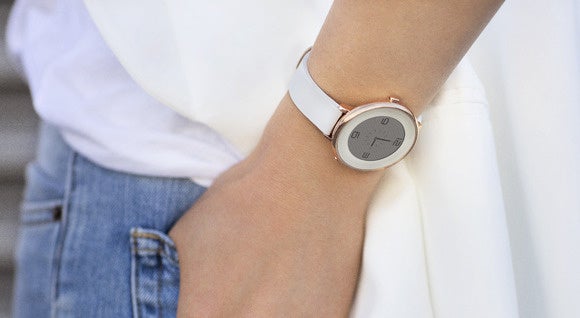 Still, Pebble did have to make a couple of sacrifices—the biggest of which is battery life—to shrink the Pebble Time Round down to size. While the larger Pebble Time and Pebble Time Steel last up to one week on a charge, the round version will only last a couple of days. To compensate, the Pebble Time Round does have a quick charger that restores a day's worth of battery in 15 minutes. The idea, Migicovsky said, is to wear it throughout the day (and night, for sleep tracking), then hook up the charger during your morning routine.
The Pebble Time Round also isn't as water resistant as its predecessors. It should survive a run in the rain, but showering or swimming with it isn't advised. The base model uses a leather strap, which probably shouldn't get too wet anyway.
Pre-orders for the Pebble Time Round begin today, priced at $250 with a leather band. The 14 mm version will come in black, silver, and rose gold, with an optional metal mesh strap, while the 20 mm version will come in black and silver. Pebble is planning to ship the watches on November 8.