Mozilla's all-new "stealth mode" for Firefox is one step closer to becoming a standard feature of the popular web browser. The latest Firefox Beta builds for PCs (Windows, Mac, and Linux) and Android come packed with a new featured called Tracking Protection.
True to its name, Tracking Protection actively blocks third-party tracking. To do this, Tracking Protection prevents any element of a webpage from loading that may have code designed to track your browsing habits.
Let's say you regularly visit a news site that always displays an ad supplied by a third-party advertising company, and those ads always appear to the right of the news articles. With Tracking Protection enabled you may not see the ads if they contain browser cookies designed to follow you across the web.
Tracking Protection isn't quite a substitute for ad blockers or add-ons like Ghostery; the new feature only works when you're in Firefox's Private Browsing mode. Google Chrome offers a similar feature know as as incognito mode, although Chrome's incognito does not block third-party trackers.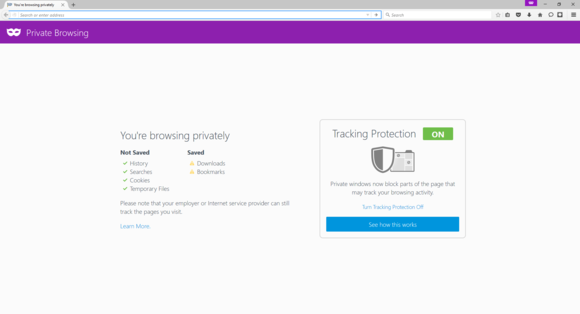 To test Tracking Protection, download and install Firefox Beta (warning: this will wipe out your stable install of Firefox). Once it's ready to go, click on the "hamburger" menu icon and select New Private Window.
When the private browsing window opens you should see a full-screen message that says Tracking Protection is on. This message shows up every time you open a new tab when browsing privately.
Now, just browse the web as you normally would without the worry of being tracked by advertisers. However, keep in mind this is beta software and it may sometimes malfunction or break.
The impact on you at home: Mozilla says it decided to enabled Tracking Protection, because the organization believed many already expected the feature when in private browsing mode. Currently, when you are browsing privately in the stable version of Firefox you can still be tracked during your private browsing session. But all cookies, searches, and browsing history are deleted when you close the private browsing window. Tracking Protection goes one step further by ensuring that the only entity that can track you in private browsing mode is your Internet Service Provider. And for the extra privacy conscious, that issue can be solved by using a virtual private network (VPN).