A report by AdDuplex due to be released Friday appears to confirm that Microsoft will release a third Lumia, the Lumia 550, at an event it is holding in New York City October 6.
The anticipated hardware lineup for the event keeps growing in number and importance. As of this writing, a new Surface Pro 4, three new Lumia phones, and an updated Microsoft Band 2 are all reportedly on tap.
Why this matters: Microsoft needs to create some excitement around its hardware, or its big software splash—Windows 10, Windows 10 Mobile upcoming, plus Office 2016 and more—will suffer. We'd love to see a new Surface, but what Microsoft must do more than anything is create at least one truly compelling Windows Phone, to enhance a rather drab lineup that's doing little to help the company's mobile ambitions.
Lumias and more Lumias
The Lumia lineup will reportedly include the Lumia 950 XL, code-named Cityman. The largest of the three devices, it's expected to have a 5.7-inch, 2560×1440-pixel display, 3GB of RAM, 32GB of internal storage, and a Qualcomm Snapdragon processor powering a a 20MP rear camera.
The Lumia 950, or Talkman, is slightly smaller, with a 5.2-inch, 2560×1440 display. While the two phones have slightly different button and camera configurations, both models appear to have dedicated camera buttons, as with previous Microsoft Lumia phones.
The third phone, most likely the Lumia 550, includes a 4.7-inch 720p display, according to AdDuplex. WMPowerUser has reported that the device will contain only 1GB of RAM, along with a 1.2GHz quad-core Snapdragon 201 chip.
AdDuplex actually found a fourth Lumia, with a 5-inch, 720p screen, but in limited numbers, meaning that it's unclear if Microsoft will announce it at the October event.
The anticipated new Windows Phones come at a time when the existing user base—as small as it is—clusters around a couple of midrange phones. The Lumia 635 is the most popular Windows Phone, with 30.9 percent of the market share. The Lumia 640 also has a decent chunk, at 11.2 percent.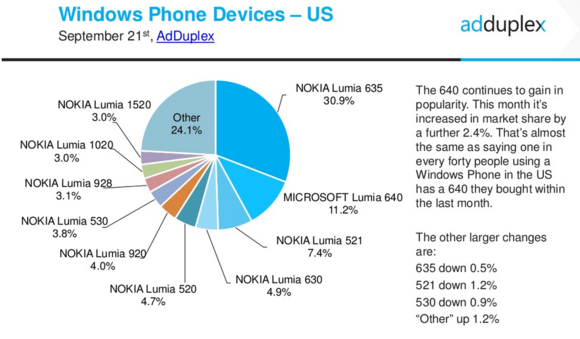 Microsoft would be perfectly justified in releasing new flagship models and cutting the price of older models—except it doesn't have any older flagships to discount. It's very possible that the older Lumia 640 and Lumia 635 will form the mid- to low end of the Windows phone market, with the new 550 covering the midrange.
AdDuplex also confirmed that Xiaomi is testing the Mi4 Android phone with a Windows 10 ROM—except the phones are being listed as XIAOMITEST, which likely means they're just in development for now.
According to the ad network, the vast majority of phones are on the stable version of Windows Phone, or Windows Phone 8.1. Just a handful, or 4.7 percent, have tried out Windows 10 Mobile, the next release, which is currently in preview. AdDuplex captured the data from about 5,313 Windows Phones on Sept. 21.