People get upset about their spreadsheet programs. For those who live, breathe, and even do word processing in Microsoft Excel, you will have to pry it from their cold, dead hands. Others have migrated to Google Sheets feeling like they've shed five pounds of bloated software.
The battle lines are drawn. Is either really better? We'll make this argument easier for you. We took a close, impartial look at both programs (as we did with Microsoft Word and Google Docs), and there actually are certain things Sheets offers that Excel does not, and some things Excel can do that Sheets can't touch. Which is "best" really depends on what job you need it to do.
Here we'll give you the four reasons Google Sheets users can lord it over Excel users. Excel jocks, you have your bragging rights, too.
1. Free, free, free
Let's get the obvious out of the way, first: Google Sheets is free. A subscription to Apps for Work—which gets you Google's full productivity suite including Docs, Slides, and more—is a mere $5 per user per month.
To get a standalone copy of Excel 2013, you'll need to pony up $110, while an Office365 Personal subscription, which includes the full Microsoft Office suite, starts at $7 a month or $70 a year for one user.
While price shouldn't be the primary criterion by which you choose software (oh no, never, right?), it can certainly tip the scales in a tight race.
2. Collaboration
Microsoft Office is working hard to catch up, but as with all of Google's apps, collaboration is where Sheets shines. Instead of working individually on a spreadsheet and then emailing separate copies to each stakeholder for review and sign-off, Sheets lets you share a single file with a group. With Sheets' simultaneous editing and real-time commenting, you can work with others as if you were across a table from each other, even if you're miles or oceans apart.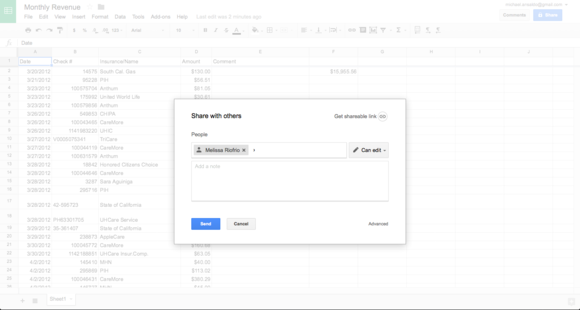 3. The power of Google
Because of its tight integration with Google, Sheets can import all kinds of data from other Google services and the web at large. You can translate the contents of a cell using the function GOOGLETRANSLATE(), or you can fetch current or historical securities info from Google Finance with the function GOOGLEFINANCE(). And with Sheets IMPORTFEED and IMPORTDATA functions, you can pull information from the internet directly into your spreadsheet.
4. Revision history
There's a circle of hell where people are condemned to juggle file versions send back and forth among team members. To track a spreadsheet's editing history, Excel requires you to save each new version with an appended file name. That's an invitation for mishaps and crazy overlaps, especially when someone misses a major revision.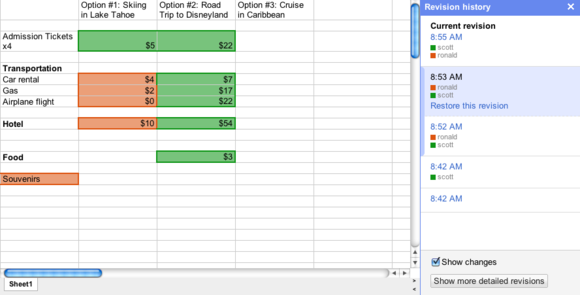 Google Sheets' built-in revision history gives you a clear and complete chronology of all changes and who made each one. Just go to File > Revision History to see this record, and you can restore your file from any point.
The verdict
Excel remains the gold standard for spreadsheets for good reason: If you work with massive amounts of data or need advanced functionality, there is no substitute. But for the rest of us, who have more modest spreadsheet requirements and are increasingly collaborating with remote colleagues, Google Sheets can get the job done without the expense.