Microsoft's new Lumia phones—the Lumia 950, Lumia 950 XL, and more recently the Lumia 550—have been the subject of speculation for weeks. Now, a leaked presentation that looks very Microsoft-y appears to have put a stamp of authenticity upon the rumors.
Slides posted to Forever Nokia Latin America's Facebook page (and covered by WindowsStudio) show what appears to be a Microsoft presentation, in Spanish, describing some of the features and specifications of all three new Lumia phones, plus the Continuum dock (known as the Microsoft Display Dock) that they will plug into. In addition, they show that some of the phones will include a version of Windows Hello that will scan your eye's iris to identify you without a password.
Translated, one slide describes the target consumer of the phone as "everyone who wants to do more; enjoy their daily lives; and share with the people who matter most to them." That's casting a pretty wide net for usage cases, with references to productivity as well as social sharing with family and friends.
The new devices use Windows 10, letting them function as your PC, the slides add. The slides don't use the term 'Windows 10 Mobile' specifically.
Why this matters: Windows Phones have captured just a fraction of the smartphone market, but its users are passionate. Given their increasing clamor for new flagship phones, it's not hard to understand why this information is leaking. Several independent leaks have confirmed similar details, with advertising network AdDuplex confirming the Lumia 550 yesterday. We still don't know what's inside the Surface Pro 4, of course. And, most importantly, how it will all work. We'll have to wait for Oct. 6 to find out.
The three new Lumia phones
If these slides are accurate, here are the specifications of the new phones:
Lumia 950
Display: 5.2 inches, QuadHD
Processor: Qualcomm 6-core Snapdragon 808
Camera: 20MP PureView rear camera with optical image stabilization (OIS) and dual flash; 5MP HD front camera
Storage: 3GB RAM, 32GB internal storage
Battery: 3,000 mAh, with rapid charging via USB-C
Lumia 950XL
Display: 5.7 inches, QuadHD
Processor: Qualcomm 8-core Snapdragon 810
Camera: 20MP PureViw rear camera with OIS and triple flash/5 Mpixel front camera
Storage: 3GB RAM, 32GB internal storage
Battery: 3,300 mAh, with rapid charging via USB-C
Both phones can be connected to what Microsoft is calling the Microsoft Display Dock, a a small box that appears to have USB and microUSB inputs and connects to an external display. According to the slide, it will also have a Bluetooth connection built-in. The idea, as Microsoft has described previously, is that the two phones will use the Continuum feature to allow them to be used as small PCs, displaying Windows 10 universal apps (like Excel) across the entire screen real estate used by the widescreen monitor.
Yet another slide claims that both the Lumia 950 and 950XL (but not the 550) will employ iris recognition as a means of authentication. Windows Hello on some Windows 10 notebooks uses a special Intel depth camera to scan your face, logging you in without the need to enter a password or PIN. The version of Windows Hello used by Microsoft's new flagship phones will look for the unique pattern of your iris to do the same. (It's likely that you'l have to hold the phone fairly close to your eye for this to work, however.)
Both phones have been rumored to work with the Surface Pen that accompanies the Surface tablets, but the slides don't seem to show that.
The Lumia 550, meanwhile, is a solidly mid- to low-end phone.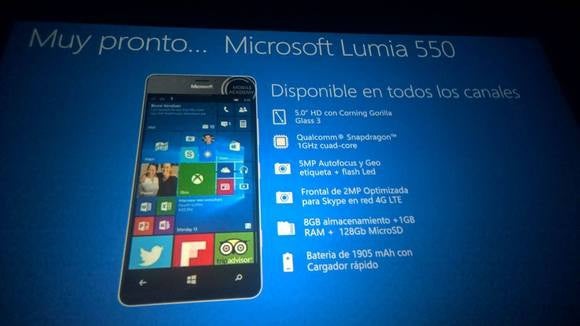 Lumia 550
Display: 5 inches, HD resolution
Processor: Qualcomm quad-core Snapdragon 1GHz
Camera: 5MP rear autofocus camera with flash; 2MP front camera optimized for Skype
Storage: 1GB RAM, 8GB internal storage; 128GB microSD card
Battery: 1,905 mAh with rapid charging
Naturally, Microsoft is also touting the other features of Windows 10, such as Cortana, the integrated OneDrive cloud storage, and other features.
We still don't know the price of each phone, nor where or when they'll be sold. Still, the majority of Microsoft's Lumia strategy is coming into focus.