Last month, YouTube launched YouTube Gaming, a new livestreaming platform that goes head-to-head against Twitch, the biggest name in e-sports streaming. Twitch isn't taking its newfound competition lying down, though: At this year's TwitchCon, the company announced a whole host of improvements to its livestream viewing experience—and a new app for PlayStation users.
During Friday's TwitchCon keynote, Twitch CEO Emmett Shear announced that Twitch's player would go full HTML 5 by the middle of 2016, replacing the old Flash-based player entirely. Twitch dipped its toe in HTML5 video playback in July when it switched to HTML5 playback controls overlaid atop Flash-based video, but come next year, everything on Twitch should stream Flash-free.
The company is also improving its Whisper conversations. Starting next month, Twitch will pull Whispers out of the main global chat panel and move them into pop-up tabs that live at the bottom of your browser window. The interface looks a little like what Facebook uses for its messenger service, and it should help you keep track of your Whispers. Twitch will provide similar improvements to Whispers in its mobile apps, too.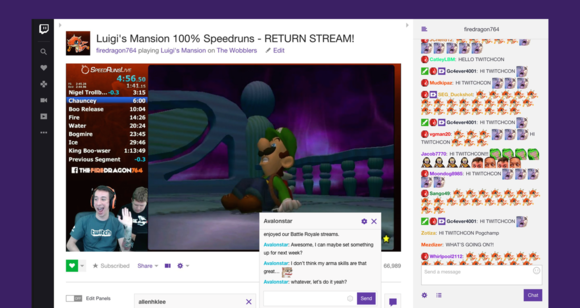 Twitch wants to make it so each Twitch channel can be "a true 24/7 community," as Shear put it. With that in mind, Twitch is adding a new playlists feature that lets you pull together collections of archived or live broadcasts. Visitors to your channel will be able to watch your streams, even when you aren't online, and comment on your rebroadcasts as they stream. The idea here is to expand Twitch beyond the 15,000 or so channels that are broadcasting at any given time, and to make the community a more vibrant, lively place.
In addition, Twitch will soon provide a video upload tool—useful if you want to share something you pre-produced, such as a highlight reel. The video upload tool will arrive early next year, according to Twitch.
Other new features in the works include an improved search engine and the ability to use custom thumbnails for highlights and archived broadcasts.
Last but not least, Twitch also announced an app for PlayStation, which joins existing apps for Xbox, Nvidia Shield, iOS, Android, Chromecast, and Fire TV. The new PlayStation app will arrive on the PS3, PS4, and Vita sometime this fall.
Taken as a whole, Twitch's new features are welcome additions that bring Twitch more in line with what YouTube Gaming offers. The ability to upload videos to Twitch in particular may be huge: It turns Twitch into a one-stop streaming shop, and gives its users one less reason to use YouTube.
Many of the upgrades and additions won't arrive until next year, however, and as we all know, a few months is a long time on the Internet. One thing's for certain, though: The livestreaming competition is officially on.