When Microsoft rolled out Office 2013 it included a sharing screen that let you share a document in all kinds of ways. You could share a link over email, get a sharing link, or post the document directly to a social network or blog.
It offered a lot of functionality, but it was a little on the complex side, especially since there were effectively two options to share via email. Plus, you always had to jump back and forth between your document and the Sharing page in Office's backstage view—the screen you see when you click File. Ugh.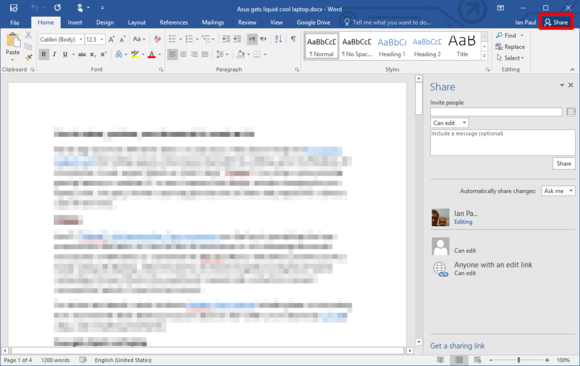 With Office 2016, Microsoft made things a lot simpler. The backstage version of Sharing is still there with its more complex options. But the new, improved addition is a sharing panel that you can view right next to the document, as seen above.
Here's how it works.
Open a document that you want to share in Office 2016. In the upper right-hand corner of the app, next to your name, click the + Share button. The sharing panel will pop out of the right-hand side of the window.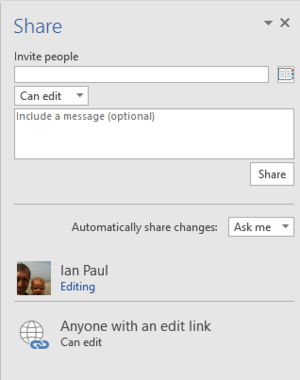 Most of the options are relatively obvious. At the very top is a quick way to invite someone over email. This is the equivalent of the "Invite people" option you see in backstage view.
Once you add an email address, include a messsage, and click Share, the recipient will get an email with an invitation to view the document in OneDrive. From there they can either download the document to the desktop or work on it using Office Online.
If you just want to give someone viewing privileges without editing, you can do that by changing the Can edit drop down menu option to Can view.
Below the invite feature you'll see a list of people currently editing the document, as well as a list of people who have access privileges. At the very bottom of the panel there's also a "Get a sharing link" option if you just want to throw a link in an instant message or send the link from an email account not tied to your Microsoft Account.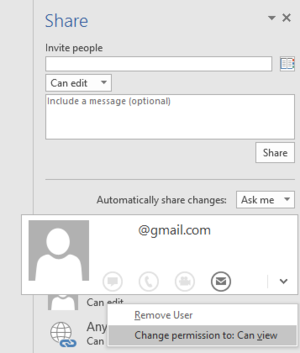 The one thing that's not so obvious is that you can use the sharing panel to change an individual's access permissions on the fly.
Right-click on the name of anybody in the list with access to the document and you'll see two options. The first is to remove that user completely, which means they'll no longer be able to access the document. The second is a simple toggle between the ability to edit or only view the document.
One last thing you may not notice in this sharing panel is that Microsoft gives you the option to decide when changes you make to the document are automatically shared with others. This is handy if you want to work on a particular section before showing it to anyone else. By default, Office will ask you first before sharing changes. But you can also choose to never share changes or always share changes.
If you need more sharing power than the new simplified version allows you can still get to the backstage Sharing view, with options such as sending files as attachments via Outlook 2016, or posting documents to a blog.
Note: When you purchase something after clicking links in our articles, we may earn a small commission. Read our affiliate link policy for more details.
Ian is an independent writer based in Israel who has never met a tech subject he didn't like. He primarily covers Windows, PC and gaming hardware, video and music streaming services, social networks, and browsers. When he's not covering the news he's working on how-to tips for PC users, or tuning his eGPU setup.