If you've ever sent a "thumbs up" emoji to a coworker via email, listen up: Facebook-style likes are coming to Outlook.
Microsoft said Wednesday that it was incorporating likes as well as a second feature, "@Mentions," into its Outlook client for the Web for those customers who use Office 365 and Exchange Online. The two new features will eventually roll out to other Outlook clients—Office 2016 clients for Windows and Mac, as well as Outlook for iOS and Android—in the first half of 2016.
Why this matters: Yes, the notion of adding a like to an email sounds preposterous, especially when the term carries all that social networking baggage—memes, rumors, baby pictures, and so on. But it's possible, and acceptable, that the like will be reserved for specialized use cases. And wouldn't you like to see a "Jerry was promoted! Congratulations!" email surrounded by 20-odd Likes, rather than 20-odd followup emails?
So what is an Outlook like and @Mention?
Mentions actually seem like quite a useful addition to Outlook. Imagine a group email sent to half a dozen coworkers, outlining a plan of action for a meeting the next day. You certainly could organize it in a list, with tasks assigned to each member. But adding a Mention—an "@" symbol followed by the user's name—highlights the recipient's name in the email they receive, and their name is added to the "To" field. In addition, the email is flagged with an "@" symbol next to it, to highlight that the recipient has specific instructions or a message tailored to him or her.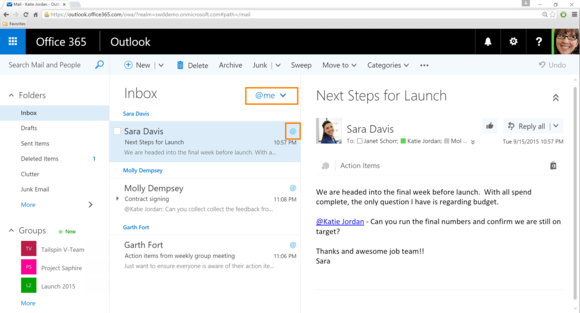 "Using the Mentions feature ensures that the person is not only aware of the request but is also included in the thread," the Outlook team said in a blog post.
Mentions won't be available today; they'll roll out to "First Release" customers in mid-October and all eligible Office 365 customers in mid-November.
While Mentions call out a specific person, likes highlight a specific idea, according to Microsoft. When you click the thumbs-up icon, it will turn blue, and the like will be recorded within the email by name. You'll also receive a notification that your email was liked, providing a bit of additional validation.
Note that although it's called a "like," giving a coworker a thumbs-up won't have any impact or connection to Facebook. (Facebook also plans an unrelated product called "Facebook at Work," which is in trial mode.)
Microsoft has said that likes and Mentions will come to Office 365 Business, Enterprise, Education, and Government plans. We'd assume that both would eventually arrive on Consumer plans as well, although Microsoft hasn't indicated that they will.