September has been the month for companies to announce updates to their cloud storage products in order to draw business away from the competition. It's a crowded, rough-and-tumble market, with offerings from Google, Box, Dropbox and other companies.
Microsoft is no different in that regard, announcing a set of updates to its OneDrive for Business product Wednesday that should make it a more appealing option for companies looking to store files in the cloud. The first big change is a next-generation sync client that's available as an invite-only beta and brings a bunch of new features users have been waiting for.
First, it offers improved reliability, which is key for users who want to make sure that their files show up on all the devices they own. In addition, the client supports selective sync, so that users can choose to only pull certain files stored in Microsoft's cloud down to their devices rather than having to download everything.
The new client is available in an invite-only beta right now, and IT managers can sign up to get on Microsoft's wait list as the company rolls it out to interested companies during the rest of this year. When a company is given access to the preview, IT managers will be able to push the new client silently to their users.
IT managers will also get new ways to help manage their organizations' sharing of files. Managers will be able to limit the external domains users are able to share files with, and a forthcoming update will allow them to audit external sharing invitations so they can make sure that users aren't sending secure company data out to people who shouldn't have it.

Users who share files through links can set requirements for accessing them, like requiring a company account to edit or view information. In addition, they can set an expiration date for the link so the people they're sharing with will lose access after a certain amount of time.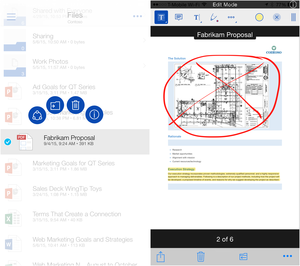 On the mobile side of things, Microsoft has updated the OneDrive for Business apps on iOS and Android with new capabilities. The Android app received support for making files available offline, so users can access key information without having an internet connection.
iOS users haven't been left out of the cold, either: they get a new radial sharing menu and the ability to annotate PDFs within the OneDrive for Business app.
Users will also see a simplified Web interface for the storage service, thanks to changes that Microsoft first pushed out to consumer users of OneDrive. One of the key features is an ability to easily switch between list and preview tile view to look through files.