When you want to make video calls and message people, there are tons of options available, including Hangouts, Facebook Messenger, Line, and Viber. Yet even with all the choices out there, the majority of my messaging activity still happens on Skype, and I'd bet that's the case for a lot of people.
But Skype kind of sucks. It's no longer the simplified chat app it once was. It's a big program with too many features and even a few surprises you may not know about.
Here are a few tweaks you can make to simplify and improve your Skype experience. This article is based on version 7.10.0.101 running on Windows 10, but if you have the latest version of Skype on Windows 7, 8, or 8.1 it should offer the same options.
Get off the taskbar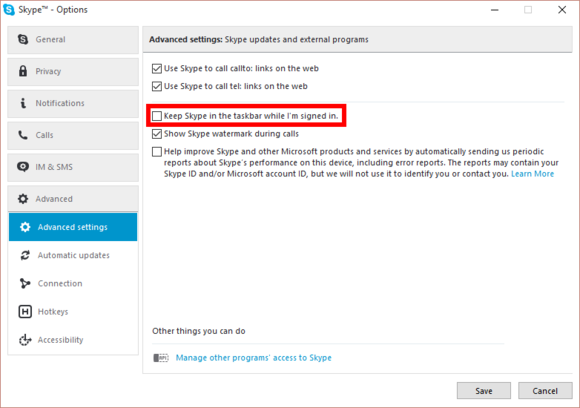 Skype is one of those programs that just can't take a hint. When I close the window, I still want Skype to run but I don't want it sitting in my taskbar—that's why we have a system tray.
To banish Skype from your taskbar when you close the program's window, go to Tools > Options > Advanced > Advanced Settings. Now uncheck the box that says "Keep Skype in the taskbar while I'm signed in." Finally, click Save and whenever you close the Skype window it will no longer continue to sit in your taskbar.
It's still running so you can receive calls and messages, however. If you want to open the Skype window again click on the upward facing arrow on the right side of your taskbar, right-click the Skype icon, and select Open Skype.
Go old school
I don't really like Skype's space-wasting interface. The good news is, at its core, Skype hasn't changed that much over the years. You've still got a list of Skype contacts, and when you click one of them you get options to type a message or start a call.
To get back to basics and banish Skpe Home—that area where you can see Facebook updates from your Skype contacts—click on View > Split window view, which will toggle Skype to what's called "single window view."
Now, Skype Home will appear in a separate window. Just close that Skype Home window and then adjust the contact window until it looks like the window pictured here, which is more or less a modernized version of the single-panel Skype look.
Watch out for your privacy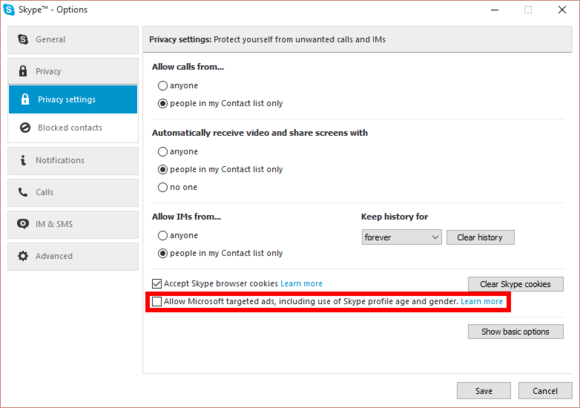 Just like Google, Microsoft has yet to meet a product it couldn't involve with ads, and Skype is no exception. Go to Skype > Privacy… > Privacy Settings. At the bottom, you'll see two check boxes. Privacy conscious users will want to uncheck "Allow Microsoft targeted ad, including use of Skype profile age and gender."
That's it: Three small tweaks that will make your Skype time just a little bit better.