Dell's new Precision 15 5000 corporate laptop takes an important cue from its cousin, the XPS 13. Arguably the best consumer laptop of the year, the XPS 13 crammed a 13-inch screen into a laptop no bigger than ones that packed 11-inch panels.
Dell does the same trick with its new Precision 15 5000, shoehorning a 15-inch panel into a surprisingly svelte laptop. At first glance, you'd think it was an XPS 13, just scaled up a bit.
The Precision 15 5000 features an "infinity display" that lets Dell shrink the size of the laptop up to 17 percent over its direct predecessor with the same-size panel. Two panels are available: Both are wide-viewing-angle models, which is code language for IPS-like (Sharp doesn't like it when you call anything other than its own panels IPS, even if the technology is the same.) The lower-resolution screen is a 1920×1080 panel with a 72-percent color gamut. The higher end of the spectrum nets you a UHD 4K panel (3840×2140) with 100-percent Adobe color gamut and 10-point touch.
Why this matters: Dell's proven its laptop mettle, and it's clearly sharing its best ideas across product lines. I believe this is as close as we'll get to a preview of the upcoming XPS 15, which is also expected to get the infinity bezel treatment.
Skylake and Xeon CPU options
Despite being fairly thin, the new laptop will support 45-watt Intel CPUs including the Core i7-6820HQ, the Core i5-6300HQ or the Xeon E3-1505M v5, plus another unnamed Xeon model. All of the CPUs will be based on Intel's latest Skylake family. They'll bring DDR4 memory to the table, as well as Thunderbolt 3 through a USB-C port. The Xeon offerings will support ECC DDR4, for those who are simply anal about their memory errors.
For graphics, the laptop will feature either a Quadro M1000M or Intel Pro Graphics 530 and P530 graphics.
Storage also is fairly beefy, with full support for NVMe m.2 SSDs up to 1TB in size, as well as a second 7mm, 2.5-inch hard drive up to 1TB in size. For those who opt for just the M.2 drive, the 2.5-inch battery bay can be put to work with additional batteries, which will increase the "gas tank" capacity from 56Whr to 84Whr.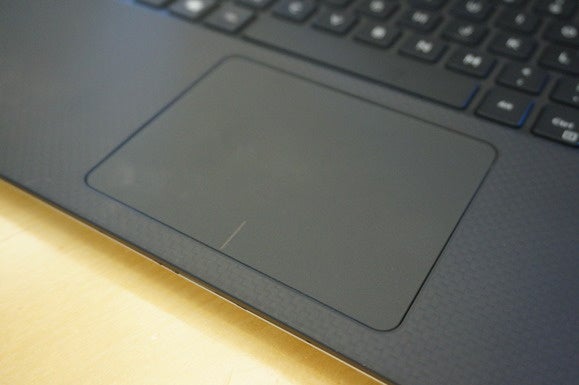 Also new is the inclusion of a Microsoft Precision Trackpad that should offer, more, well precision. In a move I welcome: a larger keyboard over the XPS 13.
Finally, Dell said the new Precision will also be supported by its Dell Precision Optimizer and Reliable Memory Technology. Dell Precision Optimizer tunes the laptop's performance for the professional, certified apps it's running. For example, if an app is mostly single-threaded, the laptop could switch off Hyper-Threading in real time and boost the clock speed of the CPU. RMT lets the laptop detect and map out bad sections of main memory.
Other Precisions get a buff, too
The Precision 15 5000 isn't the only new laptop. Dell has also announced a new, thinner, faster Precision 15 3000. It doesn't get the treatment the 5000-series does,but the company said it's 12 percent lighter and 26 percent thinner, with a CPU that's 20 percent faster.
Dell has actually changed its lineup nomenclature, with the 3000-series at the bottom, the 5000-series in the middle and the 7000-series at the top. It's a nomenclature that's worked well for Intel with its Core i3, Core i5 and Core i7 and was originally borrowed from BMW.
The Precision 17 7000 will deliver beastly power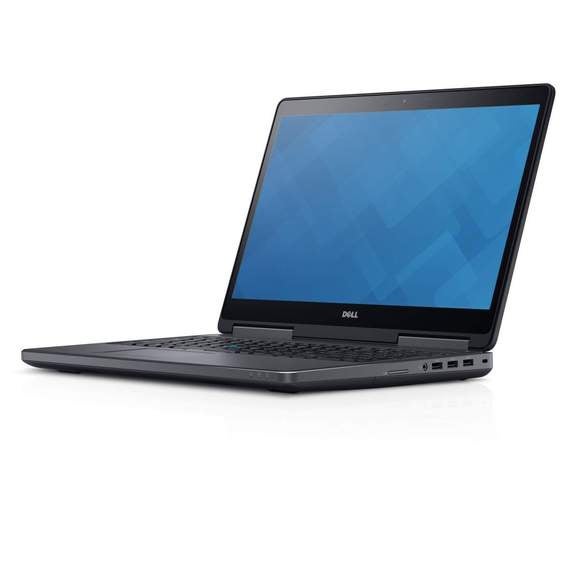 The Dell Precision 17 7000 will offer quad-core Core i7 and Core i5 CPUs. It will also take advantage of Intel's push to get Xeon CPUs into laptops, with no fewer than four Xeon models available (including two models with 16MB of cache). WIth the larger footprint and thicker body, the Precision 17 7000 will run up to four SO-DIMM slots for up to 64GB of ECC DDR4 RAM. Besides offering standard JEDEC-speed DDR4/2133 modules, the company will also offer laptops with overclocked DDR4/2667 modules too.
The graphics menu will offer Nvidia Quadro M3000M through Quadro M50000M GPUs, as well as AMD FirePro W7170M and W517M GPUs. Like the Precision 15 5000, you can choose between a 1920×1080 IPS-like panel with a 72-percent color gamut, or a 17.3-inch UHD 4K display with 100 percent Adobe color gamut support.
In storage you can have it all, including two M.2 PCIe NVME SSDs plus a 9.5mm hard drive for up to 2TB. That means a topped10 out Precision 17 7000 can pack as much as 4TB of combined storage.
Battery options range from 72Whr to 91 Whr capacity and Thunderbolt 3 will be available by January. Like the other Precision laptops, it will also support Dell RMT and Precision Optimizer.
The new laptops are expected to be available later this month.