When a gaming laptop won't cut it and a small form factor falls short, the only answer is to bring your gaming desktop with you.
Lian Li's new PC-TU300 makes that chore a lot easier than before by essentially turning a full desktop PC into rolling luggage.
The PC-TU300 case features an integrated luggage handle for convenient carry. You don't want to run through the airport rattling your two GeForce GTX 980 Ti cards, though, so Lian Li also offers the TC-01 retractable handle, and wheels that attach to the case. The combination turns the machine into a full-on rolling suitcase with your precious PC parts inside.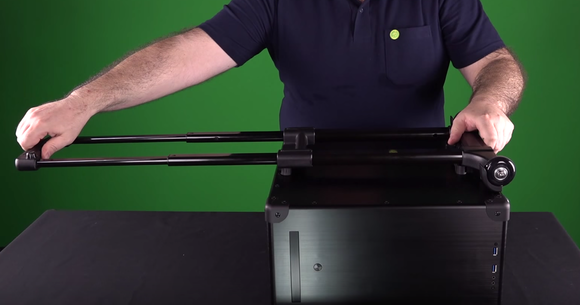 There's enough space to fit a standard full-size ATX motherboard and PSU. The front features a cutout for a slimline optical drive. The entire case is typical Lian Li, constructed of aluminum. Oddly the storage options are a little lighter-duty than expected. You can fit a single 2.5-inch drive plus two 3.5-inch drives in the case. I would have expected space for two 2.5-inch drives without eating into the 3.5-inch bays.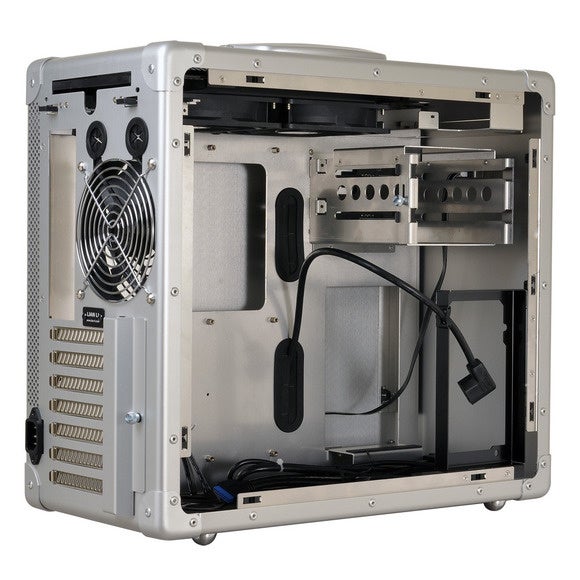 As it's likely to get bounced around, Lian Li added aluminum bumpers on the corners to help absorb some shock. Another nice touch are the feet. Instead of the $3 glued-on rubber feet that usually fall off in 10 minutes, the feet are actually aluminum, which I suspect screw into the bottom.
The price of the case is expected to be $230 when it goes on sale this October. An anodized-black version is also available for $250.
The coolest part will be running a fully outfitted liquid-cooled rig through the TSA security check. Raise enough suspicions, and you'll likely end up with a freedom cavity search.