We don't know what Microsoft will announce tomorrow in New York City at its Windows 10 devices event, but I'd bet a box of Cronuts there won't be a tablet that outguns VAIO's new Surface clone, the Canvas.
Yes, VAIO, the former PC division of Sony that was cast from the mothership last year, is back with an impressive engineering feat: Stuffing a real quad-core CPU into a tablet formally named the Z Canvas.
Why this matters: Although belittled initially, Microsoft's Surface has set the standard for what people expect from tablets that you can use for more than just surfing the web or playing Angry Birds. Lenovo announced a clone, with rumors of Dell doing the same, and even Apple is getting in on the action with its iPad Pro which, frankly, most people have mocked as a copy of the Surface.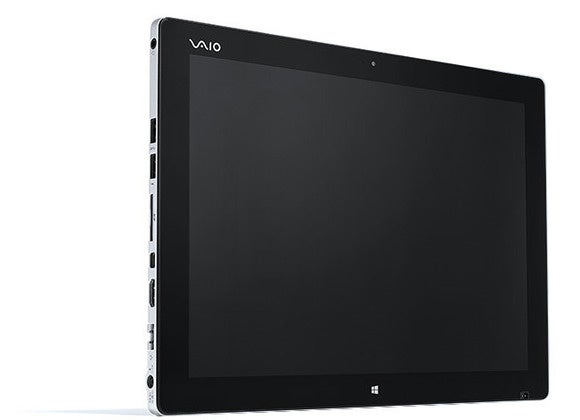 VAIO officials said the aim with its Surface clone was to tackle the creative types who like the appeal of the Surface Pro setup, but need more. Content creators need horsepower, so VAIO figured out a way to jam a 45-watt CPU into a tablet's body that isn't bigger than the Hulk.
To be fair to VAIO, the company doesn't actually think it competes directly with the Surface Pro 3. It actually wants to take a shot at Apple and try to wrest content creators away from their MacBook Pro 13s and MacBook Airs. The idea, VAIO said, is to entice those users with excellent pen support for artistic endeavors, and far more performance than what's available on the dual-core MacBooks.
Still, it's hard not to see this as a Surface Pro clone.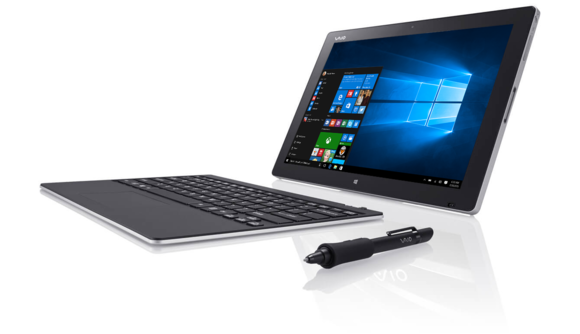 Why it's like a Surface
There are many similarities with the Surface Pro line. It's a tablet, meaning the guts of the computer are jammed into the same shell as the screen. It also has a kickstand, so it can stand on its own. The kickstand here was actually designed to present more resistance when you push on the screen. The idea is to prevent the screen from changing angle when you use the pen or touch the display. You'll meet less resistance when pulling the tablet toward you, so you can easily change the viewing angle.
It's a good idea in theory, but on the demo unit I played with, you really had to push on the kickstand to fold it in for transport.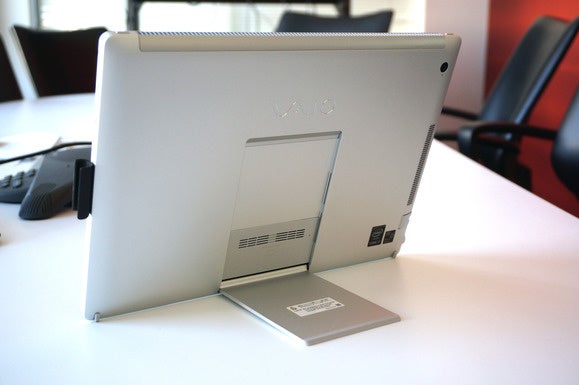 The screen is a 12.3-inch IPS panel with resolution of 2560×1704 pixels, a 3:2 aspect ratio, and a 95-percent Adobe RGB color-gamut rating. The Surface Pro 3 also has a 3:2 aspect ratio.
The Canvas supports touch- and pen input using Sony—yes, Sony—pen technology that offers 1024 levels of pressure. It's not just about the pen, though: VAIO said it took a step in constructing the panel to remove gaps between the various digitizer layers and the LCD, and it tweaked the pen's software to reduce parallax errors. Parallax errors with pens on a typical tablet can make the cursor on the display appear at a different point than where the tip actually is.
Palm rejection is built-in, but VAIO also offers the ultimate palm rejection: the ability to simply switch off the Canvas's touch digitizer while leaving the pen digitizer on—just push a physical button.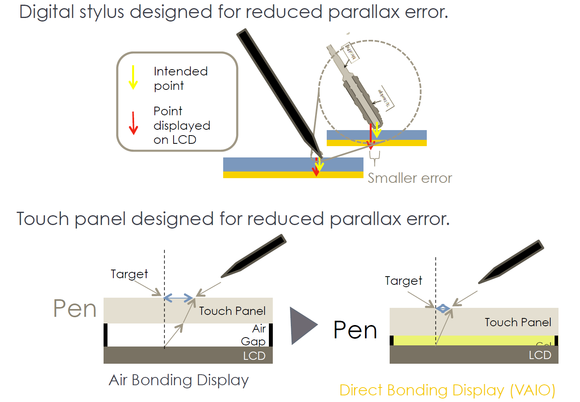 Why it's not like a Surface
VAIO's pitch for the Canvas is indeed for creative professionals, and that's why the keyboard is unlike the one on the Surface Pro, which must be physically attached to the unit to work. VAIO said that requirement would interfere with a serious artist's needs.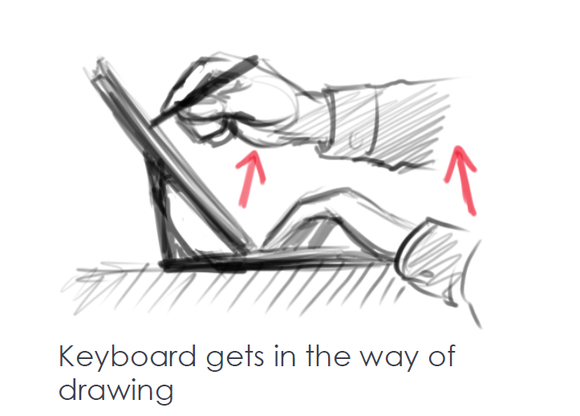 When most artists use, say a Wacom Cintiq monitor, according to VAIO, they use the keyboard with their off hand. VAIO emulates that use case with the Canvas by making the keyboard battery-powered and wireless. It's not Bluetooth, either; VAIO said the keyboard relies on proprietary RF technology to increase reliability.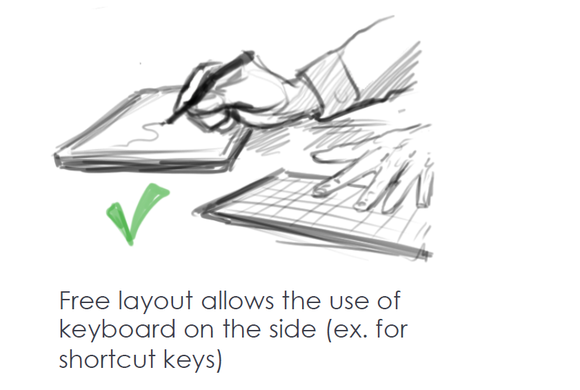 That keyboard also features a nifty feature many will recognize from Google's recent Pixel C announcement. The keyboard locks in place on the Canvas using magnets and charges automatically. While the Pixel C uses a nifty inductive charger, the Canvas keyboard uses a nub. But since the VAIO has been on sale in Japan since May, it's VAIO that gets to say "First."
This design shows once again that VAIO's target isn't Surface Pro users. Lapability on the Surface Pro 3 is OK, but it's almost impossible on the Canvas because the keyboard doesn't physically attach to the tablet. The tiny kickstand doesn't help either. If you want to use a Surface-like computer on your lap, look elsewhere.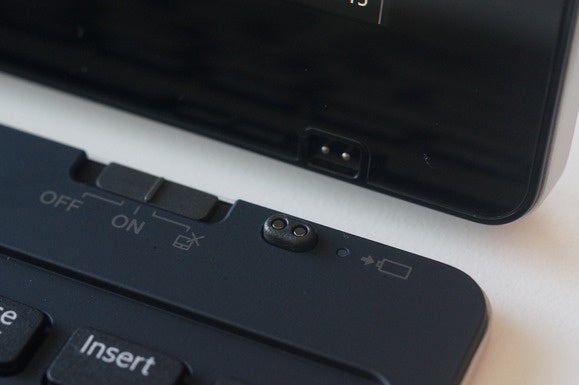 Yes! A quad-core CPU
The truly impressive engineering feat is fitting a quad-core CPU inside the Canvas. And I don't mean a 2-watt Atom CPU. There's a 45-watt Intel Core i7-4770HQ processor in there. Some will be disappointed this isn't Intel's new Skylake chip, or even a Broadwell quad-core, but the consolation prize is pretty good.
This isn't just any Haswell part, it's the Core i7-4770HQ with Iris Pro 5200 graphics and a fat 128MB L4 cache. It's one of the few Intel GPUs with discrete-level GPU performance—it's strong enough for moderate PC gaming.
This CPU's key limitation is heat: The standard CPU in the Surface Pro 3 (and in most Ultrabook and smaller MacBook Pros) is a 15-watt part. The Core i7-4770HQ inside the VAIO Canvas is a 45-watt part.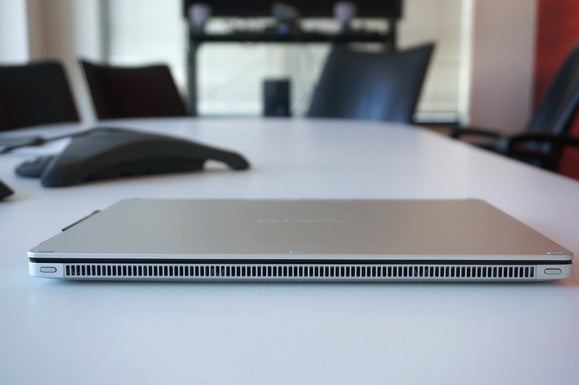 Anyone who's used a Surface Pro 3 can tell you it gets hot and loud after a while, and then it gets slow because it can't shed heat fast enough. So how does the Canvas do it? VAIO said it designed the tablet to use three fans. You can see this in the cutaway, below. Dual heat pipes wick heat from the Core i7-4770HQ to three fans, which exhaust the warm air out the top of the enclosure.
But now the problem is sounding like a 747 on takeoff. To counter excessive fan noise, a phenomenon the Surface Pro 3 sometimes exhibits while just browsing the web, the VAIO team said it designed the fans using blades and rotational speeds that would create noise cancellation. Essentially, the company claims, each fan cancels the noise from the others. Noise is further reduced—and longevity increased—by using fluid dynamic bearings rather than a typical sleeved or ball bearing.
In the brief time I had on the Canvas in the office, I didn't notice the fans spinning up, but I also didn't get to hammer on it. I'm very curious to test VAIO's claims with a lengthy multi-threaded load to see if noise or heat is a dealbreaker. Stay tuned.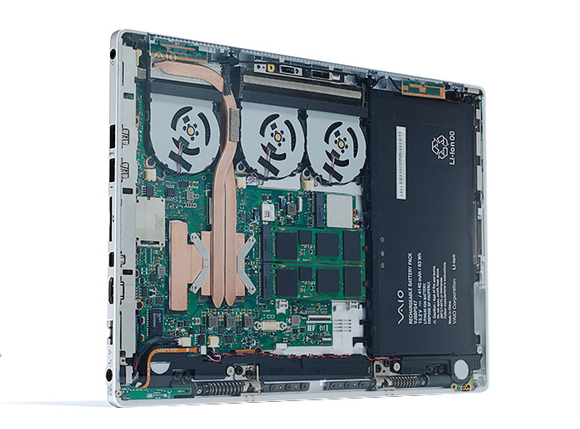 Battery life could be a problem
Battery life, VAIO says, will be about 7 hours. But VAIO wouldn't tell us how they arrived at that estimate.
This is a potential pain point for the Canvas. Performance doesn't come free, and running a 45-watt CPU instead of a 15-watt chip could suck that battery dry faster than I go through sugar-free lemonade on a hot July afternoon.
VAIO does take advantage of the thicker body to integrate a 63-watt-hour battery inside, but I fear sub-par battery life thanks to the quad-core CPU, the touchscreen, and the relatively high-resolution panel. We'll see when we get a unit for real-world testing, but the math adds up to be ugly.
No more dongles!
The thicker body also comes in handy for accommodating ports. Nobody likes dongles, much less the prospect of buying another one every time one goes astray. VAIO said there's no need for dongles with the Canvas because it has all the ports on it: Two USB 3.0 ports, an SD card slot, miniDisplayPort, HDMI, and gigabit ethernet.
The perpetual frowny-face crowd will be sad there's no USB-C or Thunderbolt 3, but this is an improvement over the port selection most tablets offer.
One thing that is certainly a disappointment is the use of a standard barrel charger. I didn't see the power brick, but I suspect it's a generic brick. One of the niftiest features of the Surface Pro 3 is its magnetic charging connector that pops off easily without damage to the connection or the cable.
But I can understand why there's no magnetic connector. From conversations I've had with many PC makers, Apple has had a patent lock on magnetic connectors for some time, Microsoft is the only other company that's figured out a way to implement it without getting sued.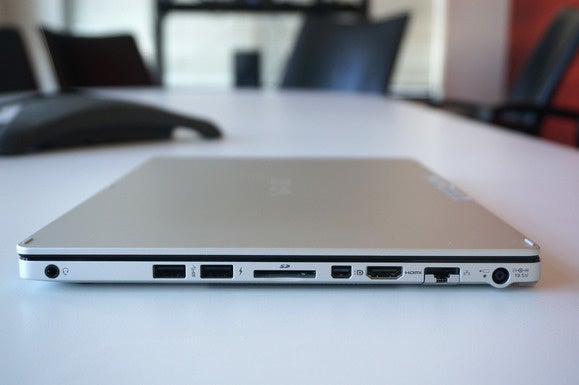 Other specs—and the price
The thickish chassis enables fairly beefy storage options: From the cutaway image above, you can see there's room for two M.2 SSDs inside. The base option is a single 256GB M.2 SATA SSD. The mid-range configuration gets you a 512GB M.2 PCIe SSD, and the top-end configuration nets you two 512GB M.2 PCIe SSDs for 1TB of storage.
The RAM configurations will also appeal to content creators. The base unit and the mid-range unit both feature 8GB of DDR3, while the high-end unit has 16GB of DDR3. The RAM is soldered to the motherboard, so upgrades are not possible.
Areas where the Surface Pro 3 certainly won't lose: Size and weight. The Canvas is about 11.85 inches wide, 8.4 inches tall, and 0.54 inches thick. The keyboard adds another 0.17 inches to its profile. The Surface Pro 3 is about 0.36 inches thick. With the Type Cover attached, a Surface Pro 3 should be slightly thinner than a Canvas without its keyboard.
The Surface Pro 3 also weighs about 1.76 lbs. without a keyboard. The Canvas will push 2.76 lbs. sans keyboard, so there's definitely a price to be paid for all that performance.
And yes, that performance will come at a cost: The baseline Canvas will push $2,200, the mid-range unit $2,600, and the top-end unit will top $3,100.
Whether you think it's a Surface clone or not, one thing is clear: It's likely to be the fastest tablet around unless Microsoft announces a quad-core chip in its Surface Pro 4 tomorrow.
If you can't wait until tomorrow though, VAIO said the Canvas goes on sale today, and anyone interested in checking it out in person can visit their local Microsoft store.
Note: When you purchase something after clicking links in our articles, we may earn a small commission. Read our affiliate link policy for more details.
One of founding fathers of hardcore tech reporting, Gordon has been covering PCs and components since 1998.