A BattleTech Kickstarter, a Mass Effect theme park ride, a live-action SOMA prequel, and one hardcore fan builds a working Fallout vault—we've taken a break from sipping apple cider to round up all the important gaming news from September 28 to October 2.
Still under siege
Bored again this weekend? The Rainbow Six Siege closed beta, originally supposed to end this past Monday (September 28) has been extended through Sunday, October 4. Keep on killing those terrorists, if you've got code.
Also you can play Speedrunners for free through Steam. It's a fantastic multiplayer game even in Early Access.
Goal met
Well, I guess Kickstarter still works for one developer. Harebrained Schemes, of Shadowrun Returns/Dragonfall/Hong Kong fame, launched a campaign for a turn-based BattleTech game this week and managed to raise a million dollars in under 24 hours.
The campaign's still got more than a month to go though, so there's time for plenty more. Currently the stretch goals top out at $2.5 million, when Harebrained will add PVP multiplayer. And while I mostly try to stay away from talking about Kickstarter these days, Harebrained has a thrice–proven track record so…I'm not overly worried.
And speaking of Kickstarter—Divinity: Original Sin 2 just closed out its campaign this week with over $2 million in funding. All stretch goals were unlocked, including Chris Avellone's writing talents and dedicated mod support.
Before the fall
Something cool coming out of Frictional this week—a five-part, live-action prequel to SOMA. Since it's a prequel it's technically "spoiler-free," but I'd say that's a loose interpretation as it spoils some of the themes of the game. I'd recommend watching it after you play, just to be safe. But either way, here's part one:
Reading you loud and clear
Square Enix has gone ahead and scrapped that garbage "Augment Your Preorder" program it'd set up for Deus Ex: Mankind Divided. If you missed it, Square Enix had basically turned the hell of preorder bonuses up a notch by forcing you to not only put down money for a game ahead of its (potentially broken) release but also making you choose which specific bonuses you wanted (from a larger pool) instead of just offering players a set package.
It was kind of sleazy, and Square says the program generated "a resounding amount of negative feedback," thus they're killing it off and giving all bonuses to everyone. Sometimes—sometimes—the consumer still wins.
Scream machine
There's a bevy of amusement park news this week, which is…something I didn't think I'd ever write in regard to video games. First, the obvious: Atari tacked a release date onto RollerCoaster Tycoon World. The game will launch for PC on December 10, making it probably the last notable release of 2015.
But there's more news to be had, for EA announced a partnership with California's Great America to create a "dynamic new attraction" themed around Mass Effect. Details are scarce, but it'll apparently involve 3D glasses and motion seating. So basically, D-Box.
No trees were harmed in the making of this trailer
I still don't quite know who Telltale's Minecraft: Story Mode is aimed at, but I guess we'll know soon enough—the game's got its first story trailer, and if nothing else it shows the game features one talented bunch of voice actors.
Busted transmission
Sorry, gearheads. As if it weren't bad enough Need for Speed is delayed until 2016, now Ubisoft has pushed TrackMania Turbo into next year also, citing the need to "enhance the campaign and the game's interface."
That leaves the PC with precisely zero racing games this holiday season, as far as I'm aware. Time for more Project CARS, I guess.
And then it explodes
Call of Duty: Black Ops III is still looking more like Advanced Warfare 2 than anything else, but hey—the chef from Wet Hot American Summer is in this so hopefully he'll hump a fridge at some point in the campaign while "Higher and Higher" blasts in the background.
There was time, now
Sure, you love Fallout, but not as much as this person. A Reddit user built a fully-functional vault door to cordon off their gaming room, and it's pretty damn cool looking. Also, probably a huge pain in the ass to open and close. But cool!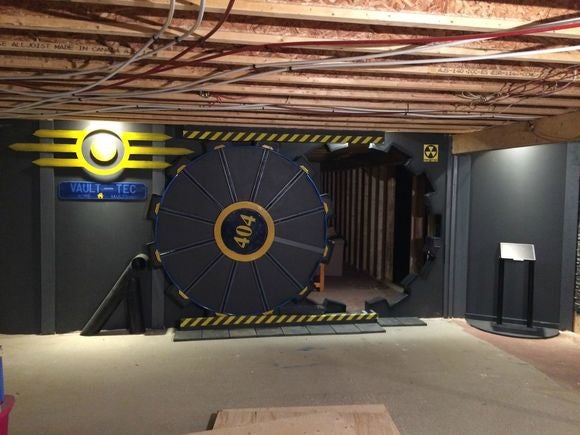 More reading