The first-gen Band didn't exactly set the world on fire in a world deluged with Apple Watches and Android Wear and dirt-cheap activity trackers galore, but Microsoft isn't quietly killing off its Windows wearable. During the company's big device launch on Tuesday, Microsoft revealed a second-gen Band sporting some slick generational improvements over the original and a strong emphasis on the smarts provided by the cloud.
The new Band is "optimized for the individual who goes to work and works out," said Microsoft's Lindsey Matese.
The most notable fresh feature is the Band's curved Gorilla Glass 3 display, which hugs your wrist in a much more eye-pleasing fashion than its predecessor. Plus, it's more scratch-resistant and more responsive to touch commands, and the Band's band breathes easier around your wrist.
"We kept grinding to push the product… no rigidity in any direction, no uncomfortable shoulders, no hard edges, and above all it must curve nicely around the wrist," said Matese.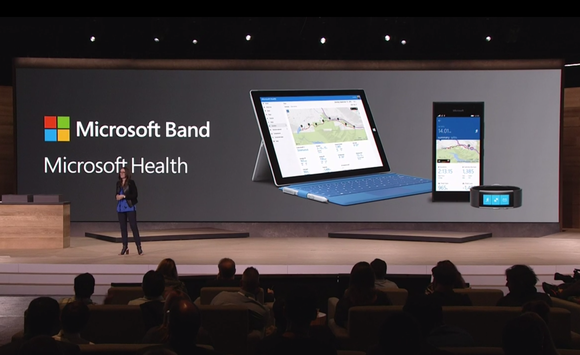 Beyond the aesthetic upgrade, the new Microsoft Band now features enhanced Cortana integration—the digital assistant can now reschedule workouts that you miss—as well as a new barometer sensor so you can track your elevation in real time.
So why would you opt for a Microsoft Band over, say, an Apple Watch or Fitbit? Matese repeatedly stressed the personalized "big data" that the Microsoft Health app provides, especially when paired with the sensor-laden Band. Calorie tracking, stair climbing, GPS, guided workouts, sleep tracking, calorie tracking, notifications—Microsoft's blend of the Band hardware and the cloud-bolstered Health app software does it all, Matese said. And the combo enables capabilities that no other fitness wearable offers, she said, such as measuring VO2 max (the maximum oxygen volume an athlete can use) and the ability to discern whether you're practicing your golf swings or crushing long balls down the fairway.
Curious? You'll be able to preorder the new Microsoft Band for $250 today, and the wearable's expected to hit store shelves on October 30.