Japanese retailer Uniqlo is using a novel method to match t-shirts with potential buyers by analyzing their brain patterns.
It's a marketer's dream to get inside the brain of a consumer, and a growing field—dubbed neuromarketing—focuses on using neuroscience to make more appealing products.
On Wednesday at its central Sydney store, Uniqlo debuted UMood, a system designed to match the right t-shirt to a person based on a brain-wave analysis.
Customers wear a headset designed by Dentsu Science Jam, a Japanese company that studies brain signal processing and how it can be used for other applications, including marketing. The headset is an electroencephalography (EEG) device.
The most prominent application for EEG readers are in the medical field, but they're also being used for gaming and assisting the disabled.
After the headset is in place and is calibrated, customers are then shown a sequence of images on a large screen—rippling waves, a dog, someone blowing confetti—as the headset records brain waves 20 times a second.
The reading is then analyzed by a proprietary algorithm developed by Dentsu, said Phil Harris, a consumer neuroscientist who studies how brain science can be applied to marketing.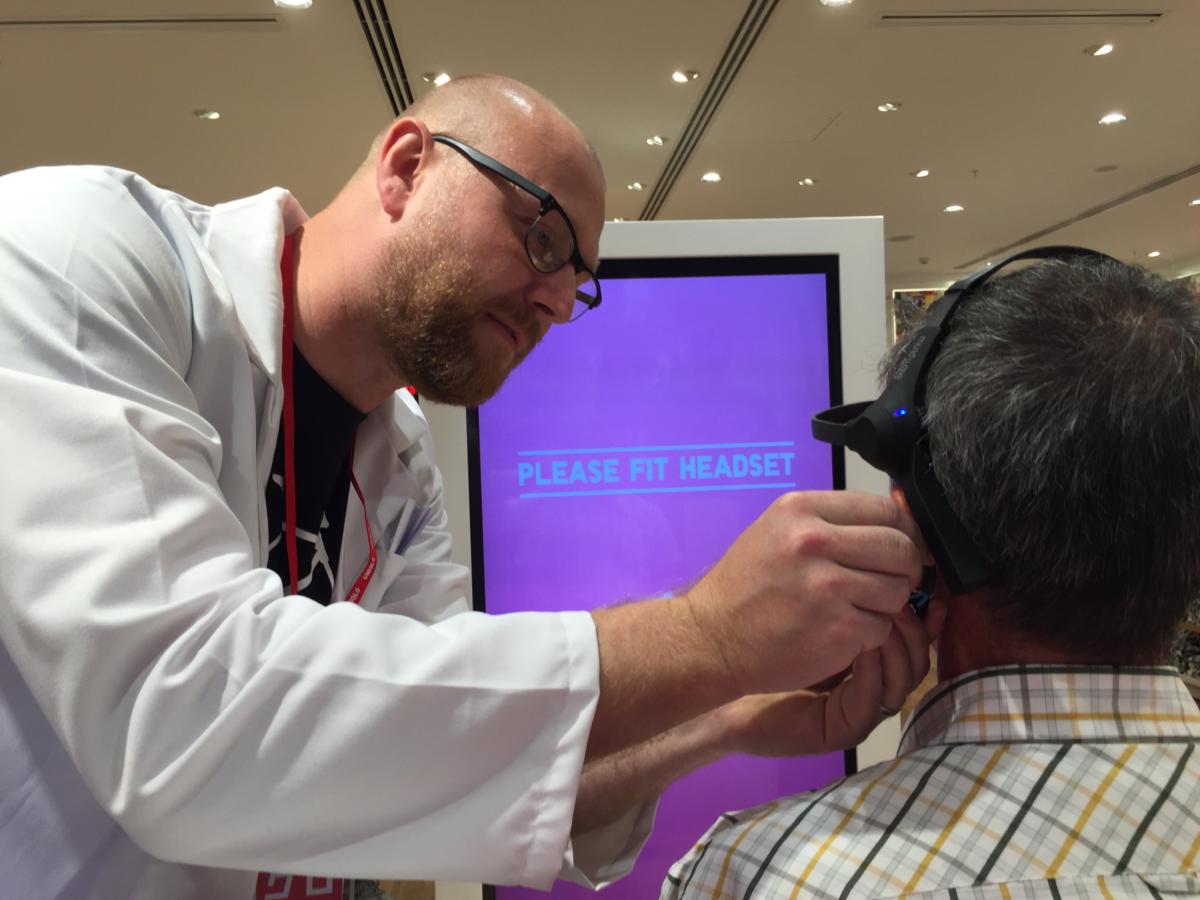 A single brain wave signal is sent, although Dentsu's algorithm splits it to determine five attributes: interest, like, stress, concentration and drowsiness, said Harris, who has lectured on neuromarketing at the University of Melbourne since 2008.
Uniqlo has a bewildering selection of t-shirts—around 600. All of those shirts have been subjected to surveys that were used to determine a sort of average mood that people felt when looking at one.
Once the algorithm has determined the person's mood, the appropriate t-shirt is shown. Uniqlo's hope is obviously that people will choose to buy it.
"I felt like I was in a general green mood—calm, collected," said Ben Law, a journalist and author who tried UMood as part of a demo. "Earlier in the day I was a bit more upbeat, so it came up as 'dandy,' but I feel that probably an adjective I could use for most of my life."
Is it a gimmick?
"It's a bit of fun," Harris said. "I'm not saying it's not accurate. It's about making the shopping experience fun, but I actually do believe this kind of tech has a lot of potential. We're getting more and more choice, and we're finding it harder to make a choice."
UMood will move to various Uniqlo stores in the Sydney metropolitan area and Melbourne over the next three weeks.
An earlier version of this story had mischaracterized at paragraph three the store where UMood was debuted .