It's not a dislike button, but Facebook is testing a new set of reactions for Facebook posts that go beyond the simple Like button. Users in Ireland and Spain are currently testing a new set of emojis called Reactions that are built into the Like button.
Instead of giving a post the thumbs up alone, users can express love, laughter, happiness, amazement, sadness, and anger. For those not interested in expressing any specific emotion the Like button is still there as your first choice.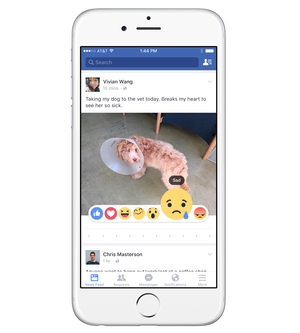 It's not yet clear if Facebook will introduce Reactions to other parts of the world following the tests in Spain and Ireland. But even if Reactions doesn't make the cut something else is likely to take its place.
Users have been calling for a dislike button for years as something to offset the Like. There was even a malware scam circulating in 2010 that capitalized on this desire.
We've all been there. Your friend posts a touching and well written post announcing the death of a loved one. Your first impulse is to click the 'Like' button, but then you pause because it's not really appropriate in this case.
Despite the desire for it Facebook has resisted the dislike button. As recently as December, the company said it was mulling alternatives to dislike that allow users to express a wider range of emotion. Then, in September, CEO Mark Zuckerberg said Facebook was working on a way for users to express empathy.
The impact on you at home: For now, this is just a limited trial in Spain and Ireland. If it does come to the United States in its current form, Reactions will be available on desktop and mobile, and there will be no option to turn it off, TechCrunch reports.
Editor's note: This article was updated with official information and images from Facebook.