Asus announced a slew of products designed to appeal to gamers this afternoon, but the one that interests me the most is the new RT-AC88U router. It's a dual-band model that Asus claims will deliver up to 2.1Gbps of throughput on the 5GHz band and 1Gbps on the 2.4GHz band. But more noteworthy, this is the first consumer-oriented 802.11ac router to deliver more than four ethernet ports: The RT-AC88U has an eight-port gigabit switch.
The rest of the specs are more in line with what's been available for several years now. There's one USB 3.0 port for sharing storage over your network, and one USB 2.0 port for sharing a printer or scanner. Asus says the USB 3.0 port will be 20 percent faster than what's been available in previous-generation routers "to achieve read speeds in excess of 100MB/s." The Linksys WRT1900AC router I just reviewed delivered read speeds of nearly 90MB/s.
The RT-AC88U can also be configured as an 802.11ac bridge, so you can put a second one in your home-theater equipment rack and wire up to eight network clients to it. One feature that continues to be unique to Asus is the ability to connect a USB 3G/4G/LTE network adapter into the RT-AC88U's USB port.
Once plugged in, the adapter can be configured for either load balancing (distributing your bandwidth across wired and wireless Internet connections) or automatic failover protection (if either Internet connection fails, the router will automatically switch over to the other). With mobile data plans being so expensive—especially if you exceed your cap—I suspect the real-world appeal of this feature will be limited.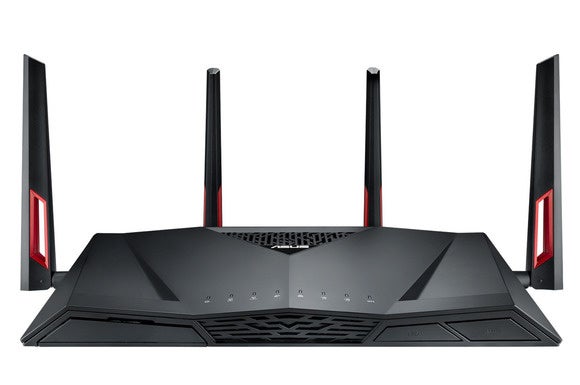 Gamers might be more interested in the free subscription to the WTFast Gamer Network that Asus is offering. The service claims to optimize WAN (wide-area network) routes via dedicated servers to reduce ping time and packet loss. Asus has integrated the client software into the RT-AC88U's firmware, which eliminates the need to run the software on connected PCs. This also means that any device, regardless of its operating system, can utilize WTFast. So if you're rocking a Linux gaming rig or a Steam Machine, you can still use the service.
WTFast is available in three subscription tiers, however, and Asus hasn't mentioned which level RT-AC88U buyers will be entitled to or how long the subscriptions will last. I've submitted a query and will update this story when I find out. Asus also hasn't announced when the RT-AC88U or how much it will cost. They've said only that pricing will be announced closer to availability.