Toshiba's Radius 12 2-in-1 packs an UltraHD 4K panel into a 12.5-inch diagonal screen, and if that's not interesting enough for you, get this: It's also one of the first mobile PCs out of the gate with a Skylake CPU.
Toshiba outfitted the Radius 12 with an Intel Core i7-6500U 'Skylake' CPU. For those who don't speak model numbers, that's Intel's latest, 6th-generation Skylake CPU. There's also 8GB of LPDDR3 RAM/1600, and a 256GB M.2 drive. For graphics, it's Intel's integrated HD 520.
Can you ever have enough pixels? What about the Radius 12 displays's 352 pixels per inch? It's also Technicolor-certified panel, offering far greater color accuracy. Translated into normal speak, it's a gorgeous IPS/IGZO display that you'd have to press your eyeball against to see pixels.
Toshiba also takes advantage of Windows 10's support for the nifty Windows Hello technology. Unlike devices with Intel's RealSense camera, though, the camera Toshiba uses flashes near visible-light IR LEDs at your face while it's checking you out. It takes less than a minute to set up Windows Hello and it generally worked well even in difficult backlit or sidelit situations.
As it's a 2-in-1, the Radius supports a tent mode and tablet mode. While larger 13-inch laptops might have a hard time pretending to be tablets, the Radius can almost pass with its scant 3-pound weight. It's about 11.8 inches wide, 8.2 inches deep and measures at 0.6 inches thick. The size compares nicely with the older Surface Pro 3—it's just a little thicker and a little bigger. With a weight of 2.9 lbs. it's Lenovo LaVie Z-light, but acceptable.
Toshiba said it thinks the Radius is small enough that it will get used as a tablet more often, and iti designed the audio subsystem to account for the tablet mode. When you fold the tablet back, blocking the speakers, the system automatically filters the audio to account for that. With audio cranked, however, I still found it to be a little tinny. It is just a tiny little laptop, after all.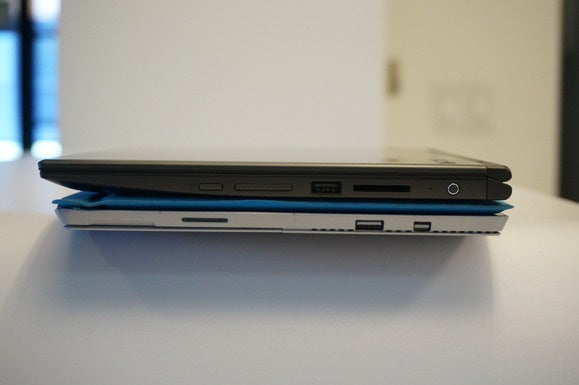 Ths Radius 12 has its shortcomings I haven't been a huge fan of Toshiba keyboards for some years, and the Radius 12 sticks to this regrettable pattern. While the width is standard, the height is just short enough to annoy the fat sausages I have for fingers. The cursor, and page-up and and -down keys are also sized to please Hobbits. Still, it's nothing as odd as the previously mentioned Lenovo LaVie Z'd forward-space button. The Trackpad is also kind of average.
Ports include HDMI, two USB 3.0 Type-A ports, and a new fangled USB-C port with full USB 3.1 data rates that's twice that of USB 3.0. Toshiba says the HDMI port supports 4K output, but that's at 30Hz. It's still HDMI 1.4 I believe, not HDMI 2.0, which would support 4K output at 60Hz.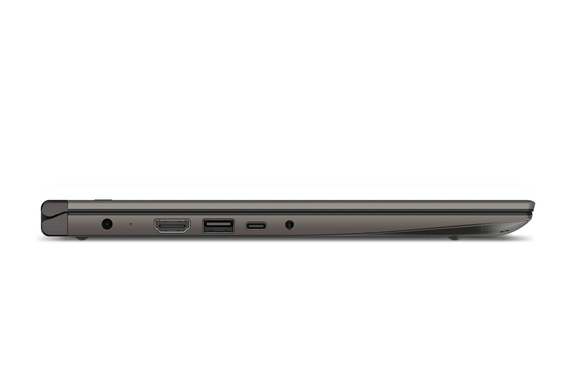 Dat screen
The screen on the Toshiba is gorgeous and I mean it. It's a Ultra HD 4K IPS job with 10-point touch. protected by Gorilla Glass NBT. There was no notable light leakage, even with the brightness on maximum in a darkened room. The backlighting also seemed fairly even. The screen is rated at 350 nits, and our meter actually put it just a shade over that at dead center. One thing I'll note, with the 10-point touch digitizer on top, the actually screen looked like it was set back slightly from the actually protective layer. It's a little distracting, as it gives it a shadowbox frame look.
Pulling up a high-resolution image or playing back a 4K video was enough to remind you that it's worth the power penalty for those pixels. And there is a penalty. Toshiba describes the Radius 12's battery life as "solid." To the company that means maybe 7 hours of run time. Unfortunately, I had no joy getting MobileMark 2014 1.5 to run, but I can tell you between a 4K panel and a 43-watt-hour battery, you're not looking at stellar run times even with the Skylake CPU.
What about performance?
As the first Skylake-based laptop we've laid hands on, I can tell you Intel's new mobile CPU doesn't disappoint. Sure, if you read my Skylake desktop CPU review, you shrugged you're shoulders like an insolent 14-year-old, but mobile is not the same as desktop.
All PC OEMs can tune the CPU to perform based on how much heat the laptop can soak up and dissipate, and how much they're willing to crank up the fans or let the shell get hot. Toshiba chooses to crank the fans up and run the chip flat-out.
For a performance comparison, I took the 13-inch Lenovo LaVie Z with its Core i7-5500U and HD5500 and upgraded it to Windows 10 to run performance benchmarks. That means Core i7-5500U in the Lenovo against the Core i7-6500U in the Toshiba.
The result? Skylake, at least in this showdown, shows a significant performance advantage.
First up is this Handbrake benchmark, where we take a large 1080p MKV file and encode it using HandBrake version 0.9.9. We use this older version for consistency across all the laptops we've tested. As there is virtually no difference between a Windows 8.1 and Windows 10 performance, I've included various other portables for comparison.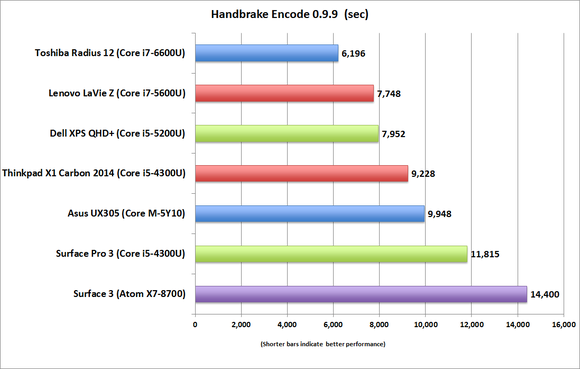 The performance difference there is what you call a "boom" in John Madden-speak. So why is it so much faster? Some of it is Skylake's design, which is "wider" than Broadwell and Haswell. Some of it is the chip's higher Turbo Boost scores too.
For example, the encode we run is a worst-case scenario for laptops and takes about two hours to run. On the Lenovo the CPU starts out at 2.9GHz but after two minutes, it falls back to 2.6GHz, where it stays until the encode task is done. The Toshiba's Skylake chip stars the encode at 3GHz and holds that clock speed until the entire job is done.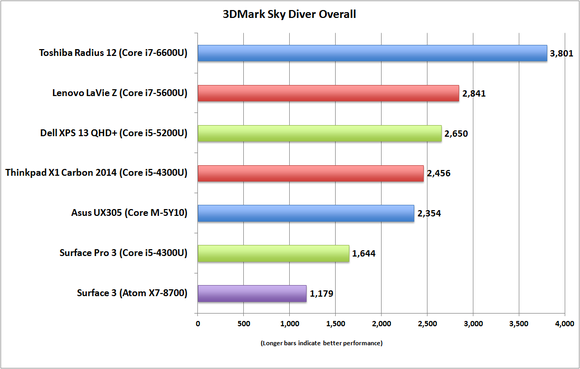 The Toshiba Radius 12 and its Skylake chip also lead the graphics benchmarking by a very healthy margin. The upshot is the Radius 12 is easily the fastest Ultrabook we've seen to date in both CPU and graphics operations.
I can't say the same for the Toshiba M.2 drive in the unit, though. It appears to be a SATA variant that pushes 500MB/s read speeds and 400MB/s write speeds according to CrystalDiskMark. That's great for a SATA drive, but in the day of PCIe M.2 drives that will easily triple that, it's a yawner.
Why isn't there a benchmark for bloatware? I found icons for eBay, Groupon, a WinZip demo, Spotify and WildTangent aboard among the usual Office demo offers. Sure, it takes 10 minutes to remove the apps, but c'mon. To be fair, if the company offered the same laptop without the bloatware for another $50, most people would take the one with the bloatware, so I'll stop the complaining.
The Price
That brings me to the price of the Radius 12. The configuration with the 4K panel, 8GB of RAM, 256GB SSD and Core i7 puts the laptop at $1,300. That's about average for an Ultrabook 2-in-1 with this level of components. You can shave off $300 by losing the the 4K panel.
When you think about the performance you're getting with the Radius 12 is easily among the leaders of the Skylake laptops right now. Of course, others are coming hot and heavy, so we'll see if the Radius 12 can holds it own.