Readers of the popular German-language tabloid Bild are finding out it's verboten to try and visit the publication's site with an ad blocker enabled. Effective Tuesday, anyone attempting to visit Bild.de with an active browser extension such as AdBlock Plus or uBlock origin, will be redirected to a landing page that says (in German), "With an Adblocker activated, you can no longer visit Bild.de."
The new policy does not affect anti-tracking extensions such as NoScript and Privacy Badger even though they effectively accomplish the same thing as an ad blocker.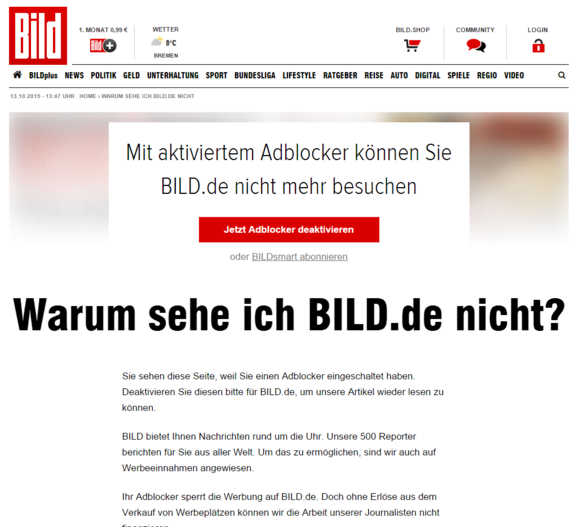 Publisher Axel Springer SE requires visitors to Bild either to turn off their ad blockers or pay 2.99 ($3.40) per month to get a mostly-ad free version of the site. The ad-lessened version of the site, called BILDsmart, loads up to 50 percent faster than the standard version, the company said.
"We are hereby offering two options to our readers: turn off the adblocker or try our new subscription to 'BILDsmart' – otherwise, you will not be able to see any content," the company said in a statement. "Even on the Internet, journalistic services need to be financed…in order to continue to offer independent journalism."
Bild's decision follows a report by Adobe and PageFair in August that said the trend of using adblockers would cost sites nearly $22 billion worldwide in 2015. In 2016, U.S. sites alone can expect to lose $20.3 billion, the report said.
With serious money at stake, Bild is taking an alternative stand to several high-profile English language sites that have erected paywalls. The New York Times, The Financial Times, and The Wall Street Journal all have what are known as "leaky" paywalls that give non-paying readers limited access to subscriber content. Meanwhile News Corp.-owned The Times has a strict paywall with no loopholes for viewing articles without a subscription.
The impact on you at home: Ad blockers are becoming increasingly popular as users tire of extensive online tracking, and longer page load times caused by sites riddled with ads and third-party trackers. Publishers, however, are desperate to bring in revenue via ads because subscriptions for online news content are far from the norm. Axel Springer's anti-ad block policy only began Tuesday, but if it proves successful we may see more sites, including popular English-language sites, take a stronger stand against ad blocking.