Microsoft is reportedly making it harder for Windows 7 and Windows 8.1 users to avoid the upgrade to Windows 10.
Some users now claim that they no longer see an option in the Control Panel to install updates to their current version of Windows. Instead, a message says that the "upgrade to Windows 10 is ready," and prompts users to "restart your PC to begin the installation." Another user claims to have seen a countdown timer for installing Windows 10, with an option to reschedule but no way to call off the upgrade entirely.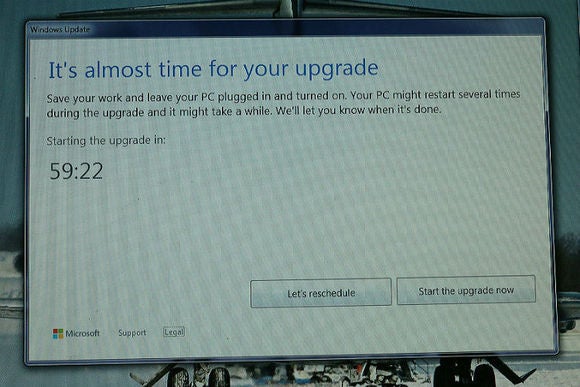 Both upgrade tactics were reported by Josh Mayfield, whose GWX Stopper program is designed to eliminate Microsoft's Windows 10 update notifications. In a blog post, Mayfield said GWX Stopper can't help users who've seen either of the above dialogs. (The post was first spotted by ZDNet.)
If the reports are accurate and not due to user error of some kind, it's yet another case of Microsoft trying to ramp up Windows 10 adoption by coercion rather than incentive. Microsoft has previously confirmed that it automatically downloads Windows 10 installation files without users' permission, occupying as much as 6GB of storage space in a hidden folder. Slyly executing the installation would be the next logical step.
Microsoft, however, claims that any installation is being done with the user's prior consent. "The image you are showing is related to existing Windows 7 and 8 customers who have already opted in to the Windows 10 upgrade and this is the last step in the process," Microsoft said in a statement to PCWorld. "Recently we added the option to reschedule the Windows 10 upgrade based on customer feedback."
Why this matters: For most people, Windows 10 should be an improvement over previous versions, but there are plenty of users who have perfectly valid reasons not to upgrade. Microsoft likes to talk about how it wants people to love Windows, but that's not something you can force.
Updated at 9:29 AM on Oct. 15 with a statement from Microsoft.