Google Keep gets overshadowed by Evernote and Microsoft Onenote, but it can be a powerful part of you productivity arsenal, particularly if you're invested in Google's ecosystem. Like the rest of Google's apps, Keep is lean, fast, easy to use, and it syncs across devices. Its growing list of capabilities make a convincing argument for it as the go-to note-taker for Android users.
Here are five ways to start using Keep to manage your life.
Convert any note to a to-do list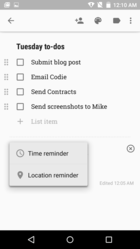 Nothing's as satisfying as checking items off a to-do list. Like Evernote, Google Keep offer an easy way to turn any unformatted note into a checklist.
Open a note, tap the three dots in the upper right corner of the note and select Show checkboxes. Keep will add a checkbox at the beginning of each line item. To remove them, follow the same steps but select Hide checkboxes. You can also select Show checkboxes when you create a new note, and Keep will include a checkbox as you add each task.
Take a "note to self"
When an idea or inspiration strikes, you must waste no time capturing it. In those moments, leverage Google Now's voice actions to get it into Keep.
On an Android phone, trigger your mic, say "OK Google—note to self" and dictate the content of the note. The first time you use the "note to self" feature, Google Now will ask which app you want to use to complete the action. Select Google Keep and it will save your dictated note.
Use time- and location-based reminders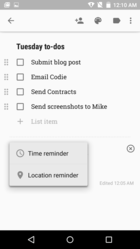 If you're using Google Keep to create action-item notes and lists, you should take advantage of its reminder features. Keep offers two types of reminders—time-based and location-based.
Time-based reminders essentially schedule your note for a certain time of day. Say you're creating a note around a business card so you'll remember to follow up with this new contact when you get into the office the following morning. At the bottom of the note, click the reminder icon—it looks like a finger with a piece of string tied around it. In the window that opens, select Pick date & time. Enter the date and time you want to be reminded of, and click Save. You can create one-time or recurring reminders; in this case leave it to the default, "Does not repeat."
Location-based reminders use your GPS to alert you when you're in the appropriate place to execute your note. The most obvious example would be to set a shopping list to nudge you when you're in the grocery store. To set a location-based reminder, click the reminder icon on the note and select Pick place. Enter a location in the search field as you would in any map app, choose the appropriate one from the results, and click Save.
Grab text from images
Google Keep lets you capture and convert images into editable text, so that items like business cards and receipts can be easily added to your notes and made searchable.
To do this, open any note with an image, click the three dots in the action bar to see the expanded menu and select Grab image text. Keep reads and saves the text. While OCR in a note-taking app isn't unique, Keep's is better than most, reproducing scanned text with minimal errors.
Create a Google Doc from a note
Keep notes can easily be converted to Google Docs so you can expand them into fleshed-out documents. On Android, select the note you want to copy over, tap the More icon, and select Copy to Google Doc. To copy multiple notes, touch one note and hold it until it darkens, then select all the other notes. Follow the rest of the steps to export them to Google Docs. When your new document is ready, you'll receive a prompt to open it.