At a Glance
Expert's Rating
Pros
Tremendous battery life
Beautiful screen
Doesn't compromise on laptop use and adds wonderful Clipboard mode
Cons
Rather large and heavy
Very expensive as you add options on
Our Verdict
Microsoft's Surface Book reboots what you'll think a laptop should be.
Best Prices Today: Surface Book
You can see why Microsoft's Surface Book is ticking off other PC vendors. Microsoft's stunning laptop, gives you everything you want—showing up all the vendors who said it couldn't be done.
Our review bears that out. Want a true laptop experience that doesn't compromise? The Surface Book does it in an attention-catching fashion. Want to detach your monitor and use it as a gorgeous, perfectly proportioned tablet with pen support so beautiful it'll have you sobbing? The Surface Book does that, too. Stupid-long battery life? Yup.
And if you want a real graphics chip in an ultrathin chassis—something every other computer maker says couldn't be done—yeah, Surface Book's got that too.
In a word, dayum.
For this review, we had access to two Surface Books. The first featured an Intel dual-core Skylake Core i5-6300U, 8GB of LPDDR3 in dual-channel mode and a 512GB M.2 PCIe SSD drive and integrated graphics only. The second Surface Book had the real deal: A dual-core Skylake Core i7-6600U, 16GB of LPDDR3 and the Nvidia graphics chip under the keyboard.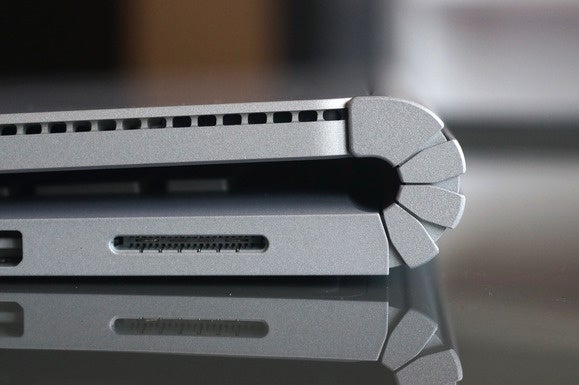 Dat hinge
Of course, the most striking feature of the Surface Book is its dynamic fulcrum hinge. It's a little reminiscent of the watchband hinge Lenovo uses on the just-announced Yoga 900, but a lot beefier looking. Open the lid on the Surface Book, and the hinge unrolls. Microsoft says the unique mechanism allowed the company to balance the heavy display, which Microsoft calls the Clipboard, without upending the keyboard base. Other designs I've seen keep the laptop from flopping back on its head by tilting the keyboard up when open.
The hinge is fairly stiff. Trying to bend it without the Clipboard attached will take some strong hands. With the Clipboard attached, it's stiff enough that you can make fairly precise screen angle adjustments.
There is a little bit of screen flop that isn't present, on say, HP's Spectre X360, or Dell's XPS 13. But to be fair, the screen in this case is a lot heavier because it's a fully functioning computer.
Here's another difference: With other 2-in-1 detachables, you unhook the tablet from the keyboard with a plastic button or slider, and yank it off. With the Surface Book, you press a dedicated button on the keyboard for a few seconds. Inside the machine, you'll hear and feel a clunk, then you just lift it off.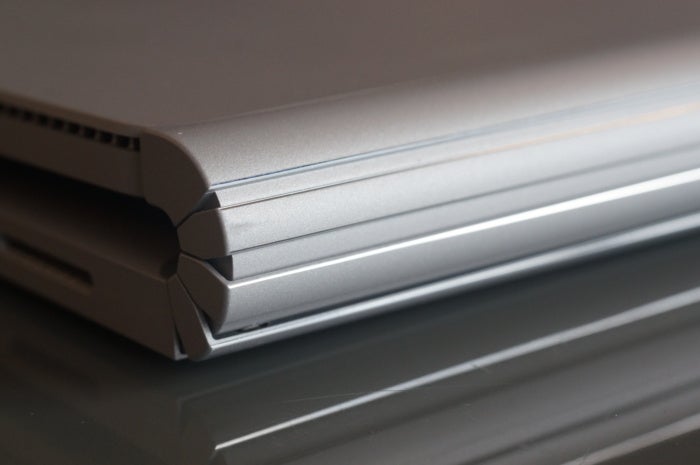 Pieces of flair
Couldn't Microsoft have just used a conventional latch? Probably, but like the joke from Office Space goes, "People want atmosphere and attitude, that's what the pieces of flair are about." And the Muscle Wire Lock is definitely a piece of flair. It uses an electrically charged nickel titanium alloy wire called Nitonal that can change shape and then snap back based on the electricity applied to it. The Muscle Wire Lock clamps tightly. Even trying to rip it off (and I tried) won't budge it.
There's also a little intelligence to it. With the Clipboard battery dead, I re-attached it to the charged base unit. When I tried to remove it immediately afterward, the Surface Book pulled a HAL and wouldn't open the pod bay doors. Once the Clipboard had enough juice, a few minutes later, it relented. The Clipboard also won't flop off when the Surface Book's batteries are completely drained (I tried that too).
If you're thinking these are just nifty parlor tricks to dress up the same old laptop parts, hang on.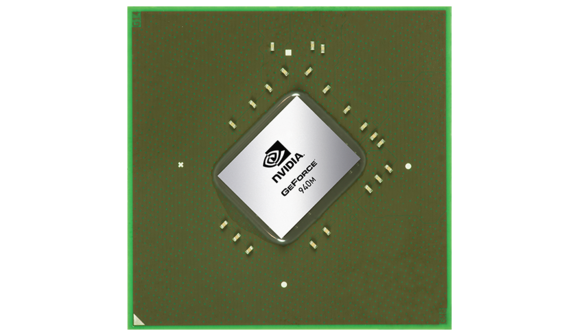 The Surface Book's secret weapon
So you probably already know the Clipboard is a complete PC with a dual-core Skylake CPU, RAM and storage inside (more on the particular specs later). Cramming all that into the thermal constraints of an 8mm-thick tablet is an engineering feat. But to get even more performance out of the Surface Book, Microsoft decided to embed a custom Nvidia GeForce GPU in the keyboard base. When docked, you get the power of a discrete GPU. When in Clipboard mode, you get Intel's integrated graphics.
In another first, the Surface Book allows you to separate the Clipboard from the base while the device is still powered on and with the OS fully operational. Details of how Microsoft did this haven't been disclosed, but I've heard guesses from OEMs that point to everything from an internal Thunderbolt connection to some proprietary design.
My money's on something Ryan Smith at Anandtech.com mentioned: a little-noticed feature kicking around for years in Nvidia's Optimus. Optimus is used on most gaming laptops and allows a discrete GPU to run the show in games, or, say, Adobe Premiere Pro. But when in Word or other low-intensity applications, the power-hungry GPU kicks off and Intel's integrated graphics takes over to save power.
What most don't remember is that Optimus has supported the hot-swapping of GPUs since the beginning. In this demo on Youtube posted in 2010, Nvidia engineers even demonstrate how it would work.
A few vendors have implemented external graphics in a laptop, but no PC maker I know of has integrated the GPU into a separate part of the laptop. This approach is fairly ingenious, because it allows Microsoft to spread the hotter parts between the volume of both pieces.
Read on to find out what happens when you plug a Surface Book without graphics into one with graphics. Does it melt?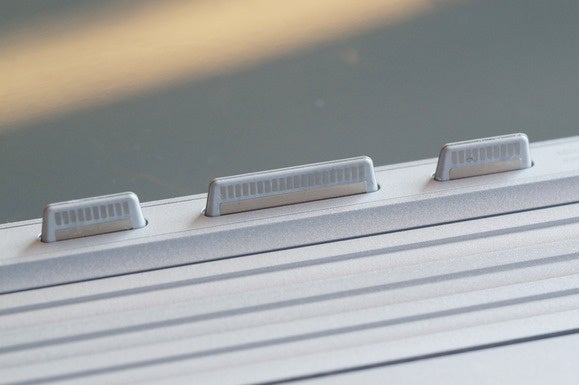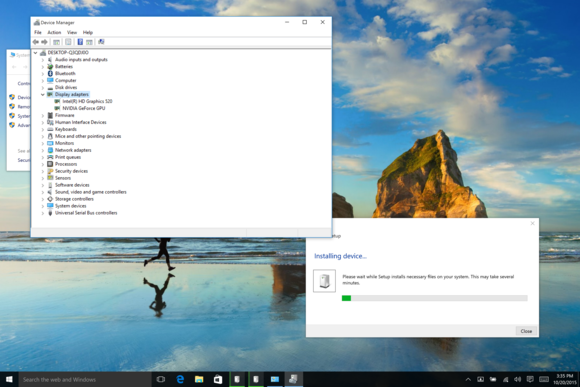 We mixed peanut butter and chocolate
Microsoft's use of a GPU in the base unit also sets up some pretty interesting ramifications for how a laptop could be upgraded down the road. If you bought a Surface Book without the GPU, for instance, and somehow obtained a base unit with the GPU, marrying the Clipboard to either base would work just fine, Microsoft says.
I tried it myself—yes, I got peanut butter in my chocolate. Did it work? Yup. After a few seconds of downloading drivers, it was up and running without even a need to reboot.
One important detail, should you want to try this "upgrade": You'll need the bigger power brick too. They may look the same, but the brick for the unit with discrete graphics puts out 60 watts, while the standard brick puts out just 31 watts. Charging with the lower-capacity brick will be slower, or you may find it discharging even when plugged in if the load is heavy enough.
Alas, the company has no plans to sell the base units with just the GPU. It's an entire package or nothing.
Of course, that's Microsoft's position today, but I can see the potential to upgrade the graphics on the Surface Book by simply buying a new base unit with the latest GPU in it.
As this is a Surface, there's pen support of course
With Microsoft's purchase of N-Trig over the summer, it's no surprise the Surface Book uses the same stylus technology as the Surface Pro 3. This time around, it's much improved, with pressure levels going from 256 in the Surface Pro 3 to 1,024 levels in the Surface Book and Surface Pro 4. There was a lot of griping from early Surface Pro users that losing the 1,024 in the original Pro was a step backward.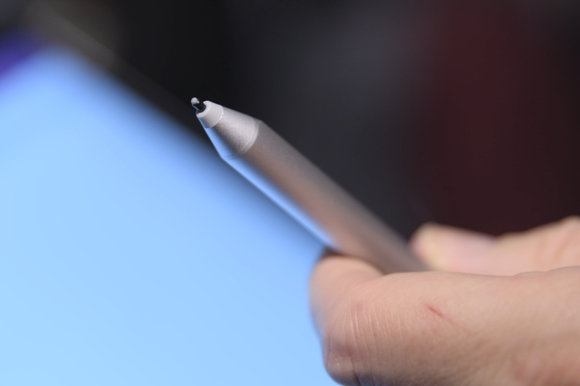 The pen still uses a difficult to source AAAA part but you shouldn't have to worry about it for a year or so between uses. Opening it is also a little different. With the Surface Pro 3 you just unscrewed the top. The the new Surface pen you rotate it counter-clockwise a few millimeters and then pull it out.
The good news is the new pen feels great. It features a rubbery nib with optional tips to tailor the feel. Microsoft said it also burned engineering time on a new G5 controller to optimize touch and pen input for the Surface.
I'm admittedly not a heavy pen computing user, but I like them for those times when I need to sign or mark up a document. I compared the Surface Book's pen input to a laptop with a Synaptics pen, as well as the Surface Pro 3 with its older n-Trig pen. I found the palm rejection to be fairly excellent on the Surface Book, but it couldn't reject my knuckle-dragging ways. I like VAIO's solution: Just switch off the touch digitizer by pushing a button.
Parallax, which is certainly better on today's pen devices, was still a millimeter or so off from the tip of the pen when tilted over. Latency also didn't feel like a quantum leap over the Surface Pro 3 in my book, but I'm basing this on "feel" rather than any real testing.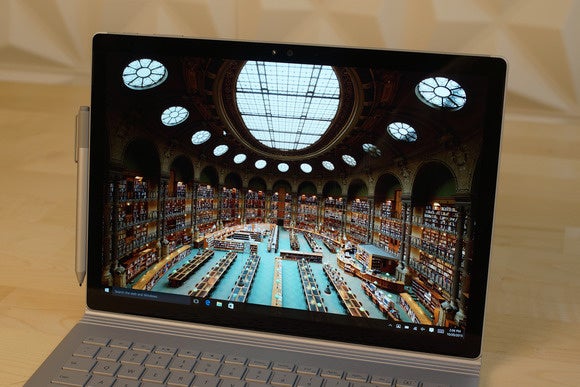 Beautiful screen
The 13.5-inch screen on the Surface Book is a stunner. It's got a 3:2 aspect ratio with a resolution that's easy to do the math on: 3,000×2,000. That's about 6 megapixels.
Microsoft said it's an IPS panel that uses a "negative photo-aligned liquid oxide display." That's a fancy way of saying that during construction of the panels, the layers are carefully aligned to increase contrast and image quality. Televisions have used this technique, and Apple recently celebrated the tech in its iPhone 6 rollout. However, those layers make the screen more prone to reflections than, say, the current MacBook Pro 13.
The display is rated for 100 percent coverage of the sRGB color gamut. It's also spec'ed to hit a blazing 400 nits in brightness. Our meter agreed, putting our Surface Book sample actually a little brighter.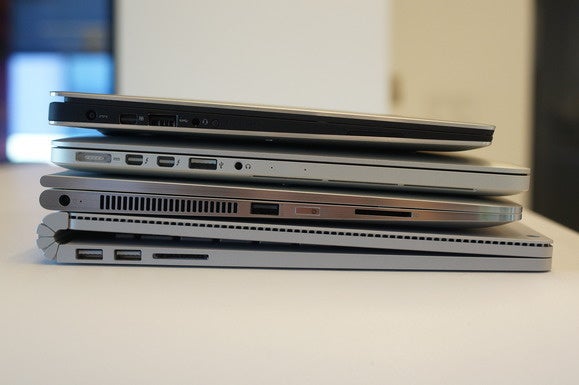 Ports of call
The Surface Book's port array includes two USB 3.0 Type A, a miniDisplayPort and an SD card reader. For an Ultrabook, this is pretty typical. The Surface Book gets bonus points for its docking station, which gives you two more DisplayPorts, Gigabit ethernet, four USB 3.0 ports, and analog audio out. This all connects through the Surface power connector.
I'm surprised there's no support for Intel's new Thunderbolt 3.0 or USB 3.1 on the Surface Book for higher speed I/O devices. Sure, I'd rather have a pure miniDisplayPort over USB-C but it feels odd not having USB 3.1, at least. Read to find out what the GPU is inside the Surface Book and how it performs.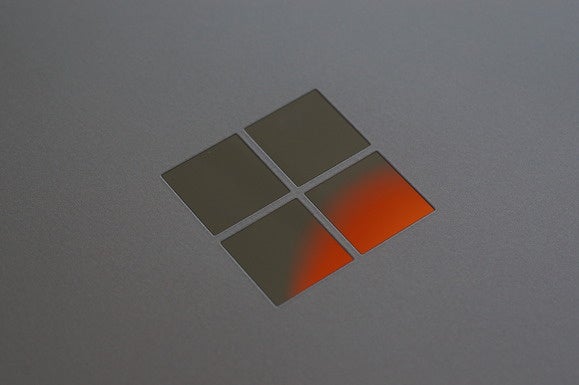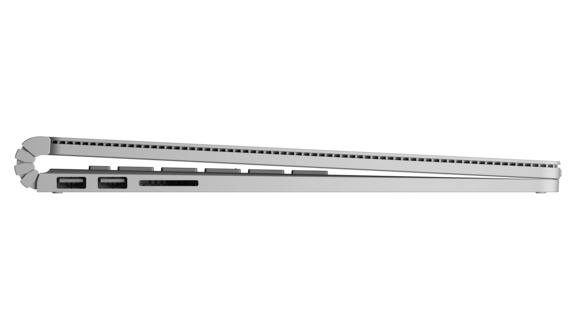 More about the GPU
Remember, we have two Surface Books. One has an Intel dual-core Skylake Core i5-6300U, 8GB of LPDDR3 in dual-channel mode, a 512GB M.2 PCIe SSD drive and integrated graphics only. The other boasts a dual-core Skylake Core i7-6600U, 16GB of LPDDR3, and the Nvidia graphics chip under the keyboard.
It's the dedicated graphics chip that gets us going. The specific model is unknown—all Microsoft would say publicly is it's a custom GeForce chip, and Nvidia won't say squat. Looking at the GPU in our Surface Book, I'm pretty certain it's a custom version of the GeForce 940m. It has 384 CUDA cores, runs at 945MHz, has 40GBps of memory bandwidth, and features a 64-wide memory bus. That sounds just like the GeForce 940m except for one thing: The chip in the Surface Book has 1GB of GDDR5, instead of the much slower DDR3 of most GeForce 940m laptops.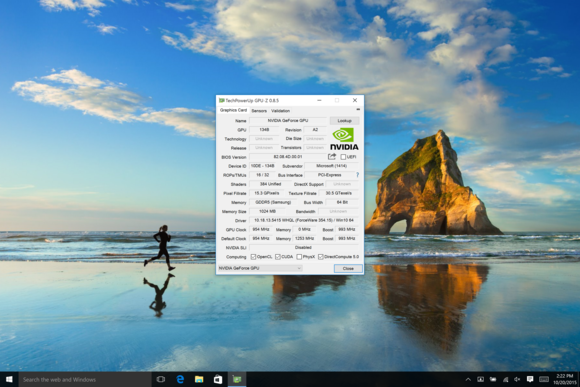 There were a lot of forum groans when the chip's details surfaced earlier this week, as some were expecting the GPU to be a higher-performing chip such as the GeForce GTX 950m. Unfortunately the laws of physics don't allow that today in a 13-inch laptop Ultrabook. If the custom GeForce chip in the Surface Book is indeed a GeForce 940m variant, it likely uses about 25 watts of power. Moving up to the GeForce GTX 950m would double your CUDA cores, memory bandwidth and probably the performance. It would also doubles the power consumption and heat. Today, that class of GPU is limited to larger and heavier laptops—nothing as lithe as the Surface Book.
We know a little more now about the plumbing, too. It's obviously an internal—umm, external PCIe connection that runs from the Clipboard to the Base unit. The connection is a x4 PCIe Gen 3 that offers about 25 percent the bandwidth of a full x16 PCIe Gen 3 connection. Some will recoil in horror, but it's plenty and shouldn't be an issue in the Surface Book.
CPU performance
Thanks to Skylake, both Surface Books performed well in our tests. As you may know, CPU clock speeds ramp up and down based on the load and how hot they get. With Intel's 5th-generation Broadwell chips, the CPUs would hit their higher Turbo Boost speeds and then, within a few minutes, fall back from, say, 2.9GHz to 2.6GHz. Skylake generally seems to hold much higher clock speeds even under heavy loads, at least on the early machines I've tested. Between the higher clock speeds and microarchitecture advances, it adds up to a meaty performance difference.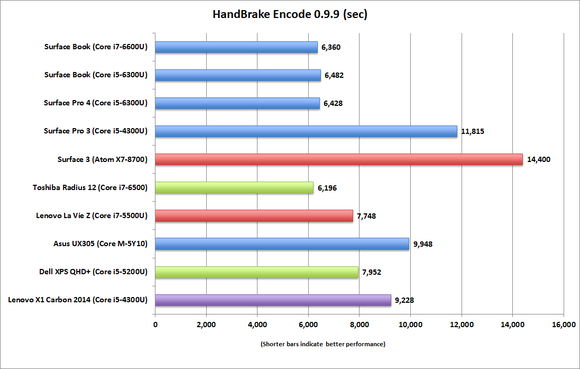 Encoding performance
In our Handbrake Encode test, we transcoded a 30GB 1080p file to the Android Tablet profile. It's a beefy test that has a CPU running at full load for almost two hours.
Both Surface Books turn in good scores here, but the edge for value goes to the Core i5 Surface Book. The Surface Book with the Core i7 CPU starts off at fairly high speed but settles down to about 2.95GHz for most of the run. The Surface Book with the Core i5 basically sits at 2.85GHz for most of its run. In the end, it's probably a wash.
One thing you should note: With the CPU sandwiched into a sub-8mm chassis with an LCD panel on top of it, Microsoft doesn't push the Core i7 in the Surface Book as hard as the Toshiba Radius 12 does. The Surface Book is actually a little slower than the Toshiba Radius 12.
If you're wondering why the Core i7 Surface Book is slower, you have to think like a manufacturer. How much heat can a PC really handle? How much fan noise are customers willing to tolerate? And what should be the maximum skin temperature of a laptop before users complain? Microsoft favors lower fan noise and skin temps, so it gives up a little performance on very long work loads.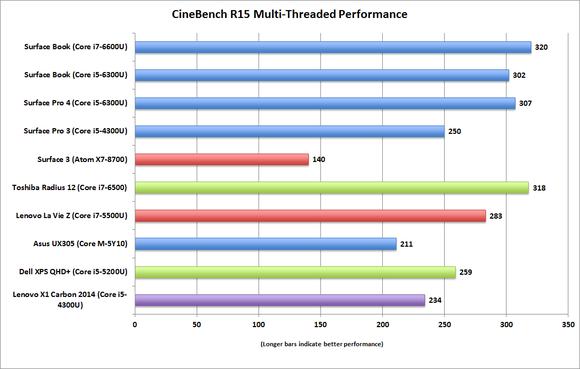 Cinebench performance
Moving on to Maxon's Cinebench R15, which measures a PC's performance in 3D rendering, I compared the same stack of Ultrabooks using various Haswell and Broadwell Core i5, Core i7 and Core M CPUs to again see the Surface Books outpacing the pack. The Core i5-6300U Surface Book even turns in a higher score than the Core i7-5500U in the Lenovo LaVie laptop. In the Surface Books, we see the Core i7 with a clear advantage over its sibling with the Core i5 as Cinebench takes only a few minutes to run.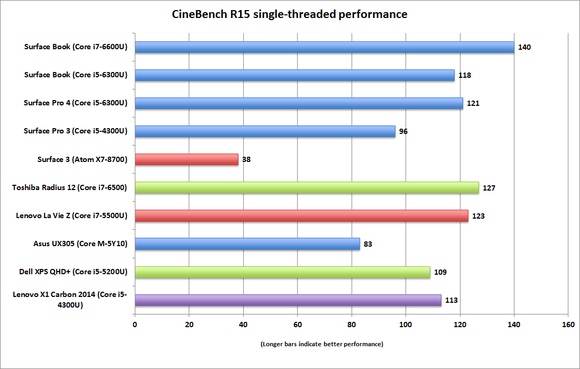 Core i7 Surface Book is better in sprints
To put a finer point on it, I also ran Cinebench R15 in single-threaded mode. This would simulate CPU performance on most applications which don't actually use all of the cores. Here I expected to see the Surface Book open space between the Core i5 Surface Book and the Core i7 in the Toshiba Radius 12, and I wasn't disappointed. This basically tells you if your workloads are shorter and run in bursts, the Core i7 will yield better performance.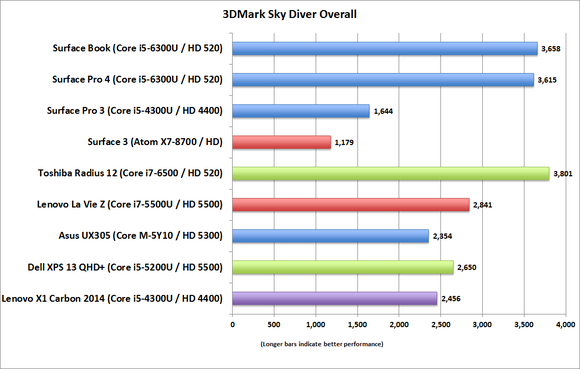 Integrated graphics performance
Skylake's biggest performance benefit is obviously in graphics. All three of the Skylake-based machines in 3DMark Sky Diver show sizeable performance boosts over the Haswell and Broadwell-based devices. Between the Surface Book with the Core i5-6300U and the Dell XPS 13, you're looking at roughly a 32 percent difference. You may shrug at such an increase because it's just integrated graphics, but it's a significant performance upgrade over Broadwell.
But what about discrete graphics and battery performance? Yup, on the next page.
Discrete graphics performance
Now we see if it was worth Microsoft's trouble to get that chip into an Ultrabook. First up is the obligatory benchmark chart with the Surface Book and discrete graphics chip added into the mix. Bam. Yes, the discrete chip in the Surface Book pile drives the entire room of integrated graphics laptops it's compared to. Against the Surface Book without discrete graphics, it's about a 50 percent performance advantage. Against the Dell XPS 13 with its HD 5500, the gap opens up to 80 percent.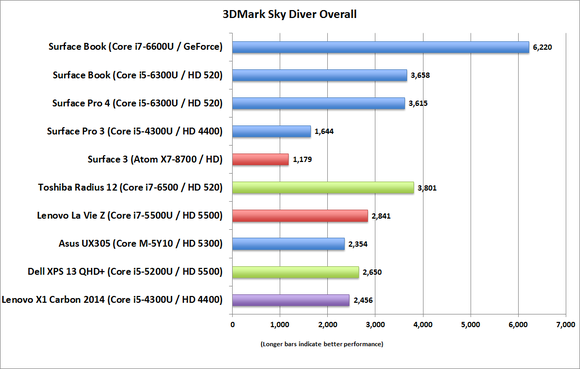 But let's face reality: The GPU in the Surface Book does not put it in contention with an 8-pound, 17-inch gaming laptop or even a mid-range, five-pound laptop.
That doesn't mean you can't game on the Surface Book. Counter-Strike: Global Operations, DOTA, League of Legends and StarCraft II are not a problem. They're barely a problem for the latest integrated graphics, also, but the Surface Book will give you twice the performance of integrated graphics in those games and more.
For example, Tomb Raider at normal is fully playable and quite smooth at 71 fps on the Surface Book at 1,280×1,024. DiRT Rally can be run at ever-high settings with the same resolution compromise. It's honestly acceptable gaming if you have tempered expectations and accept that this is a GeForce 940m-class GPU, not a GeForce GTX 980. Why don't I have scores for the other Ultrabooks in these games? I frankly don't try to run them on integrated graphics.
All that said, Intel still has a card to play with its upcoming Iris and Iris Pro graphics cores. They may really change the equation of this battle.
Discrete graphics are more for pros
The discrete graphics gambit for the Surface Book is not just about gaming. It's really to cater to the person who needs CAD/CAM or other apps. In an encode job I threw at both the Surface Book with the Nvidia GPU and a current-generation MacBook Pro 13, I saw a better than 50 percent performance advantage for the Surface Book.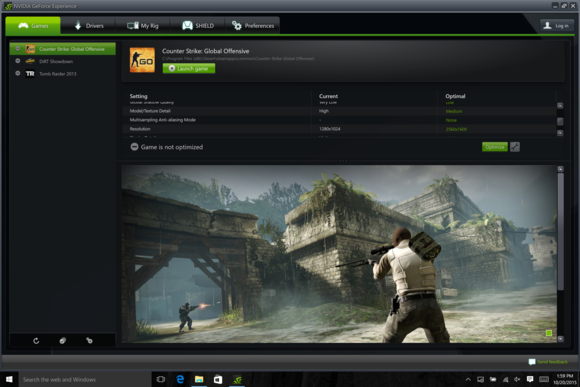 Drivers and GeForce Experience
PC gamers cherish their drivers as much as their GPU. In most gaming laptops, you download drivers directly from Nvidia or AMD. For the Surface Book, Microsoft says it will vet and push out drivers directly but you can probably run reference drivers as well.
I installed GeForce Experience on my Surface Book with GeForce graphics, and it appears to work fine for optimizing games at this point.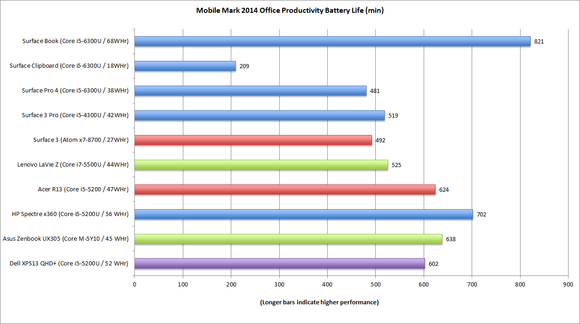 Stupid-long battery life? Yes
Besides Microsoft's audacious performance claims, the company also promises outstanding battery life and up to 12 hours of video run time. Your mileage will vary, of course. What you're testing and screen brightness has a huge effect on battery life.
As Microsoft didn't provide details on it tested video run-down tests, I used our old standby MobileMark 2014 to measure battery life. It uses industry-standard applications such as Word, PowerPoint, Chrome and Acrobat to measure realistic run times. Some have accused Mobile Mark of being too much of a "best case scenario" for battery life, but it's hard to argue with the methodology. No one actually sits at his or her laptop for 8 hours straight and works on a plane. You take breaks, flip through the free Skymall magazine (may it rest in peace), and then you get back to work. MobileMark 2014 simulates this scenario, including blanking out the screen for minutes at a time.
It's like a gas tank
With a laptop, the battery size is similar to the gas tank in your car. The typical Ultrabook will feature a 42-Watt-hour or maybe 52-Watt-hour battery pack.
In the Surface Books, the base unit has a 51-Watt-hour capacity, with another 18 Watt hours of cell in the Clipboard. In our test of the Core i5 unit without discrete graphics (the same configuration Microsoft uses for its 12-hour promise), we actually saw longer run times. Why? Video uses more power as it's usually run with a brighter screen, constant sound and it doesn't ever blank the screen. If you really want to go down the rabbit hole on battery life, read this.
Our Core i5 Surface Book gave us a stupendous 821 minutes, or almost 13.6 hours of runtime. That's the longest I've ever seen out of a Ultrabook with a 13-inch screen.
I also tested the Surface Book in Clipboard mode to see how long it would run away from its base. As the Clipboard has roughly 25 percent of the battery capacity, I saw roughly 25 percent of the battery life, or 209 minutes.
Again, increasing the brightness of the screen or doing a CPU- or GPU-intensive chore will drain the battery faster, but overall, the Surface Book will give you stupendous battery life.
How does that apply to the Surface Book with discrete GPU? That depends. Assuming the graphics chip powers down when not in use (how else could you disconnect it?), you should see minimal impact. Once you spool up that GPU with its 25 watts of power draw, expect the battery to head toward empty really fast. If you're working on your company's TPS reports on that trans-pacific flight, you should be fine on battery life the whole time. But if you decide to play a graphically-intense game or edit video, you better bring a Kindle paperwhite with you for entertainment after the battery runs dry, because it definitely won't last for 12 hours. Once I run MobileMark on the Surface Book with GeForce graphics, I'll update my numbers here.
TrackPad and Keyboard
The trackpad is a spacious Precision model that's quite luxurious. The entire trackpad is physically clickable. It feels like a standard hinge design that takes more pressure to click the trackpad near the top than near the bottom where you have more leverage. I'm not a total fan because the texture seemed to let my finger drag, but this is personal preference and enough Doritos grease will fix it.
The keyboard, I have no complaints about. The keys feature a standard 19mm pitch with a full 1.6mm of travel. If I had to nitpick, it would be the cursor keys which stack the up and down buttons.
There's one issue I've had occur a couple of times on both units: The trackpad in the Base loses sync with the Clipboard, requiring a detach cycle to re-enable. Microsoft officials said they're aware of the problem, and expect to fix it soon.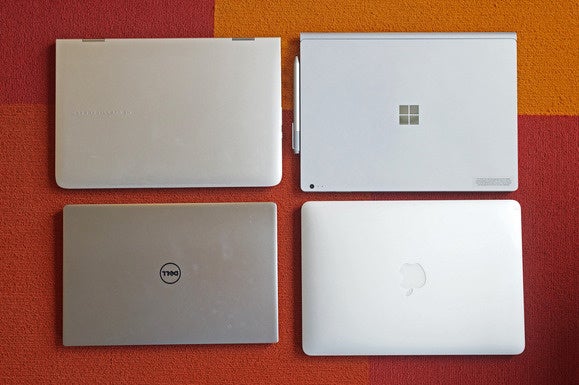 Size and weight
Take the Surface Book and plop Dell's XPS 13 next to it, and you'll understand just how big of a footprint the Book has. Let's just say it isn't tiny with its 13.5-inch screen. There are bigger laptops in its class, though. HP's Spectre X360 is wider than the Surface Book and Lenovo's Yoga 2 Pro takes up even more space.
It's no featherweight Lenovo LaVie Z, either. I weighed both iterations of the Surface Book I had on our calibrated Pitney Bowes postal scale, and both are definitely in the heavier range.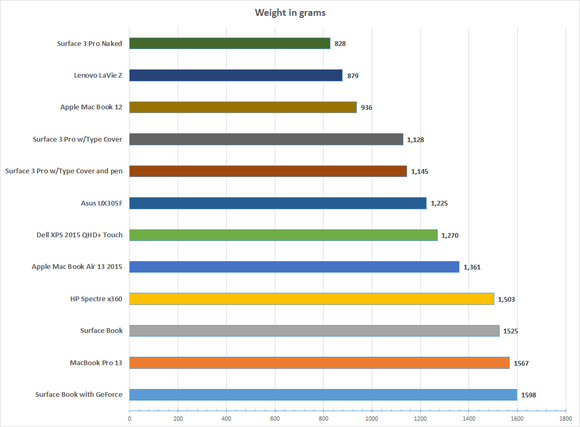 Price and value
The Surface Book is a premium device, and it's priced accordingly. For comparison, you can get a Dell XPS 13 with a Skylake Core i5, 256GB SSD, touch screen and SSD, Core i5 processor, QHD+ screen and touch for $1,450. If you spent $1,500 on an HP Spectre X360, you get a Core i7 chip, touch screen, QHD display, 8GB of RAM and a 512GB SSD.
The base Surface Book gives you 8GB of RAM, a Core i5 and a 128GB SSD, and that's without the GeForce graphics. The cheapest Core i5 Surface Book with the GeForce chip is $1,900, but at least it bumps storage to 256GB.
Fully kitted out with a Core i7, 16GB of RAM GeForce graphics and 1TB SSD, and you're pushing $3,200.
Determining value gets murky because you have to consider all the extra little features that the Surface Book offers. None of those other laptops offer a detachable screen, nor discrete graphics options. So if those are truly features you need, then yes, the value is there. But there's no way around it: The Surface Book is expensive.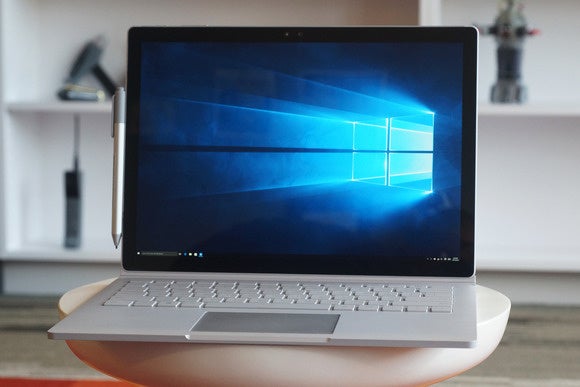 Bottom line
During Microsoft's unveil of the Surface Book, two things caught my attention: The first was calling it the "ultimate laptop." The second was saying no laptop in its class would be faster.
Both are incredibly bold statements that would normally be dismissed as marketing hyperbole.
On the second point—that no other 13-inch Ultrabook laptop is faster—I can confirm that, with qualifications.
Yes, the Surface Book with discrete graphics just can't be touched by any other modern 13-inch Ultrabook in graphically intense chores. In CPU chores it gives as much as it gets from competing designs. It is truly the fastest laptop in its class.
But is it really the "ultimate" laptop? There I'd disagree, because the Surface Book is actually more than one of the best laptops out today. You effortlessly detach that gorgeous display for a large tablet experience that no other laptop can give you. That truly is something.
Correction: Our original story incorrectly stated the Surface pen was disposable. You can indeed change the AAAA battery in it.
Best Prices Today: Surface Book