Windows 10's Cortana assistant has added a new source of information, your Xbox Live account, which she's using to promote Microsoft's latest game, Halo 5.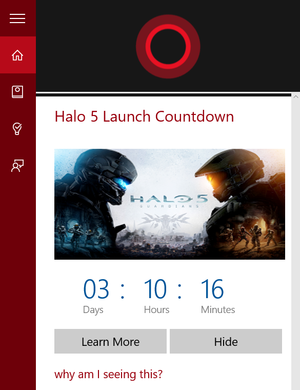 Windows Central reported Friday that Cortana can now connect to your Xbox Live account in addition to others, such as Office 365 and LinkedIn. (Those connections are off by default, and have to be manually enabled for them to work.) Once you do, Cortana will show you a clock counting down to the launch of Halo 5: Guardians, PCWorld confirmed.
It's worth noting that you don't need to be a part of any beta or preview program—this feature has been turned on as part of the vanilla Windows 10 experience.
Microsoft has already enabled Cortana as a hidden feature on the New Xbox One Experience, part of the refresh of the Xbox One user interface that will incorporate elements of Windows 10. On the Xbox One, Cortana works just as she does on a Windows 10 machine, allowing voice search and showing your Interests and reminders.
One day, perhaps you'll see updates to the Community tab in the NXOE reflected in your Cortana Interests, as well. For now, the functionality is somewhat limited—the countdown clock that Windows Central mentions.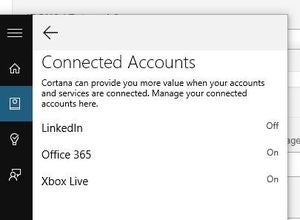 To turn this feature on, you'll need to go to the Cortana box in the lower left corner of your desktop, then click the Notebook icon (the third down from the top—the square with the circle in the middle of it). Select Connected Accounts, and then flip the toggle to turn your Xbox Live account on. Of course, you'll have to have an active account, and Microsoft will ask you to enter your Microsoft Account's user name and password, too.
Why this matters: On Windows 10, my Cortana experience is rather passive—there are occasional reminders about upcoming appointments, and Windows drops in notifications that I have new email, as well. I don't expect much Xbox activity during work hours. But more hardcore gamers could see a flurry of activity once their friends are off work, uploading clips, forming parties, and notching Achievements under their belt. It will be interesting to see how "chatty" Cortana becomes once Windows 10 and the Xbox One are more fully integrated.