The Microsoft Surface Pro 4 breaks a number of tablet display performance records, including consuming a surprisingly meager amount of power for its size, display expert Ray Soneira says.
The SP4 also improves considerably over the Surface Pro 3, which also had a well-regarded display, in almost every way, Soniera concluded in a report released on Tuesday. It also has the most accurate on-screen colors of any tablet display that he has ever measured, he wrote:
"[T]he Surface Pro 4 has one of the very best and most accurate displays available on any mobile platform and OS. It joins near the top of a small set of tablets that have excellent top tier displays – ideal for professionals that need a very accurate high performance display for their work, and for consumers that want and appreciate a really nice and beautiful display."
Why this matters: Your eye can usually tell you what makes for a pleasing display, even if you might not be able to put your finger on what, if anything, is lacking. The fact that the SP4's display is quite color-accurate should reassure graphics professionals looking for a tablet to take on the road. As we noted in our Surface Pro 4 review, however, we would have still liked the SP4's battery life to have improved over the previous generation, especially given the display's lower power consumption.
Surprisingly low power
Interestingly, the Surface Pro 4's 12.3-inch display requires just 4.8 watts to drive 267 pixels per inch across 69.8 square inches of screen area. That's 57.8 percent of the power needed to drive the 8.3 watts used by the Apple iPad Air 2, which uses a slightly lower-resolution 264 ppi display at a much smaller 45.2 square inches. (In fairness, Soneira has yet to test an iPad Pro.)
According to Soneira's tests, the Surface Pro 3 also rated as "one of the very best and most accurate displays available on any mobile platform and OS." But the SP4 improves upon it in just about every metric: maximum brightness, contrast ratio, absolute color accuracy, viewing angle performance, and even lower screen reflectance, which results in much better performance in ambient light.
Here's what Soneira found: the SP4's screen brightness is 436 nits, very good for a large tablet but lower than most smartphones and smaller tablets. But the black luminance is just 0.31 nits (the ideal would be zero, or "true" black). In all, the true contrast ratio is 1406, Soneira found.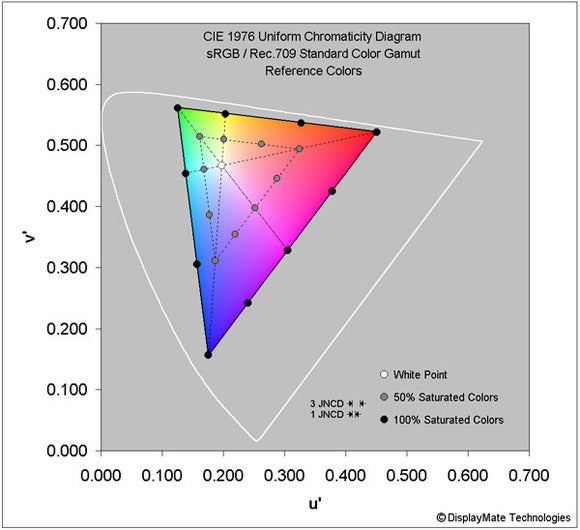 Where Apple's tablets do better than the Surface Pro 4 is their performance in ambient light, due to an anti-reflective coating Apple applied. The measured screen reflectance for the SP4 was 5.6 percent, while the iPad Air 2 has a a 2.5 percent reflectance. Under bright light, the contrast rating for the SP4 is 78 (28 percent better than the SP3) but still less than the 166 contrast ratio the iPad Air 2 notches.
Soneira also noted that, like all LCDs, you'll notice a fairly sharp drop off in display performance the further off you view the display from a "true" viewing angle in line with your eyes.
As far as color accuracy is concerned, the SP4's display has an average color error of a mere 1.9 JNCD, with the blue color just slightly over saturated. (Any Display Color Error less than 3 JNCD on a display is not visually noticeable and appears perfectly accurate to the eye, Soneira wrote.)