The Kangaroo from InFocus isn't the smallest PC in the world, but among miniature computers it could be the most versatile.
The $99 Windows 10 PC is small enough to fit in a pocket, and comes with a proprietary dock for connecting with external monitors over HDMI. The idea is that you could buy multiple docks, each connected to their own mouse and keyboard, and tote just the computing module around with you.
Of course, you can't expect much computing power for $99. The Kangaroo uses an Intel "Cherry Trail" Atom x5-Z8500 processor, which typically appears in tablets, and there's just 2GB of RAM on board. The module also includes 32GB of storage, a microSD expansion slot, and a fingerprint reader. An internal battery runs for about four hours with casual use, with MicroUSB charging. The dock includes USB 2.0, USB 3.0, HDMI output, and a charging port.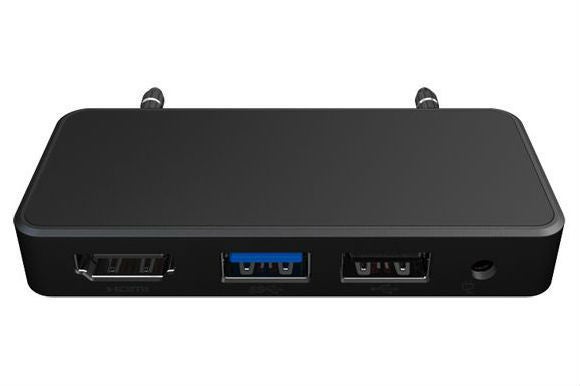 The Kangaroo also has a neat trick for iOS devices: With a Lightning-to-USB cable, users can dock the PC to an iPhone or iPad, using it as a touchscreen monitor through a free companion app. Mouse controls are supported as well, using the Kangaroo dock's USB ports.
InFocus isn't a widely-known electronics brand, but the company has been around for 30 years, and specializes in projectors and extra-large touchscreen PCs for office environments. The Kangaroo looks to be InFocus' first big consumer play. It's up for sale at Newegg, but backordered, and VentureBeat reports that it'll head to the Microsoft Store soon.
Why this matters: Miniature PCs seem to be everywhere these days now that Microsoft has cut down the power, storage, and memory requirements of Windows. What sets the Kangaroo apart, aside from its low price, is the docking system that encourages shuttling the PC around between monitors. Because if you're going to buy a tiny desktop computer, you might as well put that pocket-friendly form to good use.