After launching in beta over the summer, Microsoft's Arrow Android launcher has hit the Google Play Store, where it's available as a free download.
Unlike a standard Android launcher, Arrow relies on algorithms to decide which apps, contacts, and files it shows on the home screen. The more you use it, Microsoft says, the smarter it gets.
We've seen this concept before in other third-party launchers, such asYahoo's Aviate and Nokia's Z Launcher. But Arrow includes a few small tweaks to the formula, in a way that makes the predictive elements seem a bit less heavy-handed.
The main screen, for instance, includes a list of 20 suggested apps, which can be hidden but not rearranged or organized into folders. The good news it that the bottom dock is customizable with folder support, and you can swipe up on it to reveal another five spots for your favorites.
Arrow's primary home screen doesn't support widgets either, but you can add as many as you want to a separate widget-only screen. This is a bit confusing at first, because the widget screen isn't shown by default, and it's not immediately obvious that you can stack one page of widgets on top of another. But once you get used to this layout, it's a pleasant way to glance at information.
Perhaps the most interesting feature of Arrow is its Recent screen, which shows a bar of five apps on top, and a scrolling list of recent documents underneath. These documents can include new photos, downloads, installed apps, and recent calls. (One gripe: A list of recent apps also appears in the app drawer, making the list in the Recent screen seem redundant.)
Oddly enough, Microsoft hasn't yet stuffed the Arrow launcher with its own services, aside from an option to see automatic wallpapers from Bing. Perhaps that's because Arrow is just an experimental effort from Microsoft Garage, a program that lets employees work on their own side projects.
But Arrow does have some obvious places where Microsoft services could go. The dedicated Notes & Reminders screen, for instance, could hook into OneNote, and the Recent screen could offer documents from Word or OneDrive. Perhaps quick access to the Cortana virtual assistant is also in order. These would be welcome additions provided they remained optional.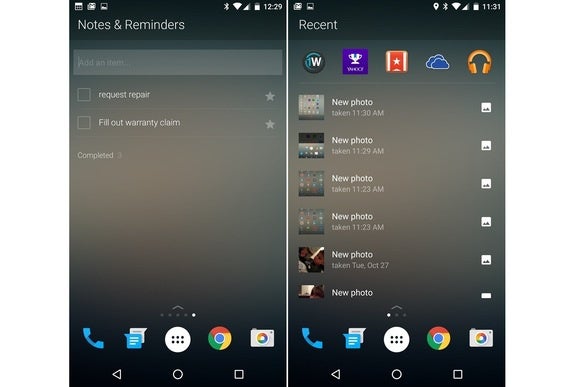 Should you try Arrow? Not if you're obsessive about the layout of apps, folders, and widgets on your home screen, as Arrow still isn't as customizable as a traditional launcher. But compared to other predictive home screens, Arrow doesn't seem like as much of a control freak, and that makes it worth a shot if you're feeling adventurous.