If you pirated Windows 7 or Windows 8.1, Microsoft wants to welcome you back—all is forgiven.
Microsoft said Thursday that it will run an "experiment" to offer a path for those users who have either pirated or purchased an unlicensed copy of Windows 7 or Windows 8.1 to download a licensed copy from Microsoft itself, or to use a code from a third-party reseller. Either way, the licensed Windows 10 software will be used to update the PC with a valid license.
"We'd like to welcome as many of these customers as possible to the legitimate Windows ecosystem," Microsoft's Terry Myerson said in a blog post Thursday afternoon.
Why this matters: Microsoft originally said in March that users with a pirated copy of Windows 7 or 8.1 would be able to upgrade to Windows 10. The company later clarified that any user who did so would still be running an unlicensed copy.
It's unclear how much software in the world is pirated—the Business Software Alliance claimed that in 2010 four out of ten software programs installed around the world were illegally copied—but Microsoft's free upgrade to Windows 10 has surely cut into that. Otherwise, Amazon sells a USB flash drive with Windows 10 Home installed upon it for $110, and Microsoft itself sells Windows 10 Pro for $200.
An amnesty of sorts?
Myerson said that one unexpected aspect of the Windows 10 upgrade process was discovering how many pirates were upgrading to Windows 10—and then turning around and purchasing a valid license from Microsoft. That gave the company an idea.
"We'll offer a one-click opportunity to get Genuine via the Windows Store or by entering an activation code purchased elsewhere," Myerson wrote. "If this turns into a path for most customers to get Genuine, we will expand the experiment."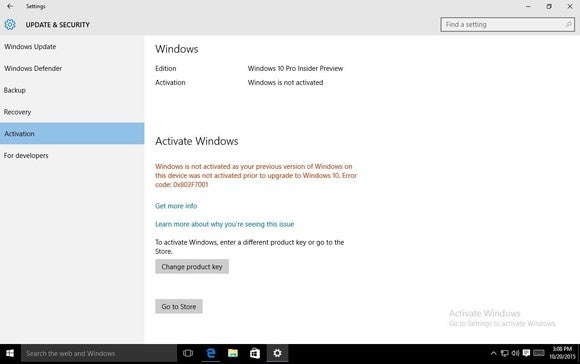 So what's the appeal for a pirate to suddenly go legit? Microsoft relied upon the tried-and-true tactic of trying to scare users straight—which, to be fair, isn't necessarily wrong.
"The best Windows is genuine Windows," Microsoft said in a statement. "Non-genuine Windows is not published by Microsoft, not properly licensed, nor supported by Microsoft or our trusted partners. According to industry experts, use of pirated software, including non-genuine Windows, results in a higher risk of malware, fraud public exposure of personal information, and a higher risk for poor performance or feature malfunctions."
Microsoft also said that if you're running a legitimate copy of Windows 7 or Windows 8.1, beginning in 2015 the Windows 10 update will be moved to "Recommended" status, meaning that most PCs will download and install it by default. You'll still have the option to opt out or even revert back to the older OS once that update takes place, however.
Finally, there's better news for those who are keeping up with Windows updates: Microsoft has pledged to reveal more information about what's actually in them, as it used to do. The company also said that it would improve "scheduling options" for when those updates are installed.