Boo. Welcome to a super-spooky completely normal end-of-week gaming wrap-up.
This week: Halloween sales, game-branded beverages, a Dragon's Lair film, and a whole bunch of Rocket League news. Like, a hockey mode. Finally. I mean, spooky.
Spooky savings
First up, Halloween sales. Steam's the big one, like always, but it's not a "real" Steam Sale. It's not even really themed around Halloween. It's just…a big list of games you can buy. Which is good enough for me. Best deals are probablyThe Witcher 3 for $42, Cities Skylines for $15, and Shadow of Mordor for $17. The sale runs until Monday at 10 AM Pacific.
Then there's GOG.com, which again has a pretty loose definition of "spooky." If you prefer your Witcher-ing DRM-free you can snag it for the same $42 price, but I'd also recommend $15 for Stasis, a horror point-and-click with an isometric camera—and $2.50 for Sanitarium, the 1998 classic that Stasis took clear influence from.
And while it's not really a Halloween sale…Well, all of the Tribes games are now free.
Spooky Mutants
Rocket League announced a whole bunch of changes this week, if you're sick of Car-Soccer (impossible) and want something a bit different (well, okay). In November, Rocket League will add Mutators to the game for free:
Some highlights are Moonball (low-gravity ball), Cubic (big square ball), and Slo-Mo (self-explanatory). And in December, a Hockey mode is coming. Can't wait to see two cars take off their gloves and fight.
Spooky Quake Dead
A whole bunch of controversy this week over Quake Live, id's free-to-play take on Quake III Arena. Or formerly free-to-play. This week, without warning, the game suddenly converted to a $10 price for new players and did away with its tiered free/subscription model. Oh, and a conversion to Steamworks wiped five years of player stats.
People are not very happy.
Spooky No Man's Battlefront
Sony did a big ol' press conference at Paris Games Week on Tuesday, and while most of it was decidedly PS4-centric there were a few important bits of PC news. Like this Battlefront launch trailer:
Plus another trailer and actual launch date for No Man's Sky, which is (supposedly) releasing in June, 2016. No, really.
Spooky assassins
While we're on the topic of trailers, Hitman is here to show off next-gen bald head technology. And Italy, I guess:
Spooky verification can
Mountain Dew is sooooo 2010. Game-specific drinks are all the rage right now.
1) Last week: Bethesda partnered with Carlsberg to brew the ever-so-cleverly named Fallout Beer. It's a pilsner with a "refreshing zesty hoppy taste and a floral aroma," which is not something I would associate with Fallout.
And it's only available in Europe. Amazon won't deliver it to the US, so don't bother trying.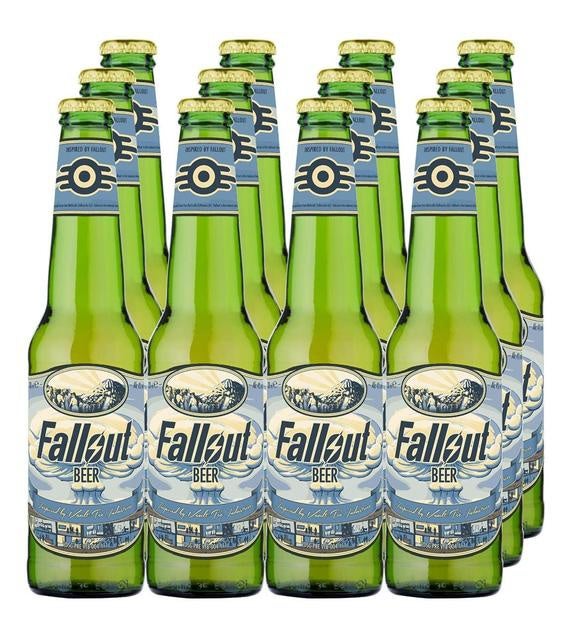 2) Not to be left out, Call of Duty: Black Ops III is also getting its own beer, from the aptly named Black Hops Brewing. This one is called Black Hops Midnight Pale Ale, which is way better than "Fallout Beer." And it's "light and refreshing with tantalising hop aromas of pine and citrus fruit."
Refreshing, eh? I'm starting to see a pattern. Alas, this one is Australia only. This is starting to look like a very expensive trip, if you're a diehard collector of bad video game tie-in promotions.
3) And because America is too wimpy to drink beer, we get…a soda! [Insert joke about fat Americans.] Starting November 10, Target will apparently sell Nuka-Cola Quantum, everyone's favorite glow-in-the-dark soda. It's being made by Jones, which means it's a 50/50 shot whether it tastes amazing or terrible. My money's on "Blue-Raspberry-Slushie-Left-Out-In-The-Sun-Too-Long" flavor.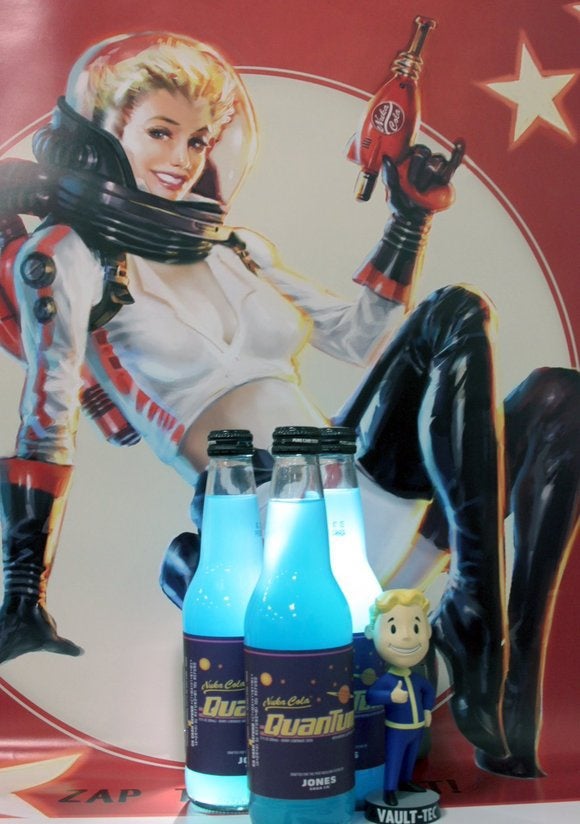 Spooky dragons
Before The Banner Saga wowed everyone with its Disney-esque animation, there was the 1983 arcade classic Dragon's Lair. A weird hybrid of film and "game," Dragon's Lair looked like a Disney movie at a time when most games looked like, well, Pac-Man—thanks to LaserDisc.
This week Don Bluth (original co-creator) and Gary Goldman (producer who works with Don Bluth a lot) launched a Kickstarter to make a Dragon's Lair film, bringing the whole thing full-circle. The Kickstarter project is only for a ten-minute teaser, which they'd then pitch to studios. It's a long shot, but probably the most interested I've been in crowd-funding for a while.
More spooky reading