I spend an unhealthy amount of time thinking about how my lock screen and background images can look better. That's why I was happy to hear about the Windows Spotlight feature for Windows 10 a few months ago.
Spotlight is a feature specific to Windows 10 Home that displays Bing's gorgeous daily images as a slideshow on your lock screen (pictured above) and within some Windows apps. You can enable it by heading to Settings > Personalization > Lock Screen and selecting Windows Spotlight in the "Background" drop-down menu.
Unfortunately, Windows Pro users are left out of the loop. But there is a DIY way to at least get Bing images as a rotating slideshow on your lock screen. It takes a little bit of clicking and one desktop program. But if you're a fan of Bing images, like I am, the few minutes of effort will be worth it.
This tip will guide you through the process on Windows 10 Pro, but it should also work similarly on Windows 8.1, and possibly the Windows 7 screen saver.
Get Bing Desktop (but pay attention to the install)
The first thing you need to do is download and install the Bing desktop application for Windows. This small program puts a Bing search bar on your desktop (don't worry, you can get rid of it) and gives you the option to use Bing's image of the day as your desktop background.
Whatever you do, don't blindly click through the Bing desktop installation, as it tries to change all kinds of stuff on your PC. It wants to swap your current desktop background image for a Bing image of the day slideshow, for example, as well as set your default browser's search engine to Bing.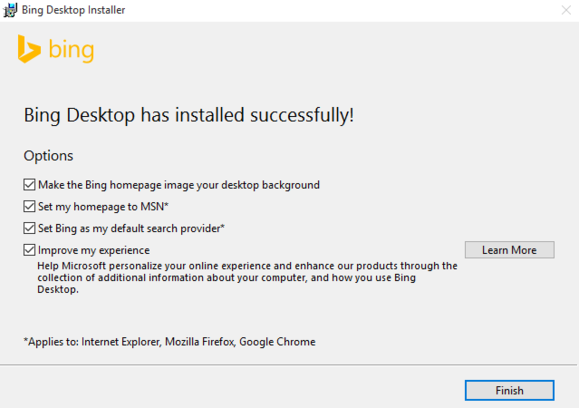 The easiest thing to do is uncheck everything when you get to the installation window (seen here) with the large number of check boxes. Unless, of course, you want to see Bing images on your desktop background and the lock screen. In which case you'll want to leave checked "Make the Bing homepage image your desktop background."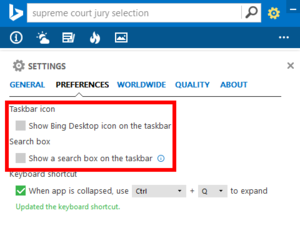 Once you have Bing desktop installed, click on the Settings cog in the upper right corner of the application's window. Then go to Preferences and uncheck the following: "Show Bing Destkop icon on the taskbar" and "Show a search box on the taskbar."
Next, go to Settings > General and uncheck "Turn on wallpaper toolset" and "Automatically paste copied text in the search box." If you don't want to run Bing desktop at boot, also uncheck "Automatically open when Windows starts" under Settings > General.
File Explorer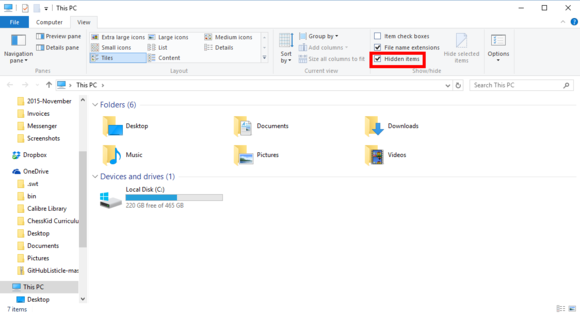 Now that Bing Desktop is installed and tweaked we're halfway there. Open File Explorer, then click View on the menu at the top and check the box that says "Hidden items."
We'll undo this later, but you need this checked to get at the Bing images folder.
Settings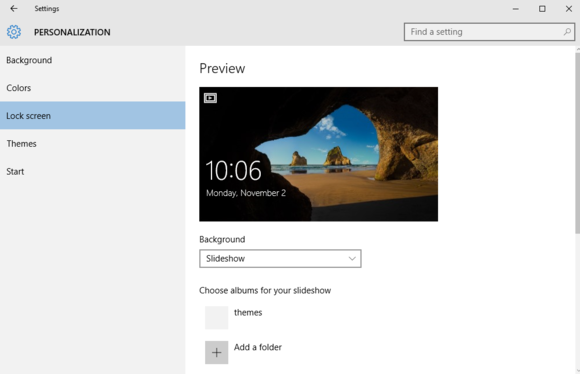 Now open the Settings app by clicking Start > Settings and then navigate to Personalization > Lock Screen. Under "Background," select Slideshow from the drop down menu.
If you see some Pictures folders already selected and you only want Bing images, just click on "Pictures" and then click Remove.
Now, to add Bing images to your lock screen slideshow click Add a folder. This opens a File Explorer window, and you'll want to navigate to C:Users > [your user name] > AppData > Local > Microsoft > BingDesktop > en-US > Apps > Wallpaper_5386c…[there's a whole mess of numbers here that vary from PC to PC] > VersionIndependent > images. Now click Choose this folder to add the images folder—this is one of two places where Bing Desktop stores its images—to your slideshow.
To finish, open a File Explorer window again and uncheck View > Hidden items since you don't really need to see those folders on a daily basis.
That's it. You now have a Bing image of the day slideshow going on your lock screen.