While there's plenty to love about Google's lightweight word processor, there are times it leaves you scratching your head wondering how they could've left out this or that obvious feature. Fortunately, the power of add-ons lets you put many of your favorite functions back in. Here are four you should install today.
Change Case
I spend a lot of time formatting headlines and subheads and other text to conform with a particular publication's style. That means a lot of changing text case—an absolutely mind-numbing task if I have to do it letter by letter. It's made Word's Change Case feature indispensable, but surprisingly this seemingly basic function is nowhere to be found in Docs.
Fortunately, you can fix that with Change Case. Add it to the Docs app and all you have to do is highlight a block of text and choose from one of seven new options, including title case, sentences case, and everyone's favorite, iNVERT cASE.
Envelopes
A standard feature in just about any word processor, the ability to print formatted envelopes is conspicuously missing from Google Docs. This add-on rectifies that.

Click the Envelopes menu under add-ons, and select from one of the popular sizes. Envelopes sizes your document to the appropriate dimensions and formats the tabs so you all you have to do is type in the address and print.
Avery Label Merge
Another common feature missing from Docs is the ability to print sheets of labels. This add-on from Avery lets you pull data from Google Sheets and formats it for many of the company's popular products.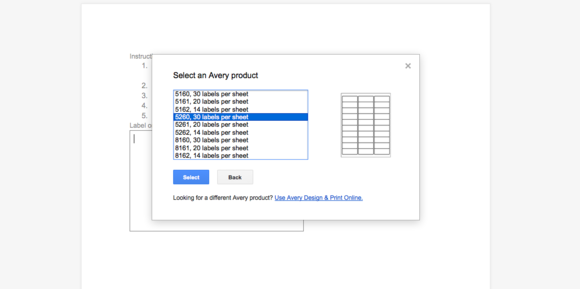 Select Avery Label Merge from the add-ons menu and select New Merge. Click Address Labels from the Avery product window and it will open a list of Avery labels by product number. When you select the one you want, a "choose spreadsheet" dialogue will open. Choose the one that contains the data you want to merge. A sidebar showing the available columns of data will appear on the right. With your cursor inside the Label or Name Tag box, click the column header for the data you want to appear first on the label, and repeat for all the remaining data you want to include.
When you've finished arranging the label information, click Merge, and a document formatted for your labels will open.
Table of Contents
Asking someone to slog though a huge document without a table of contents is like dropping them off in the wilderness without a compass. Using this add-on is like giving them a map.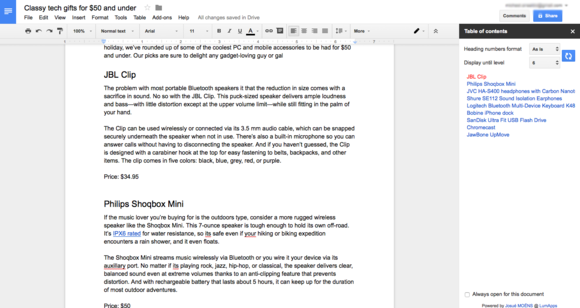 Table of Contents works by reading a document's heading tags—"Header 1," "Header 2," etc.—to create links each of the titled sections. Yes, we know Google Docs has its own native table of contents feature that does this, but the add-on offers a couple of advantages.
First it creates a TOC automatically when you open or create a document, without any prompting from you. Second, it displays this index in the right sidebar, so you don't have to jump back and forth to the top of the document—or wherever the table of contents is placed—to get around. You'll wonder how you ever read a document without it.