"Twitch Installs Arch Linux"—billed as a "cooperative text-based horror game"—began on Halloween. After beating both Pokemon and Dark Souls earlier this year, thousands of people are now trying to do something even geekier: collectively install Arch Linux. The stream is now back up after a botnet took over and partially installed Gentoo, another Linux distribution.
You can tune into the stream at Twitch Installs Arch Linux. It works just like Twitch Plays Pokemon and Twitch Plays Dark Souls. Viewers vote on which key press to send to the terminal. Every ten seconds, the most popular key press is sent to the terminal. Arch Linux is a particularly good candidate for this, as it's not the kind of Linux distribution you can install with a few clicks—it requires some terminal commands. You have to know what you're doing, or at least be able to follow an installation guide.
Want to stay up to date on Linux, BSD, Chrome OS, and the rest of the World Beyond Windows? Bookmark the World Beyond Windows column page or follow our RSS feed.
But Twitch Installs Arch Linux allows for more trolling than a game would. In addition to just messing up commands, a group of trolls could issue commands that would wreck the entire system. In fact, the original Twitch Installs Arch Linux stream was taken offline after a botnet took over and partially installed Gentoo instead of Arch Linux. At any point in time, trolls could attempt to wipe the entire system with a quick "rm -rf /".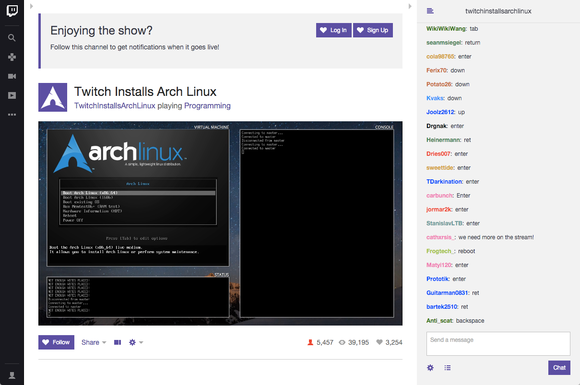 The stream is now back online thanks to the Twitch in the Shell team, which is protecting the stream from botnets. According to the website, Twitch successfully booted Arch Linux from the hard disk on Halloween. Two days later, on November 2, Twitch managed to pull up the Twitch screen in a virtual machine and join an IRC channel in it. On November 3, Twitch installed a gameboy emulator to play Pokemon, and installed memetest. Future goals include breaking out of the virtual machine, installing a BitCoin miner, and configuring a fully working X server.
It took Twitch 16 days to complete Pokemon, and 43 days to complete Dark Souls. Twitch technically installed Arch Linux and booted it from the hard disk on the very first day, although there are still more things to do! Unlike with Pokemon and Dark Souls, the biggest challenge was shielding the stream from botnets—and preventing Gentoo from being installed.